How will the impact of five subs affect Premier League performance? Read on to inform your opinions ahead of the 2022/23 Premier League season.
While soccer is more or less the same sport it has always been, bettors need to be aware of any slight amendments to the laws and protocols of the game as they can have an impact on match outcomes and, therefore, their bets.
The Video Assistant Referee (VAR) system was introduced into the Premier League ahead of the 2019/20 season and has certainly changed the way matches have been refereed (read more about VAR's influence on cards, penalties, and goals here).


SIGN UP TO PINNACLE
The ultimate bookmaker, with amazing odds, the highest limits, and lowest margins.
Sign up here
Log in here
The state of play in the top flight of English soccer is likely to shift slightly again in 2022/23, with the introduction of five substitutes. Whilst the Premier League has, until now, only allowed managers to make three changes – except for during the conclusion of the 2019/20 season which occurred after the first pandemic lockdown when five were permitted – other leagues around Europe have authorised teams to make a quintet of changes from the bench for the last two seasons.
There has been a reluctance to accept a greater number of substitutions in the Premier League as some of the division's smaller clubs believe it will benefit the wealthier teams who possess deeper, higher-quality squads. The likes of Pep Guardiola and Jurgen Klopp maintain that they are in favour of more subs purely from the point of view of player welfare.
Whatever the motives behind the change, clubs, players, and bettors are going to have to get used to up to 16 players taking part in a match for each team. Let's take a look at which clubs have used substitutes most effectively in the Premier League, and what impact being able to make more has had in other top European leagues. Data on the substitutions made by managers is freely available on Transfermarkt so it's easy to research, compile stats, and inform your own betting selections.
Premier League substitutions: 2016/17 to 2020/21
To assess the impact of changes from the bench, we'll focus on the last five full seasons for the Premier League. This is an excellent timeframe as it covers Manchester City under Guardiola, and Liverpool from Klopp's first full campaign onwards. Teams who were in the division in 2019/20 will have played nine or 10 matches where five subs were allowed but in the context of five years of soccer that shouldn't affect our sample too severely.
If we look at the frequency of substitutions made for the 17 teams who have been in the Premier League for at least four of the last five full seasons, the top of the table is dominated by the biggest clubs, though there is one interesting exception.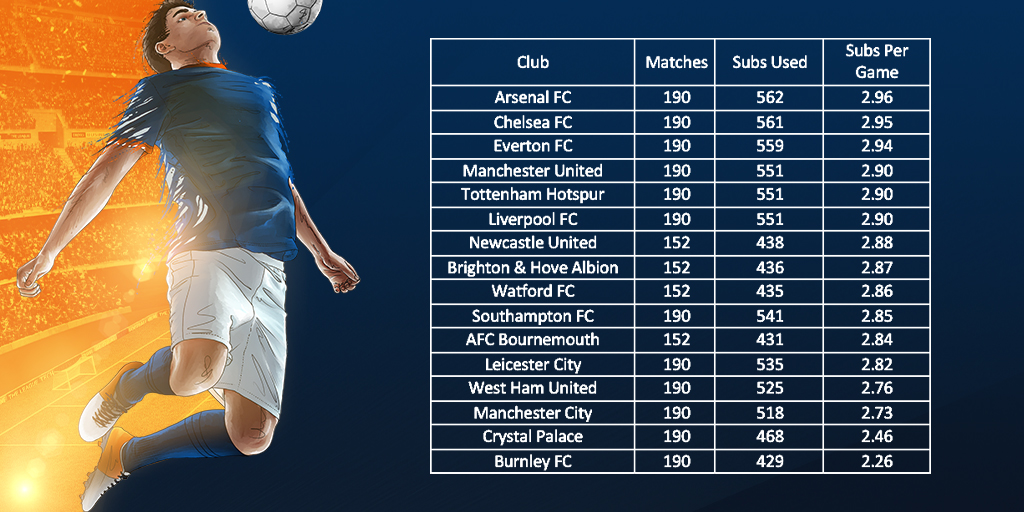 City were bottom of the league for this in 2020/21, and they will finish this season in the same position even if their manager uses his full complement of changes in the remaining matches. As they won the league last season and sit top in 2021/22 at the time of writing, using relatively few subs has not hampered City's chances of success.
Some substitutes will inevitably get more time to affect a game than others though. A look at the average time each club has allotted their subs moves City up the table and sees other top sides fall to the bottom.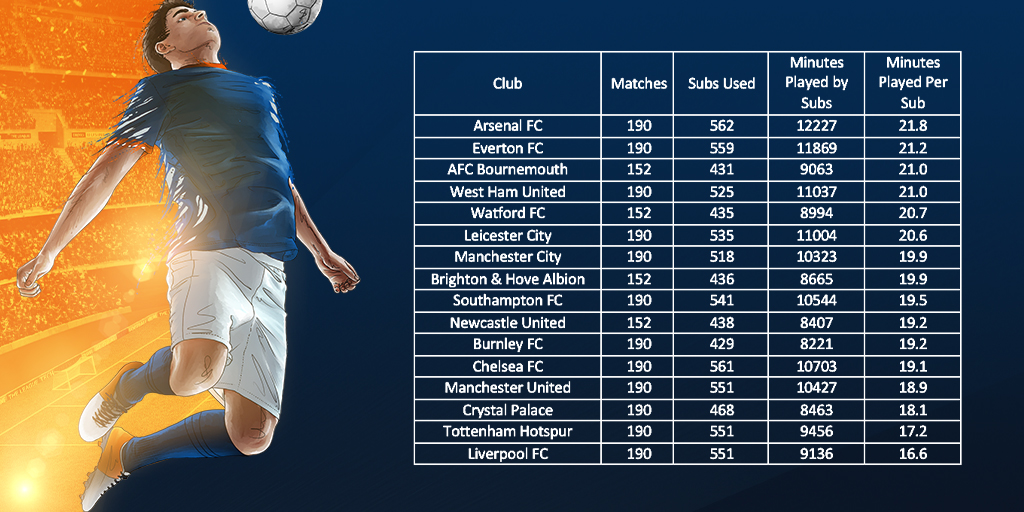 These findings are not so surprising though. Substitutions are often made to improve a team's performance, and the less successful sides are more likely to need to do this earlier in a match.
Measuring the impact of a mid-game line-up change is not easy to do. For instance, some will be forced upon a manager due to injuries or perhaps a reshuffle will be required following a sending off. While some will involve bringing on an extra defender to protect a narrow lead, the most obvious difference a substitute can make is by either scoring or setting up a goal.
The table for frequency of contributions from non-starters (be that goals or assists) once again shows the power of the big clubs, although there is once again an exception.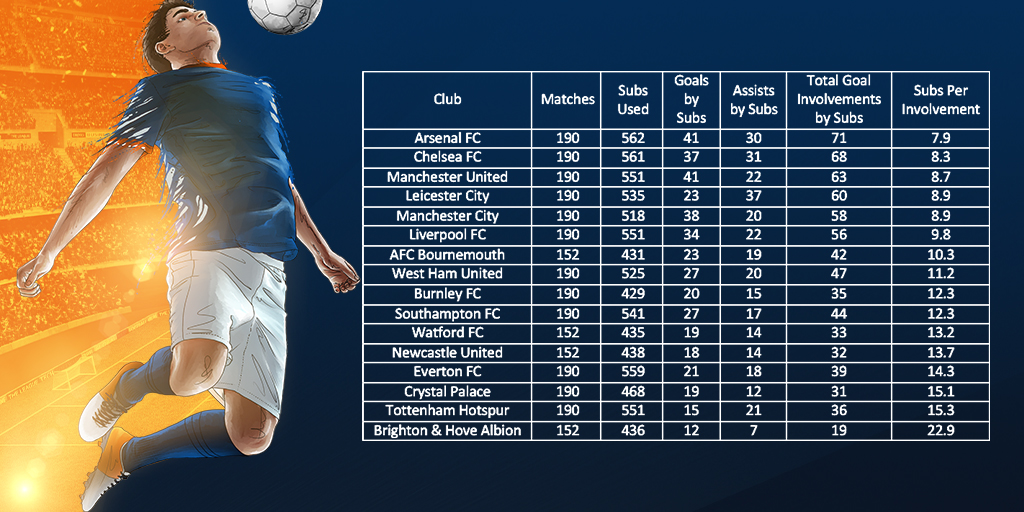 This time, out of the Premier League's big six clubs, it's Tottenham Hotspur who are at the wrong end of the table. But even they (under two permanent managers and a caretaker manager in this period) have earned a goal or assist for every 15.3 changes they have made from the bench. Where this would have taken slightly over five games with a trio of subs available, it will now take slightly over three. 
However, this may be too simplistic an outlook. If the top managers are sincere about their desire to use their greater substitution options to preserve player health, they won't be looking for goals and assists any more frequently from the bench than they do now. Let's take a look at what happened in France, Germany, Italy, and Spain in 2020/21, to see if the ability to make five in-game changes made any significant difference.
Five substitutions in Europe's top leagues
While teams obviously made more changes given the opportunity in the other European big leagues last season, the rate at which they either scored or assisted a goal was not markedly different to what we saw in the Premier League across the last half-decade.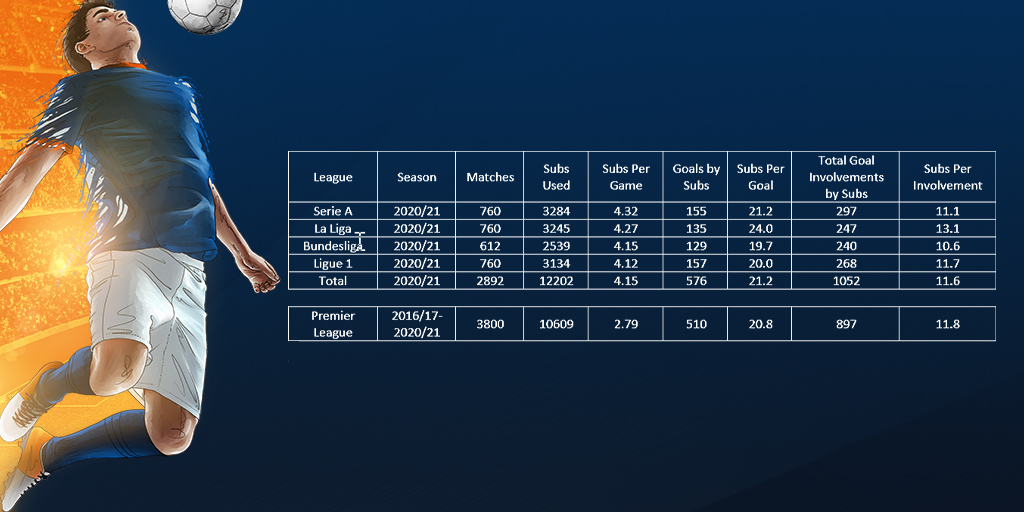 This creates some doubt over contribution rate but with players now likely to be less-fatigued, goal contributions are likely to happen more frequently in the Premier League next season. A look at which teams profited most frequently also implies that the stronger clubs will get more from this law change, as three of the top 12 teams (from a total of 78) for 'substitutes per goal' won their league last season.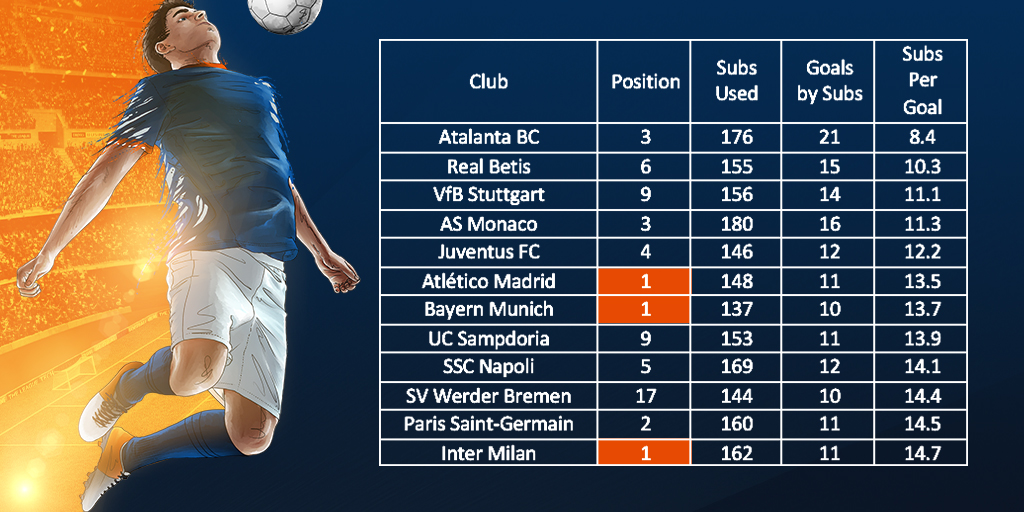 It's also worth noting that Atletico Madrid and Juventus were among the 22 teams who averaged fewer than four substitutions per match, so there can definitely be a case for quality over quantity for a manager when they utilise the players on their bench.
Case study: Liverpool in the Champions League
As the Champions League has allowed five substitutions for the last two seasons, we can look at an English side to see how their manager used their increased options in that competition. It may give us an indication regarding how they will behave in the Premier League.
Up to and including the second leg of their semi-final against Villarreal in 2022, Liverpool have played 22 European matches. There have been 18 games in which Klopp used at least four subs and 16 in which he deployed his full complement.
While he has perhaps been inclined to make his first change earlier – with six instances of substitute number one getting to play at least half of the match – the 'bonus' subs haven't seen much action. Klopp's fourth subs have had an average of 14 minutes to make an impact, and for the fifth, that figure is just three minutes.
The impact upon player welfare is clear though. Over the last five full seasons, Klopp has afforded his subs an average total of 48 minutes per league match. Since the autumn of 2020 in Europe, the bench has contributed 89 minutes per game. The average time played per sub has barely changed (it has been slightly higher in the Champions League) but more of the squad have been afforded a rest and not had to play the full game.
From a betting perspective, it's interesting to see that the Reds' 99 substitutions in European matches have generated five goals. That rate of one every 19.8 is worse than it has been in the league (16.2), and while we must acknowledge the imbalance in the sample sizes, it could be argued that having more subs in continental competition has not made Liverpool's bench more productive.
But perhaps the fears of the Premier League's smaller clubs are not entirely unjustified. Klopp's substitute goals in Europe have come from Roberto Firmino (with three), Luis Diaz, and Mohamed Salah. With a strong squad, players of that quality are likely to come off the bench every week in league soccer, and more frequently when a manager can make five rather than three changes.
And perhaps the greatest benefit of having more substitutes will affect games down the line, rather than the one in which the changes are made. If top players don't have to play as many minutes each week, they will remain fresher for longer into a season. Bettors will need to be aware that the benefits from clubs being able to use five subs may be more subtle, rather than having an immediate impact on their bets.
Sign up to Pinnacle here and bet on the 2022/23 Premier League season with Pinnacle's unrivalled soccer odds.