World class soccer players are extravagantly gifted, highly paid and adored by cheering fans worldwide. With top class teams gathering the best talents they can afford, what is the real impact of superstars on a team's overall results? Here's a statistical answer by Dominic Cortis.
A recent discussion initiated by a reader queried on the effects of star players within a team and opened the question whether star player's effect on a team's performance can be measured. Hirotsu was the first to evaluate the efficiency of each player within a team using 'Data Envelopment Analysis'. In the absence of a research that examines the effects of a star player over time, this article attempts to measure this statistically.
Choosing the right candidate
The first step in this regard is choosing a start player. We needed a star player who is still playing and who ideally has always played with that particular team. We immediately dismissed Cristiano Ronaldo and Lionel Messi. Although they are at the pinnacle (pun intended) of humanely possible skills, we wanted to opt for a team without so many other superstars. Our eyes eventually set on AS Roma and Totti.
Francesco Totti, born in 1976 in Rome, is an attacking midfielder/supporting forward and the captain of AS Roma. He joined the youth squad in 1989 and has spent an entire career at Roma, winning a Serie A title, two Coppa Italia titles, two Supercoppa Italiana titles and the World Cup in 2006.
He also won several individual awards - the most significant of which being the 2007 European Golden Shoe and the Golden foot. Totti is currently the most capped player in AS Roma's history and the second highest scorer of all-time in Italian league history (244 goals).
In summary Totti has been a consistent part, if not the main fulcrum, of AS Roma for many years. Indeed he has played in 276 league matches (from a total 380) between the 2005/06 and 2014/15 seasons.
The method
The main question we tried to determine is Totti's effect on AS Roma's results. For the sake of simplicity we included league games only.
To define success or failure for AS Roma, we focused on three stats: the points per game (where 3 points are earned for a win and 1 point for a draw), the proportion of games won and the proportion of games lost.
When comparing stats for Roma with and without Totti, we adjust these so that a positive value signifies an improvement with Totti on board. For example, a positive change in the proportion of games lost means that AS Roma lost less matches when Totti was playing.
Finally we considered four levels of Totti's contribution: playing part of a match, playing a full match, being substituted out and being substituted in.
The results
Overall stats show that Totti has had an effect on the team. Whenever he played a match, AS Roma earned an additional 0.118 additional points per game.
The results are not as rosy for matches in which he played the full ninety minutes. In these cases the team has 0.203 less points per match, won 7.4% less and lost 5.5% more of games. We obviously wouldn't interpret this as the star player having a negative effect on the team. The most likely scenario is that he remained on pitch when the team was not doing as well.
This is corroborated by the all-around positive stats of when he was substituted out of the game: an extra 0.36 points per match, 14.3% more wins and 7.4% less losses. The rationale here could be that in the case of a clear win, Totti was more likely to be substituted so as to evade injury.
We also looked at his stats whenever he came in as a substitute as he would probably be called in to save the team. Coming in as a substitute had little to no bearing on points (only 0.09 additional points) but 7.8% more wins and 6.2% less in losses.
This however happened a measly 18 times over a 10 year period so the results in that regard are anything but reliable, as an extra win/loss in the sample could have distorted our results due to the limitations of the average.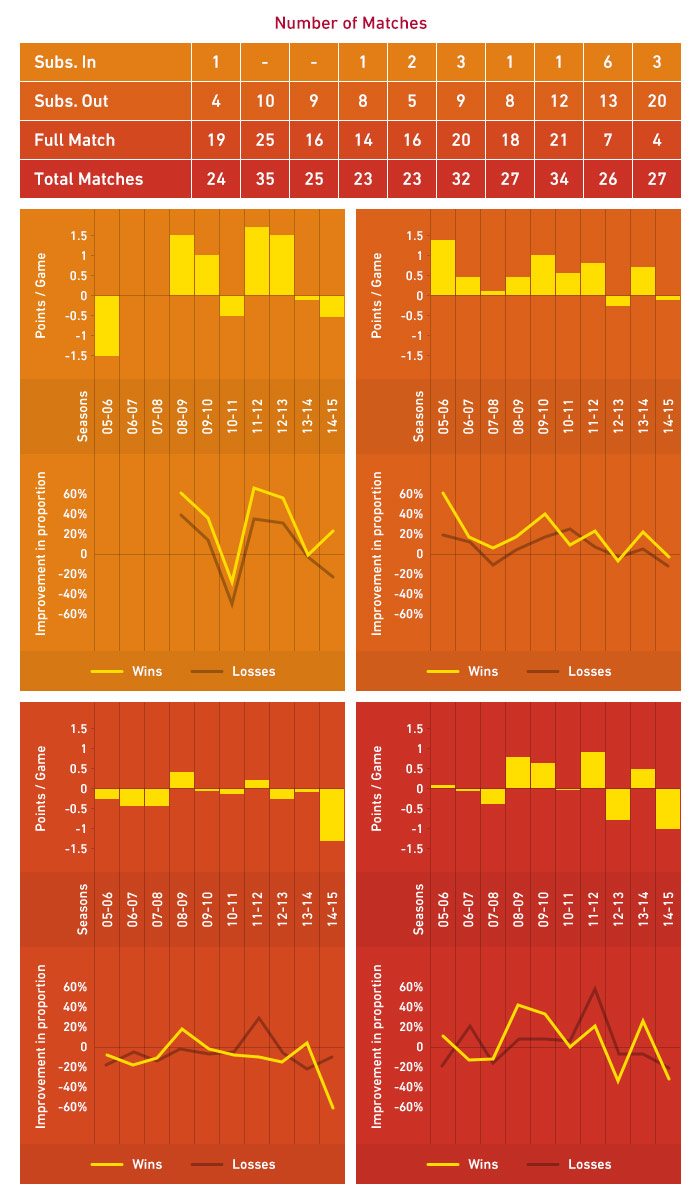 The image above shows these stats per season under each of the four levels of Totti's contribution to a match.
Conclusion
We tried to apply statistical techniques to find proof of a star player effect but none provided clear evidence. This, however, does not mean that a star player is just a placebo effect.
Indeed, any team would be lucky to have Totti on board. Even when nearing 40 years old, he is one of Italy's top talents. Despite the lack of solid statistical proof, the metrics used in the above charts imply that Totti's form has a bearing on the final outcome.
This article was co-authored by Maria Cauchi.