The demotion of Glasgow Rangers in July 2012 from the SPL to the bottom rung of the Scottish football ladder – the Third Division – provides a fascinating insight into the importance of Home Field Advantage and its relevance for soccer betting.
Glasgow Rangers is a football club with a proud history of success, boasting a world record number of domestic titles, accustomed to mixing it with Europe's elite in the Champions League, and with a fanatical following regularly filling their 51,000 capacity Ibrox Stadium.
So what happens when due to financial collapse, they go from the Old Firm Derby and the Nou Camp, to playing at some of Scottish football's most obscure outposts? How do these minnows react playing in front of crowds 100 times greater than usual, what value can be put on the extreme example of Home Field Advantage and most importantly, how can bettors profit from these unusual circumstances?
Big Crowds Follow Rangers Home & Away
The Gers played in front of average gates of 49,324 in 2011/12 – the 19th best supported club in Europe – and any concerns that the clubs liquidation and demotion might see attendances fall as they prepared for life in Scottish Division 3 where silenced by season ticket sales for the 2012/13 season of 33,000.
Despite the loss of 28 players from their squad, Rangers retained significant player talent, training facilities and management expertise for pundits to suggest, and bookmakers outright odds to echo, that they would walk the league and win the vast majority of games home and away.
Life in Division III began with an away trip to the most easterly point in Scotland, Peterhead, with a population of just over 17,000 – less than a third the capacity of Ibrox, Glasgow Rangers own home ground.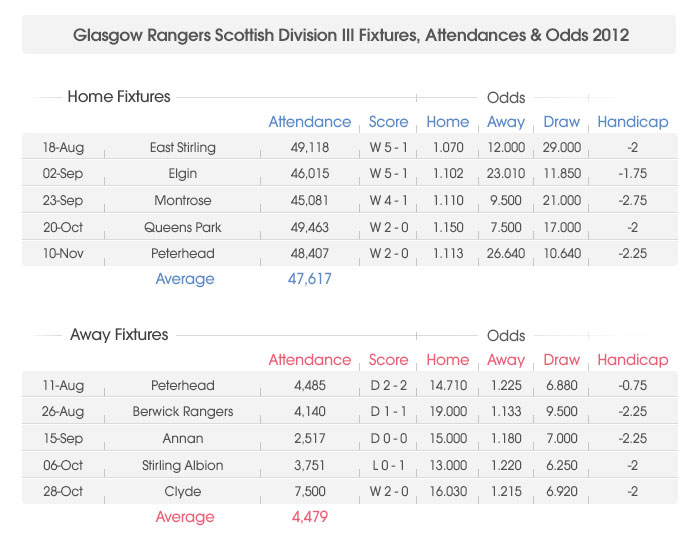 Despite the Division's average attendance the previous season being just 475, the game attracted 4,485 spectators, due to faithful Rangers away support and increased local interest in seeing one of Scotland's two biggest clubs in town. Rangers were priced 1.225 for the away win at Pinnacle, and were -1.75 on the Handicap.
What happened next was unexpected. The holders of a record 54 top flight Scottish league titles needed a 89th minute goal to earn a 2-2 draw and spare what would have been considerable blushes, given their opponent's endured a run of 17 games with just one win the previous season.
This wasn't a one off; the following two away games were drawn, they then lost 1-0 away to Stirling Albion, who were bottom of the league at the time and on a five game losing streak. Finally, on their fifth attempt, manager Ally McCoist, was relieved to record their first away win – although they benefited from playing against 10 men for the last 20 minutes.
From a betting perspective, Rangers were still very short on the 1X2 at 1.215, and didn't cover the 2-goal handicap. In fact, bettors would have made a tidy profit opposing the spread for each of their first four away League games and two Cup outings, both of which were one goal victories against lowly opposition.
HFA More Than Just Numbers
In stark contrast to their away form, in front of an average 47,617 fans at Ibrox their form has been rather different. Five wins from five games, 18 goals scored and only three conceded. How can we account for the huge contrast in home and away results?
Every away game between Rangers and their new bedfellows is a Dave-vs-Goliath affair; with attendances ten times the league's average, and a Cup Final atmosphere. This motivational factor has to be taken into consideration, galvanising the minnows to achieve a famous giant killing. However, a large proportion of those inflated away attendances are Rangers fans, so the travelling side are actually better supported than the home team.
What this suggests is that Rangers' Home Field Advantage is about more than bums-on-seats. There is the familiarity with the environment and the playing style, surface and conditions. The facilities in Scottish Division III are a million miles away from Ibrox; cramped changing rooms, lumpy and exposed pitches with no under-soil heating. There is also the burden of expectancy – starting every game as favourites.
A Harvard study of HFA looking at 5,000 Premier Leagues games between 1992 an 2006 suggest that every additional 10,000 home fans add an advantage of 0.1 goals. The 2012 Olympics certainly seems to bear out HFA, with Team GB producing a record medal haul. Other studies point to the influence that the crowds have on officials.
HFA is most likely a combination of all these factors, and primal instincts to defend territory. Heightened testosterone levels have been measured in home players, especially goalkeepers.
The Clyde result did seem to bolster the Gers' confidence as they won 6-2 at East Stirlingshire on November 17th, finally beating their handicap. The question for bettors is what will happen now?
Rangers away form should continue to improve as they acclimatise to Third Division venues and football – and early results seems to be suggesting this – but Scottish winters can be very harsh, and Rangers will face some challenging road-trips including Elgin (postponed on November 25th) the most northerly professional football club in Great Britain. It may therefore prove worthwhile to have an atlas at hand as well as recent form when betting on future Rangers' success.