Soccer teams struggling in the League often chop and change their playing squad as they attempt to improve their form. But does this work and how can soccer bettors use this information? We look at data to see if there is a relationship between number of players used and relegation in soccer?
The lowest number of points recorded by a team in the 38 game Premier League was 11 by Derby County in 2007/08, during which they used 36 different players. Similarly, Fulham were relegated in 2013/14 using even more players.
Of the 15 sides that recorded the lowest final point totals since 1999, 11 used 30 or more players, with an average of 30.4 different players. Only WBA in 2002/03 were relegated using a relatively settled playing squad of 23.
The graph highlights that the average points gained per game increases steadily as a smaller number of core players take the field
Obviously a team may have to call on all of their possible playing resources for a variety of reasons. These are selected from peripheral squad players and it's likely that the depth of quality is weaker in sides that aren't among the league's regular elite.
The split in the Premier League between habitual title contenders and the rest is recognised by Simon Gleave's concept of a "superior seven" and the remaining batch of thirteen regularly changing teams.
The better-resourced squads of the superior seven ensure they are more suited to riding a raft of injuries or coping with extensive squad rotation.
So for this article it's sensible to look to the remainder of the Premier League teams to see if a correlation exists between results and squad usage.
What the data suggests
If we look at the fifteen best performances from the pool of sides outside the superior seven since 1999, all but one used 29 or fewer players over the season, averaging just 24.5 players.
Therefore they used an average of six fewer players than the sides finishing bottom during the same timeframe (30.4).
This correlation appears to be a feature of all Premier League teams outside the elite 7. The relationship between fewer points and greater numbers of players since 1999 is seen in the plot below.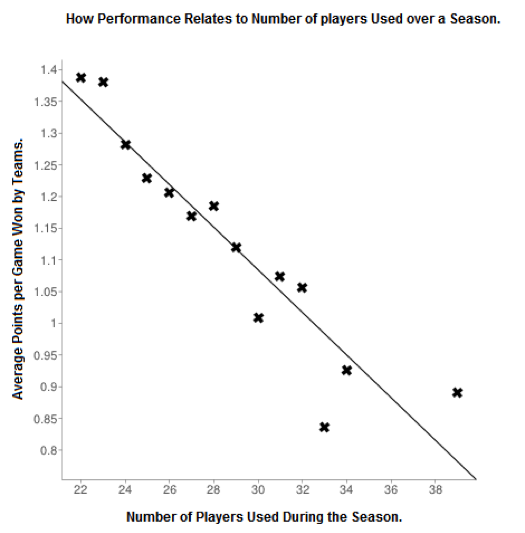 The graph clearly highlights that the average points gained per game increases steadily as a smaller number of core players take the field.
Benefits of a consistent team
It's easy to rationalise the benefits of keeping a settled team and squad. Once players become accustomed to the playing style and each other, the synergy improves the overall effectiveness of the team.
Through history the best striking partnerships have relied on players knowing instinctively what the other one will do, while defensively a well-organised unit should only improve with practice and familiarity.
What causes weaker teams to use bigger squads?
However correlation does not automatically imply causation. A poor run of results, often places pressure on the manager, and one way to relieve it, is for him to be seen making changes.
Dropping seemingly under-performing players, regardless of a small sample blip, and replacing them from within the squad, or in the January window, is the most visible course of action.
Another factor is that struggling teams often appoint a new manager mid-season, who is brought in to shape things up and implement his style and authority on the squad. Although there is little evidence to back this up, one way to do this is to change the playing staff.
In whole the data appears to show that using fewer players might help the team
There are exceptions however. In 2014 Tony Pulis was appointed manager of Crystal Palace with the club in 20th. They finished 11th after they out-performed the usual achievements of every relegation threatened team since 1999 that used 31 players.
In wholethe data appears to show that using fewer players might help the team. Even from 2010, when squads were limited to 25 players between transfer windows, plus unlimited players aged 21 or under, there is still a strong linear correlation between match outcomes and player churn within the season.
The ten poorest performers from the threatened 13 have used an average of 31 players since 2010, compared to 27 for the top ten performing teams, while points per game falls generally as player numbers rise.
What this means for soccer bettors?
For bettors wishing to evaluate a side's potential abilities, player quality, as indicated perhaps by their nominal value remains the primary driver of team results.
But increased player usage, either through injuries or an attempt to improve results, may expose a lack of talent depth.
Frequent change of personnel may be a sign that sides with limited squads or lacking the ability to attract upgrades, while sacrificing continuity, will continue or begin to struggle as the season progresses.
Bettors should realise that although there is a strong correlation between stability of team selection and increased league points for teams outside of the elite, the causation is far from clear and team stability is only one factor among many that contribute to a clubs performance over a season.
Click here to see the latest Premier League odds.