This week's highlight fixture in Serie A once again sees the race for Champions League soccer dominate the narrative as Napoli take on Atalanta. Can Napoli consolidate their runner-up position? Will Atalanta overtake their rivals? Read on to inform your Napoli vs. Atalanta prediction.
Napoli vs. Atalanta Odds*


Napoli vs. Atalanta Odds*
Napoli come into the game as favourites (around 52% chance) against an Atalanta side looking unbeaten in their last seven matches. The Over/Under is set at 3, with the market odds marginally suggesting it could be a low-scoring contest, with under 3 currently priced at 1.819*.
Date – Monday April 22
Time – 17:00 UTC
Venue – San Paolo
Napoli vs. Atalanta predicted lineups
Napoli predicted lineup
4-4-2 – Meret (GK), Goulham, Maksimovic, Koulibaly, Malcuit, Callejon, Ruiz, Allan, Zielinski, Insigne, Millik
Amadou Diawara looks likely to miss out with ongoing muscular issues, whilst there could be rotation after Napoli's midweek Europa league tie against Arsenal, with Malcuit and Goulham being recalled in the full back positions.
Atalanta predicted lineup
3-4-1-2 – Gollini (GK), Mancini, Palomino, Masiello, Hateboer, de Roon, Freuler, Castagne, Gomez, Illicic, Zapata
Centre back Rafael Toloi remains the only injury concern ahead of the game, with Robin Gosens battling with Timothy Castagne for a start at left wing back. Young striker Musa Barrow will likely feature from the bench having thus far failed to score at all this season in 20 appearances.
Napoli vs. Atalanta statistics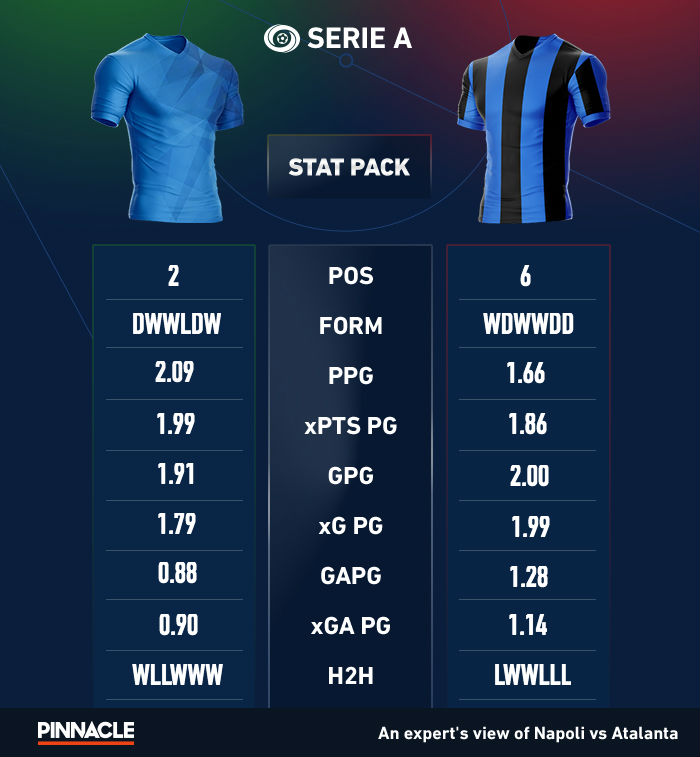 Inform your Napoli vs. Atalanta prediction
The race for the top four in Italy and those coveted Champions League places continues to provide a compelling narrative for the remainder of the season, with the visitors in this fixture knowing they cannot afford to slip up if they are to maintain their unlikely Champions league push.
Had Atalanta won their previous fixture against Empoli at home on Monday, they would be in fourth place, level with AC Milan and a point clear of Roma in sixth.
Instead, La Dea find themselves in sixth, two points off fourth after somehow managing to only draw 0-0 at home to Empoli – this despite having an unprecedented xG of 5.06 with 47 shots, 18 of which were on target.
Empoli's goalkeeper Bartlomiej Dragowski made 17 saves on Monday and in the process, Atalanta set unwanted records of having not only the most shots and shots on target in Europe's top five leagues in a game since stats were recorded in 2006/07, but also became the first team not to score with that many shots and have that high of an xG in league history.
Despite their opponents having an xPTS of 2.99, Empoli somehow managed a draw with xPTS of 0.01 – making this fixture one to remember in Serie A, especially for Atalanta if this game cost them a place in next season's Champions League.
Napoli, meanwhile, recovered from a minor blip of a loss and draw to Empoli and Genoa, to then beat already-relegated Chievo 3-1 in Verona last time out. In doing so, they delayed Juventus' title celebrations for another week and put themselves seven points clear of third-placed Inter.
While Napoli's Champions League qualification is all but secured, the hosts will be able to play without much pressure – a stark contrast to their opponents who will be desperate to secure a positive result.
Napoli will be in action midweek in the Europa League against Arsenal on Thursday, but with the game against Atalanta not until Monday, they should have ample recovery time where fatigue shouldn't play a massive role.
Goal scoring has come naturally to both teams this season, with Atalanta one goal shy of top scorers Juventus with 64 goals so far this term – three more than opponents Napoli.
The attacking trident of Zapata, Illicic and Gomez have been in tremendous form for Atalanta this season, scoring 37 goals and providing 21 assists between them.
Zapata especially is having his best season to date in Serie A, eclipsing his previous best scoring and assisting tally of 11 and four with 20 goals and five assists in 31 Serie A matches this season – placing himself in contention for the highly competitive race to be Capocannoniere.
The race for the top four in Italy and those coveted Champions League places continues to provide a compelling narrative
Napoli have an offensive trio of their own to rival their opponents from Bergamo, in the form of Millik, Mertens and Insigne who have, coincidently, also contributed 37 goals and 18 assists in Serie A.
With two attacking sides, the prospect of a high scoring game could be in the offing, especially considering what's at stake for Atalanta. Intriguingly, there has been just one draw in the last eight meetings between the two sides in Serie A.
Napoli vs. Atalanta: Where is the value?
With Atalanta vying for a win, combined with the attacking proficiency of both sides' opportunity of a high scoring game could become a value option and bettors can get over 3.25 at 2.340*.
Atalanta could exploit any signs of fatigue after Napoli's midweek display, having had a full week's rest since their last fixture and bettors can get Atalanta on the 0.25 Split Handicap currently at 2.340*.