Leicester City's title win amidst the disastrous collapses at all of England's richest clubs has sent shockwaves through the division. With the Premier League teams consistently investing in players for the past five years, the three richest teams have now shelled out on super-star managers. Read on to find out what that means for their respective chances of lifting the title in the EPL season 2016/17?
Antonio Conte, Jose Mourinho, and Pep Guardiola all got off to winning starts in the opening weekend of the new Premier League season and have already stamped authority on their respective squads. In this article, we are assessing their chances of lifting the Premier League trophy this season.
Manchester United and Jose Mourinho
The routine nature of United's 3-1 away win against Bournemouth perhaps undermined Mourinho's achievement at Dean Court. The assurance, composure and ruthlessness with which they dispatched the hosts suggested Mourinho's United will be considerably more clinical in 2016/17 than they were under Louis van Gaal. It comes as no surprise that Mourinho has never lost the opening match of a season.
Wayne Rooney and Zlatan Ibrahimovic linked well, often switching positions so that one could run ahead as the other comes short. This interplay was hugely encouraging for United fans, as was the directness and speed of their attacking build-up.
With 77 matches in the Premier League between 2004 and 2014, Mourinho holds the record for the longest unbeaten home run.
Mourinho is often labelled as a defensive manager, but this is only because he is tactically negative in big games - which get larger TV audiences and thus skew our perception of his methods. In fact, Mourinho has produced explosive, Fergie-esque attacking football at every club he has managed. His Real Madrid team scored 326 goals in three years at the Bernabeu.
On their opening game, United scored three times – something they only achieved on seven occasions last campaign. Wayne Rooney's goal suggests Mourinho knows how to maximise his captain's powers, which should only improve their creative threat.
The fact that Mourinho's side so comfortably won away from home also indicates that they have a strong chance of winning the title this season. The Portuguese holds the record for the longest unbeaten home run (77 matches in the Premier League between 2004 and 2014) and is widely expected to make Old Trafford into a fortress again. Casually winning away games is hugely encouraging.
Early signs suggest that, in playing attacking football and boasting a superb home record, Mourinho will bring back the Alex Ferguson days. His win percentage (66%) is slightly higher than Fergie's (65%) and could well improve, if the Bournemouth performance was anything to go by.
Manchester United to win the title is currently available at 3.90*.
Manchester City and Pep Guardiola
Guardiola's incredible 74% win ratio across his career makes him the most coveted manager in the world of soccer. The hard-fought win against Sunderland suggests that he knows how to win ugly despite his reputation for aesthetics. City fans can be optimistic that, in time, he can continue his average of 95 points per season.
Guardiola's unusual tactical creativity has already turned heads in England. His use of Bacary Sagna and Gael Clichy as full-backs that operate as central midfielders, though a repeat of a system used with David Alaba and Philip Lahm at Bayern Munich, was new to many English fans.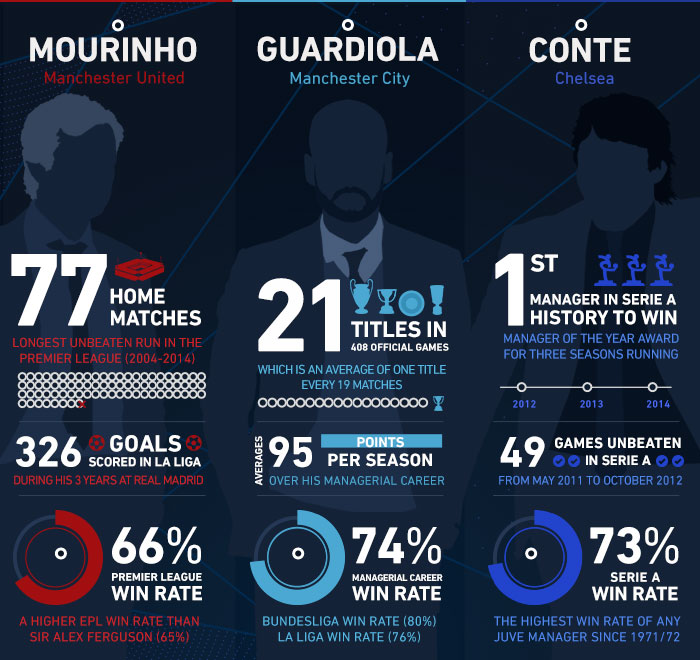 And the element of surprise can go a long way to collecting tricky points in the Premier League. Here, Sagna and Clichy provided the short-passing option in the middle (that allowed Kevin de Bruyne and David Silva to roam into space higher up the field), whilst also preventing the counter-attack when Sunderland attempted to break.
Raheem Sterling and Nolito will benefit enormously from playing in a system that allows them to hug the touchline and sprint into space. Sterling struggled to influence the game in Manuel Pellegrini's low tempo style, but will flourish in the spaces created by the quick, revolving movement of City's playmakers under Pep.
Week one also taught us that Guardiola has a ruthless streak that Pellegrini appeared to lack. Shunning Yaya Toure and Joe Hart shows that he has a coherent tactical vision which helps to explain how the Spaniard averages a trophy every 19 games.
Man City to win the title is currently available at 3.47*.
Chelsea and Antonio Conte
The resilience and dogged determination of Antonio Conte was immediately apparent at Stamford Bridge. Diego Costa's late goal was indicative of Conte's never-say-die approach to management. The Italian went 49 games unbeaten in Serie A with Juventus and it is easy to see why.
Chelsea's defensive strength was mightily impressive, limiting West Ham to just three shots on target. This is the cornerstone of Conte's tactical style, which focuses on lightning quick counter-attacks down the flanks. Eden Hazard had an excellent game, and his dribbling skills will be relied upon time and time again this season.
Conte may be unlikely to keep up the 73% win percentage he achieved at Juventus, but Chelsea will be difficult to break down. For evidence, note that Nemanja Matic and N'Golo Kante featured side-by-side against the Hammers, whilst Cesc Fabregas remained on the bench.
Chelsea to win the title is currently available at 6.93*.
*Odds subject to change