With Luis Suarez so influential for Liverpool over the past three seasons, soccer bettors will need to gauge what impact his sale will have on Liverpool for the upcoming campaign. This article looks at his influence on the team and how it may affect bettors.
The World Cup finals provided ample evidence of the best and worst of Luis Suarez. His match winning performance against England helped Uruguay to escape from the most competitive group of the tournament and then his flawed character saw his early departure from the world's biggest stage. Almost immediately, Liverpool sold Suarez to Barcelona for £75 million.
Quantifying a players worth to a team
Assessing how much a team will miss a star name often involves comparing results across seasons both with and without that player. This method has the benefit of simplicity, many sites provide sortable results with players absent or present, where win/draw and loss records or average goals scored and conceded can be compared.
However, there are numerous drawbacks to this approach. The bulk of a side is also constantly changing, as are tactical methods and opponents. Most importantly, talented players are often regulars so sample sizes in their absence can be extremely small.
It is not uncommon to read that a side performs better without a big name player, when the most likely culprit is small, unrepresentative numbers of matches. So such methods are unreliable.
Suarez, despite his phenomenal ability to also create chances for his teammates, will primarily be judged on his scoring prowess. Therefore we can add context to his exploits by looking at the proportion of Liverpool goals he scored whilst on the field.
| Season | EPL Goals Scored by Suarez | All Liverpool Goals Scored when Suarez was on the pitch | Proportion of Goals Scored by Suarez |
| --- | --- | --- | --- |
| 2010/11 | 4 | 26 | 15% |
| 2011/12 | 11 | 37 | 30% |
| 2012/13 | 23 | 58 | 40% |
| 2013/14 | 31 | 96 | 32% |
Having joined in the 2010/11 January transfer window his initial season appears unimpressive, however given the small sample size this could be deemed insignificant. In comparison the Uruguayan consistently scored impressively in the following three seasons.
Over the three and a half seasons, with the occasional self-inflicted ban – he was banned for a total of 18 games following a racial and biting incident – the Uruguayan scored nearly a third of all Liverpool goals while he was on the field. Interestingly, Daniel Sturridge also matched this number, albeit over fewer games.
Liverpool will miss Suarez, but by how much?
To calculate how much Liverpool will miss Suarez, bettors can look at Suarez's scoring abilities on a shot by shot basis. Shot models typically use shot location and shot type to estimate how likely a shot or header from anywhere on the pitch is to result in a goal, an attempt off target, or a blocked effort.
By comparing the outcome of each of Luis Suarez's goal attempts to the average expectation of such a model, we can grasp if his scoring record is driven primarily by shot volume or by an exceptional shot conversion rate.
| Season | Minutes per attempt | Goal expectation of an average finisher | Suarez's EPL Goal Total |
| --- | --- | --- | --- |
| 2010/11 | 20 minutes | 17 | 11 |
| 2012/13 | 15 minutes, 48 seconds | 18 | 23 |
| 2013/14 | 16 minutes, 20 seconds | 18.5 | 31 |
Luis Suarez's first full season in 2011/12 hardly hinted at a potential winner of the Golden Boot. He shot frequently, but if an average striker had had the same chances, they would have been expected to score 17 goals, six more than the 11 goals netted by the Uruguayan.
Therefore, he scored over a third fewer goals than the average expected for the chances he was presented with. More revealing, is an average player would be expected to equal or better the 11 goals Suarez actually scored over 95% of the time.
2012/13 saw an increase in Suarez's already high shooting frequency, but this time improved conversion rates meant he exceeded the average goal expectation from his 187 scoring opportunities by nearly 30%.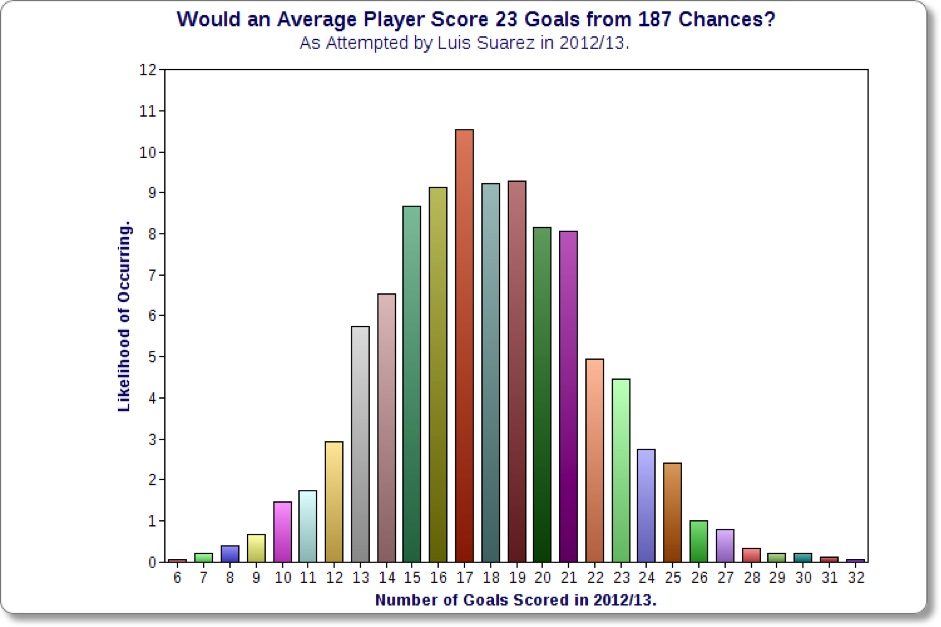 Suarez's took 187 shots in 2012/13, scoring 23 goals, which by looking at the graph above was exceeded by the average shot location model in just 12% of the trials. As the plot shows, an average finisher would have been most likely to score 17 goals.
Suarez has appeared to move from a below average finisher in his first full season to an above average one in his second. And the transformation appears completed in his final season playing for Liverpool in 2013/14, when he scored 31 goals from 181 attempts, against an expectation of just over 18. That's 67% above expectation and a feat that an average player would achieve barely once in every three hundred seasons.
This evidence indicates that Liverpool will suffer greatly from Suarez's absence. However, as with all figures, there is a caveat.
Random variation – was Suarez lucky?
It is easy to accept a less than impressive debut season – which may have been due to a combination of bad luck and a need to acclimatise – but the leap in conversion rate from 2012/13 to 2013/14 needs investigating.
There is tentative evidence that scoring ability is a skill, but much of the apparent differences between players across single seasons can also be attributed to random variation.
Like a player acclimatising during their first season in a new league, the numbers fail to capture aspects of Liverpool's attacking play, especially in the Brendan Rodgers years, which may overstate the improvement in 2014 that made Suarez appear irreplaceable.
More commonly, the fluctuation in conversion rates may partly be down to unrepeatable circumstance and perhaps a whole season of shots may not accurately reflect likely future performance. Examples of a single, abnormally exceptional season are rife through soccer, whereby players fail to repeat their form, as statistical noise is often mistaken for repeatable talent.
Interestingly for bettors who are looking to attribute a value on Suarez leaving, his combined three season goal total boasts a scoring record that is only 20% above that expected from an average player and would fall lower if we included the second half of the 2010/11 season.
Suarez is obviously a talented striker, however it is advisable not to underestimate the part luck played, by potentially inflating his numbers.
In addition Suarez was 26 – which appears to be the peak age for strikers – last year, as a collective group 26-year-olds scored the highest weighted average of goals and take the highest weighted proportion of shots at goal. These performance figures then begin to decline, most rapidly as thirty is reached and players begin to drop out of the sample.
Pundits, bettors and soccer fans have all stated that Liverpool will be much worse off without Suarez and the evidence produced here suggests they will struggle in his absence, however bettors must decide by how much. How much was his exceptional 2013/14 season in part, due to good fortune over a single season?
Liverpool may struggle to emulate their 2013/14 title challenge, but that would likely have been the case even with – an initially suspended – Suarez still at Anfield. Bettors should also consider the impact playing in the Champions League will have, where squad depth, which £75 million has guaranteed, may be as important as individual talent.
Liverpool will be at a disadvantage without Suarez, but bettors should be wary of overvaluing the impact on the team, given they have invested wisely in defence and creative midfield positions.