There is an old adage in soccer that states that cup finals are usually a tight contest lacking goals – but is this really the case? Is there a difference between club and international finals? Can bettors find an edge when betting on soccer cup finals? Read on to inform your soccer betting.
Dispelling a soccer myth
There are countless soccer myths that are a part of the common thinking of the average soccer bettor, like there being more cards in derby games, teams being tired after playing in Europe and the English Premier League being the most exciting league in the world.  
In this case, we tackle the common perception that a cup final, in both club and international football are usually low-scoring, close encounters that are decided by the slimmest of margins.
This perception is based around the idea that because there is so much at stake, players are likely to take less risks in fear of making a mistake and potentially costing their team the honour and glory of winning a trophy.
In addition, for two teams to reach a final, they would have had to have beaten many teams along the way and will have proven their credentials as a potential tournament winner, resulting in finals being contested between two teams of similar quality – hence why they might be close games.
While there is some logic to this theory, do recent results accurately reflect this idea?
We took goals data from six soccer competition finals which were:
In doing so, it enabled us to compare if the goals scored in the final were more or less than the average goals per game scored in the tournament.
It must be noted, however, that this is a small sample size in terms of the number of finals (last five finals of each competition) and in the case of the club-based finals – they are only English ones.
Despite this we can directly compare goals per game (GPG) averages to the final, as shown in the graph below: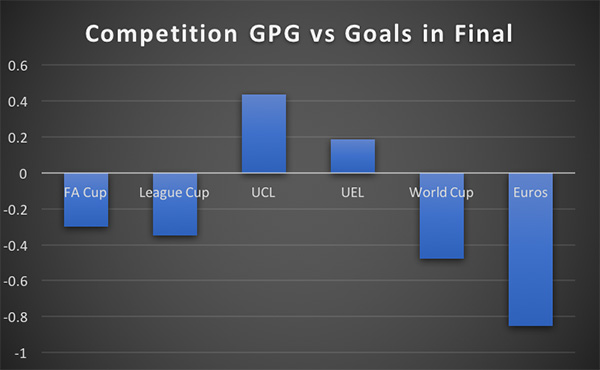 There are many inferences we can take from this data whilst under the pretence that it is small sample size.
Firstly, there appears to be a marked difference between English domestic cup competitions compared to European cup competitions.
The Champions League contrasts greatly to the League Cup, with 0.5 more goals scored in a UCL final than the competition average, compared to – 0.38 fewer goals scored in a League Cup final.
It's intriguing that both European Club competitions are the only two in this sample that go against the old adage that cup finals are tight contests, with three of the last five finals of both the Champions League and Europa league being decided by more than one goal.
Perhaps this is a as a result of teams from different countries playing contrasting styles of soccer in these finals, resulting in a more open contest as one system and style of play is more successful than the other.
The same principle could be used to explain why the domestic cup competitions are usually closer contests, as both teams will have a greater understanding about their opposition and style of play as they both originate from the same country.
Four of the last five FA Cup finals resulted in the over in terms of the Over/Under market.
Moreover, just one of the last four FA Cup Finals was decided by more than one goal with the other four being distinctly tight affairs.
Nevertheless, despite having a lower GPG than the competition average, the League Cup final was decided by more than one goal in three of the last five finals.
It must also be mentioned that the early rounds of each of these tournaments feature teams of lower quality and skill who usually would not make it to the later rounds which could skew the tournament average for goals, as the teams of higher quality tend to concede less.
Is there a difference between club and international finals?
Using the graph is an indicator of this, international finals appear to be notoriously tight contests, as highlighted by not only the -0.9 and -0.5 goal differentials in the Euros and World Cup finals, but also the fact that just three of the last 10 international finals were decided by more than one goal.
Brazil's 2-0 win over Germany, France's 4-2 victory over Croatia in the 2002 and 2018 World Cup, as well Spain's 4-0 demolition of Italy at Euro 2012 were the only clear-cut contests by more than one goal.
Euro 2000, 2016, and World Cup 2006, 2010, and 2014 all went to extra time before being decided by one goal – with the only exception being Italy's 2006 penalty win.
Clearly, there appears to be a bigger disparity in club finals compared to international finals in terms of goal scoring. Perhaps the pressure on the players is higher when representing their nation as opposed to their clubs due to a number of reasons, such as the tournament only occurring every four years, or a player's personal patriotism to their nation to name two.
What can bettors learn from these statistics?
The general trend appears to back the theory that cup finals are generally close contests but how can bettors profit from this knowledge as part of a successful betting strategy?
We compared the average goals scored in each of the six competitions' finals to our average closing line to see if there is an angle for bettors to consider moving forward in the Over/Under markets: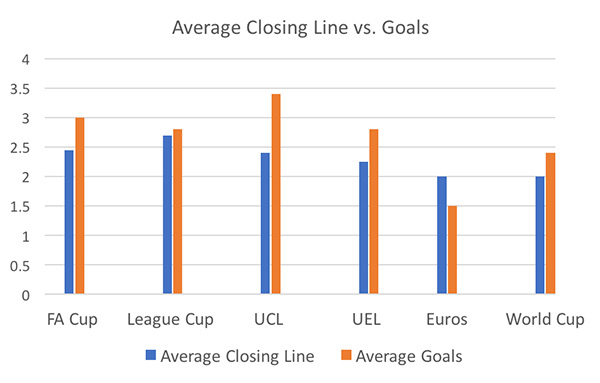 Intriguingly, all four club competition finals dating back the last five years were on average set below the average goals scored for those competitions, indicating that bettors could be wise to consider betting on the Over market in club finals.
The most value seems to be in the FA Cup and Champions League finals. Four of the last five FA Cup finals were over the closing line, whilst the graph above shows that the biggest disparity on average is in the Champions League final when comparing the closing line to goals scored.
Once again, International finals appear to be a much more closer contests on average with the European Championship finals defying the trend by averaging under the closing line. Additionally, the World Cup final's average of over the closing line is largely down to the 2018 World Cup final (six goals) having as many goals in it as the last four finals combined.
Overall, to say that cup finals are always tight and cagey affairs would be a generalisation. Bettors should be aware that club competitions, especially European ones, could offer value in both the Over/Under and Totals market moving forward.