On December 30, 2016, Pinnacle launched a new Discussion Day initiative on Twitter. Following a successful first Discussion Day, we've taken the time to analyse the questions our followers asked and how our experts answered them. Continue reading to find out the factors that effect Premier League betting.
What is a Discussion Day?
Renowned for our focus on educating our customers about betting, the new Pinnacle Discussion Day is another means to help achieve this aim. Using Twitter as a platform to engage with our followers, they are given the opportunity to ask any questions they might have about a particular sport or betting theme. 
Our first Discussion Day was about factors that effect Premier League betting and it proved to be a great success. Below, we have outlined the key takeaway points from the Discussion Day and condensed all the expert knowledge that was shared into one article.
The most popular questions and answers
There were three main recurring themes from the day that both our followers and experts agreed upon as being the most important factors in Premier League betting.
Data
The importance of data, what kind of data to use and how much to collate are a few examples of data related questions from our Discussion Day. Several of these questions concerned the application of data for analysing form in soccer betting and developing an expected goals model. 

 
The distinction between signal and noise is a crucial one for bettors - that is, understanding that data in the short term is more random (noise) and data from a bigger sample size is more indicative (signal). Followers who were interested in using data for soccer betting found our article about how to calculate expected goals very useful.
Information
Many bettors will know just how important information is - this is something that applies to any form of betting. While numerous followers wanted to know how to get hold of information before others and most crucially, before the bookmaker, it was a question that didn't have a definitive answer.


Although our followers recognised how useful the right kind of information can be, it is rare to find anyone within the betting industry who will give away their source of information as it instantly decreases any value it might hold. 
Beating the closing line
No matter what sport you bet on, beating the closing line is integral to successful betting. If you collect enough data, analyse it in the right way and have access to information that others don't, beating the bookmaker's closing odds won't be a problem.

What else was discussed?
Throughout our first Discussion Day, we had a constant flow of questions and answers from start to finish. In amongst the hundreds of questions asked, there were a few that stood out after they were asked several times over.
The impact of rules and refereeing
One of the newest emerging markets in soccer betting is betting on bookings. Previously a niche market for bettors, this involves betting on whether the number of cards in a match will be over or under a figure set by the bookmaker.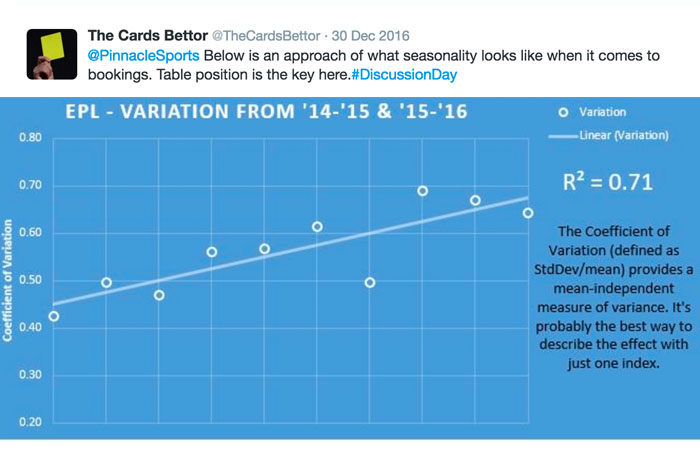 Of course, this kind of market has several factors that could determine whether your bet is a winner or loser. The majority of our followers' questions were answered within our useful article that covers how to bet on bookings.
We also noted several comments about how new rules introduced into the Premier League should be considered when betting on bookings - our article on the impact of new Premier League rules explains these new rules and what effect they might have.
How important is a team's manager
As well as discussing how managerial decisions and the timings of such decisions can influence results and betting, many of our followers were interested in the myth of the new manager effect.


With such big name managers like Jose Mourinho, Pep Guardiola and Jurgen Klopp in the Premier League, the general consensus was that it was now more important than ever to think about a soccer team's manager - and their tactical approach - before betting.
Home field advantage
Another factor that numerous followers brought up was the potential impact of home field advantage. As well as wanting to know how to calculate home field advantage in soccer, there were several questions about which teams benefit from it the most.
With the likes of West Ham United struggling in the Premier League and Tottenham Hotspur performing below expectation in the UCL, we noticed a lot of discussion about whether a new stadium affects performance - our two part article on this subject goes a long way to answer the questions we were asked.


We received some great feedback on our Discussion Day and many followers expressed their gratitude for the help that was given. As an added bonus, we held a prize draw for those that took part and gave out some exclusive Pinnacle merchandise for the best question and answers.

Follow us on Twitter to be the first to know about our next Discussion Day.