Both Juventus and Sassuolo performed well last season and managed to get a place in a European competition. While this was expected for the Old Lady, it was not for Sassuolo. Following a look back at last season's Premier League and Bundesliga surprises, this article concludes the trilogy by looking at Serie A surprises through our Brier score glasses.
The Brier score is a measure usually used to evaluate the predictive capabilities of weather forecasting methods, but here we use it to measure how unexpected a result in soccer is. To find out more about how to calculate the Brier score for soccer teams read the full article. They key fact to remember is that a higher value indicates that the outcome was a surprise, when compared to betting predictions.
Sassuolo were the surprise package for the Italian Serie A in 2015/16. This is clearly shown in the Brier score obtained by this team, the only Italian team to have achieved an overall Brier score above the threshold of 0.667, which we consider as a lower limit to measure surprises.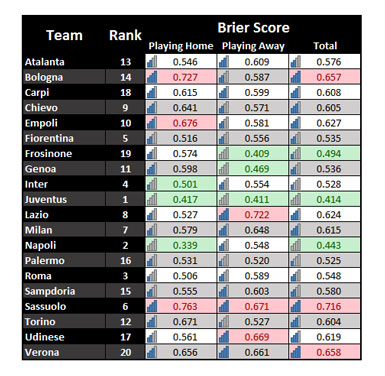 The surprise factors: Sassuolo, Bologna and Verona
The 2015/16 season was only the third consecutive season in the Serie A for Sassuolo, having gained their first ever promotion to the top Italian league in the 2012/2013 campaign. After only three seasons in the top flight, no one really expected such a consistent performance from the Neroverdi. This is evident in Sassuolo's home Brier score, having only lost three times at home throughout the season.
Starting off strongly, Sassuolo's performance was relatively surprising achieving their highest Brier score in the early stages of the season, as evident in the graph shown below. Maintaining consistent performances throughout, Sassuolo continued to achieve a higher than average Brier score and despite ending with four consecutive wins, these victories were generally expected, with Sassuolo's first ever qualification to Europe in their sights.
Sassuolo's high Brier score was further enhanced due to the number of draws (13) obtained during the season. Odds on draws tend to be higher than odds at evens (European Odd of 2, American odd of +100 or English odd of 1/1), hence a high frequency of draws contributes to a higher Brier score.
Bologna's season was somewhat of a roller coaster ride. Under the managerial reign of Delio Rossi, Bologna faced a torrid time obtaining only six points (wins against Frosinone and Carpi, both teams which were eventually regulated) from a possibility of 30. However, following Bologna's 1-0 home loss against Inter, Delio Rossi was replaced by Roberto Donadoni on the 28th November 2015.

Under their new manager, Bologna's season took a turn for the better achieving seven wins in their next twelve games, losing only three times. This is evident in the graph below, with Bologna registering an extremely high brier score throughout November till February.
Bologna faced another slump at the late stages of the season, however their mid-season performance was enough to achieve an overall high Brier score.
Contrary to Sassuolo's better than expected performance, Verona's high Brier score related mainly to their unexpected poor season. Achieving their first win only in February 2016, Verona's season took many by surprise. With their talisman captain Luca Toni being injured for most of the season, Verona lacked leadership and a prolific goal scorer, having greatly depended on Toni's goals the previous campaign, which saw him winning the golden boot along with Inter's Mauro Icardi with 22 goals.
Winning only five out of their 38 games, Bologna's Brier score was improved when taking into consideration that two of these wins were against AC Milan and Juventus. Moreover, along with Sassuolo, Bologna achieved the highest number of draws (13) throughout the campaign, being a contributing factor to Bologna's overall surprise performance.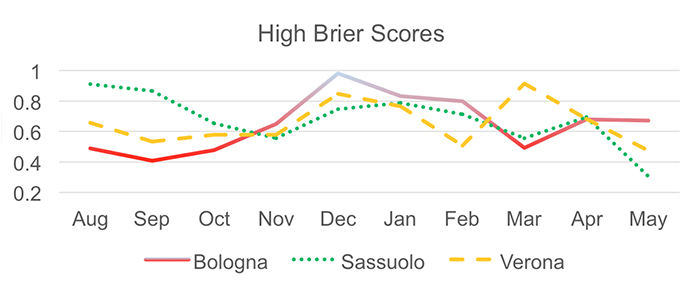 Other surprises: Empoli at home, Lazio & Udinese away
Udinese were not much of a fancied team by bettors when playing away. They only started three away games as favourites, not winning any of these three. Notwithstanding, they won four away matches, including a really surprising one versus Juventus during the eventual winners' early slump. Hence their high Brier score away is attributed to these unexpected wins.
Contributing further to this is the five draws obtained when playing away. As explained above, the outcome of the draw is often under-estimated by bookmakers, resulting in a high Brier score when this outcome is successful.
Lazio also experienced six draws when playing away. They started around half of their away matches as favourites. The team based in the capital won three out of nine matches in which they were not favourites. However, they faltered when they should have won, only winning only 20% of away matches started as favourites.
One such match is the loss versus Empoli. However, Empoli do not have a high Brier score at home due to winning unexpected matches, but because of the large number of draws (six) and losses to lowly Frosinone, Atalanta and Chievo.
The low scores: Juventus, Frosinone, Napoli
Yet Empoli's scalp isn't Frosinone's claim to fame. Frosinone caused two of the three biggest upsets of the season from a Brier score perspective when they drew Juventus at Turin and AC Milan at Milan. Yet besides these two matches, they were mainly predicted to lose. Their relegated status by the end of the season shows that these predictions were largely correct.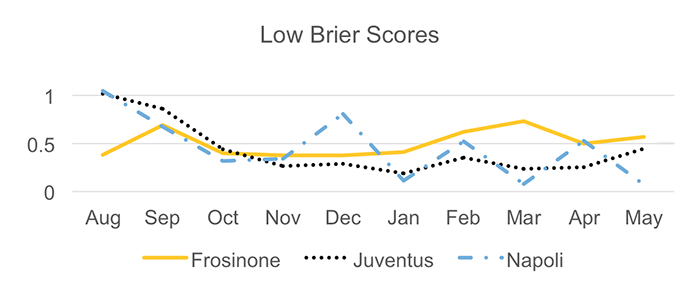 As evident in the graph above, despite eventually winning the title, as expected, and ending with an overall low brier score, Juventus commenced the 2015/16 season on the wrong foot, winning only three games out of the first ten.
Consequently, Juventus achieved a high Brier score in the first three months of the season, with their opening game home loss to Udinese and their home draw against Frosinone obtaining the biggest per match Brier scores.
However, following their initial torment, Juventus went on a 26 game unbeaten run, failing to win only once away to Bologna, and obtaining an impressive 76 points out of a possible 78. This run saw Juventus crowned champions for the fifth consecutive season, as reflected in their overall Brier score.
Similar to Juventus, Napoli started off the season poorly, with an opening defeat to Sassuolo, and only one win in their first five matches. Despite this, Napoli's home advantage was too big for all their opponents. Napoli remained undefeated at home throughout the season, failing to win all three points in only three games. This contributed greatly to their overall brier score, registering the lowest brier score for home games.
What about Inter and Genoa?
As both co-authors are Interisti, we have suffered our fair share of sleepless nights; thankfully Dominic has converted to a Fox since moving to Leicester a few years ago. Hence we'll try not to overly mention the Nerazzurri's failure to qualify for Champions League football.
At home, Inter were outsiders only twice but won these matches versus Roma and Napoli. Otherwise Inter won a fair share of home matches with the major upset being a draw to Carpi. Genoa's low Brier score playing away from home is explained by the correct expectancy of them losing most of these matches. Basically nothing to see here, we can move on.
Who is most likely to cause upsets in 2016/17?
For yet another year, Juventus are by far the favourites to win the league, probably even more than previous seasons. The greatest battle this year will once again be for the European places. The contenders for the lowest Brier score will likely to be Juventus and Crotone, which following the first few games, seem to be destined for relegation.
On the other hand, three teams which may cause a surprise this year are Pescara, Sampdoria, and Torino. Pescara seem to have a number of interesting youngsters looking to shine against Serie A opponents, whilst Sampdoria, under new coach Marco Giampaolo look to be a side tough to beat. Torino might as well be this season's surprise package, with a recruitment of a high profile coach and certain players who look to prove doubters wrong, they may clinch a spot in Europe.
Get the best Serie A odds at Pinnacle, the ultimate bookmaker with the highest limits and the lowest margins.
This article was co-authored by Ranier Buhagiar.