The 2022/23 Premier League season promises to be unlike any that has gone before. For the first time ever, the campaign will pause for a mid-season international tournament, the 2022 World Cup in Qatar. What impact this has will be fascinating to see.
The bigger clubs have deeper squads, but they will likely have more players on international duty in November and December too. How well they manage their playing resources will be crucial.
It will be hard for bettors to judge in advance what impact the World Cup will have. However, expected goal statistics that are widely available online can help guide our pre-season betting selections. Doing this ahead of 2021/22 proved worthwhile.
2021/22 Premier League review
We'll begin with a look at how Pinnacle's projected points at the start of 2021/22 aligned with what unfolded.
10 teams finished over our predicted points tally and 10 finished under; however, our projected total of 1,052 points for all teams combined was spot on.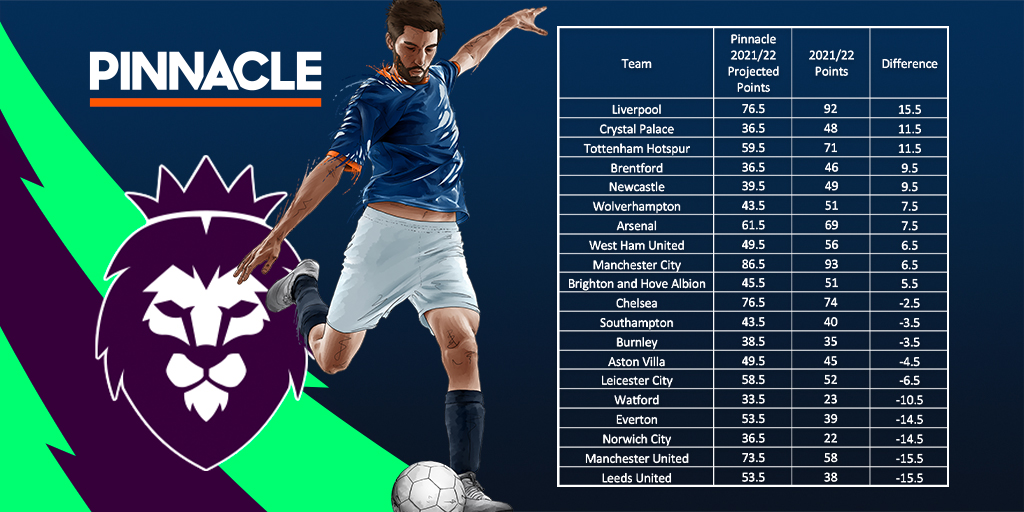 We believed Liverpool would likely bounce back from the injury-enforced difficulties that they suffered in 2020/21, but they did so at an incredible rate.
Tottenham's record shows what difference a mid-season managerial change can make. When Nuno Espirito Santo was sacked, Spurs were on track to finish with 57 points, just 2.5 behind Pinnacle's prediction. But Antonio Conte took them past Arsenal and into the Champions League.
At the other end, Everton and Manchester United had far worse seasons than both their budgets and their points predictions suggested they should have had. It was Leeds who saw the biggest drop in percentage terms, though the combination of a small squad and key injuries lay at the heart of their difficulties.
Our pre-season predictions last season were for Brentford and Brighton to finish over their projected total, with Everton to finish under theirs. All three predictions were successful.
2022/23 Premier League table predictions: What do the odds suggest?
Here is Pinnacle's predicted Premier League table for 2022/23, with the points totals from last season included to illustrate whether we expect each team to get better or worse.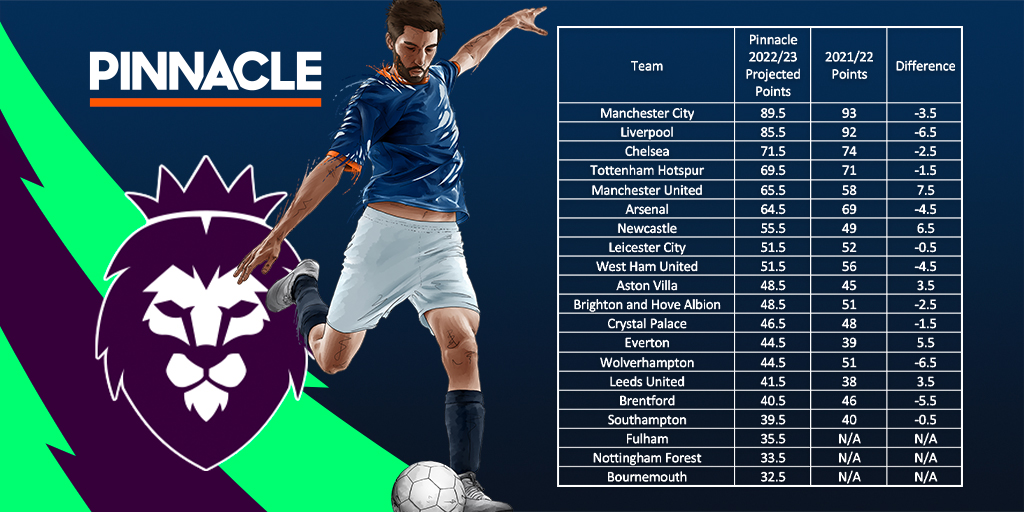 The predicted table does not contain any major surprises, with the teams broadly ordered as most fans would expect them to be. The interest comes from the identity of the six teams who are forecasted to shift by at least five points.
On the positive side of the ledger are Manchester United (+7.5), Newcastle (+6.5) and Everton (+5.5). For the first of the trio, they head into the new season on the back of recording their lowest points tally since 1989/90. New manager Erik ten Hag is highly rated (thanks to three Eredivisie titles and a Champions League semi-final with Ajax) but a lot will depend upon how quickly he can get United playing to his style.
Their transfer business could make a huge difference too, with Cristiano Ronaldo looking to leave (at the time of writing). In the case of Newcastle and Everton, Pinnacle believe that the improvements they showed under their mid-season managerial appointments in 2021/22 can be maintained.
At the wrong end of things are Brentford (-5.5), Liverpool, and Wolverhampton Wanderers (both -6.5). Pinnacle expects the Bees to suffer a similar fate to Leeds and Sheffield United. They were the best of the newly promoted sides in 2020/21 and 2019/20 respectively, just as Brentford were last season, and fought against relegation the following year.
The logic behind the Liverpool prediction is less immediate. While the Reds have sold Sadio Mane to Bayern Munich, they have retained the services of Mohamed Salah and the rest of their key players. In the case of Wolverhampton, they earned five points fewer in the second half of 2021/22 than in the first. Pinnacle have predicted that their trajectory may continue downward, though the odds (1.869*) are identical for over and under 44.5 points.
We can aid our predictions by looking at the underlying data from last season. The statistics may reveal whether the likes of Manchester United and Liverpool were heading in the directions that Pinnacle expects them to in 2022/23.
Premier League 2021/22 expected points vs. 2022/23 projections
There are different ways of calculating expected points (xPts). Understat use their expected goal model to generate xPts for each fixture but their results can be confusing. For instance, when Liverpool beat Wolverhampton 3-1 on the final day of last season, Understat's xPts for the two sides were 2.61 and 0.28 respectively. However, that does not total the three points which were on offer, and nor does it align with the actual options of zero, one or three points.
A more realistic method is to take the expected goal score from a match and award three points to whichever side led by at least 0.4 xG, or if the margin is lower then consider the game a draw. A difference of 0.4 expected goals is the approximate equivalent of one Opta-defined clear-cut chance, and it also ensures your predicted league table contains a realistic total of draws.
Here's a table of Pinnacle's points predictions for 2022/23 compared to the xPts for last season using this method.
Although there was only nine points difference between the total xPts and actual points for the 17 teams who avoided relegation in 2021/22, on an individual club basis there are some very large discrepancies between the expected points from last season and Pinnacle's predictions.
The widest gap is for Newcastle, with their improved form under Eddie Howe not entirely justified by their underlying performance. In his 27 matches, the Magpies took 44 points from performances which were worth 33 expected points. However, as this is their first summer under new ownership, it's safe to assume Newcastle will be using transfers to improve the squad.
Whether this happens at Leicester remains to be seen. Brendan Rodgers' side were the second biggest overachievers when compared to expected points last season and have not bought anyone at the time of writing. The Foxes won't have the distraction of European football in 2022/23 but bear their statistics in mind if considering a bet on them.
Brentford have the biggest negative difference but perhaps more interesting is the case of Crystal Palace, who are just behind them. Many people expected them to perform badly last season, with Patrick Vieira and some talented young players replacing Roy Hodgson and his group of gnarled veterans. Yet on xPts, the Eagles should have finished sixth in the Premier League.
Outright Premier League betting: Who will win the Premier League title?
It is a stretch to even call the Premier League title battle a two-horse race in 2022/23. Pinnacle have Manchester City as 1.568* favourites, with second-favourites Liverpool out at 3.260*.
With the prices for the other 18 clubs factored in, we can deduce that City have been given a 54.3 percent chance of finishing top of the table next May, with the Reds deemed less than half as likely at 26.1 percent. Although the champions topped the xPts table last season, Liverpool's underlying performance suggested they deserved 97 points and should only have lost once. Their foundation looks as strong as ever.
As we must assume at this point that the World Cup will affect both clubs equally, the key determining factor in the title race is likely to be the evolution of the forward lines.
If City aren't quite yet betting all their chips on Erling Haaland, they're heading in that direction. Raheem Sterling and Gabriel Jesus were their top two players for expected goals in 2021/22 and both have now left the club. Meanwhile, Kevin De Bruyne had a fantastic campaign but overachieved against his xG to the largest extent of any player in Europe's top five leagues. Can he repeat that this season at the age of 31?
For Liverpool, there may not be the same pressure upon Darwin Nunez due to his age and lack of experience in a big league, but the departure of Sadio Mane has deprived them of an established, reliable goal scorer.
They will hope that Luis Diaz can improve upon his early form in England, with a full Jurgen Klopp pre-season likely to aid him, and securing Mohamed Salah for the next three seasons can only be a good thing.
Manchester City are the obvious pick here. They have the strongest underlying process and have added one of the most sought-after forwards in world football. But there is no value in backing them, and Liverpool may have a better chance than the odds suggest. The teams clash in match weeks 11 and 29, and the outcome of those fixtures could prove decisive.
Making Premier League season predictions
None of the promoted sides are predicted to reach the 36-point mark, yet you have go back to 2004/05 to find the last season in which that occurred. At least one of the trio has hit 40 from 2008/09 onwards so there could be value in an 'over' bet on one of Fulham, Nottingham Forest or Bournemouth.
The former finished top of the Championship and rightly so according to the xG data. However, their last three top-flight campaigns have seen them get no more than 32 points. As such, the 2.130* for Fulham to get under 35.5 points looks too good to turn down.
Crystal Palace can provide similarly good value but in the opposite respect. Their line is set at 46.5 points, when they got 48 last season and had a whopping 61 xPts. Conor Gallagher has returned to parent club Chelsea, which is a loss, but a bet on Palace getting over 46.5 points at 2.130* looks worthwhile.
Our final selection is Wolverhampton, and more specifically an under 44.5 points bet at 1.869*. While they got 51 points in 2021/22, their performances were only worth 36. Bruno Lage had Jose Sa to largely thank for that, as the Wolves goalkeeper enjoyed the second biggest over performance for goals conceded against expected in the big leagues last season. If he has a more regular campaign, then Wolverhampton could see a drop off which will make our selection a profitable one.