The default method of soccer betting is increasingly moving from pre-match to live. But how much have bettors' mind-sets changed to understand where to look for profitable opportunities within soccer matches in progress?
The fundamental principle of earning a profit from live soccer betting is the same as for any form of speculation: bettors need to take advantage of market inefficiencies. That means calculating when the odds do not reflect the true probability. In live markets, there are specific areas bettors should focus on to discover – and exploit – these inefficiencies.
Rare & random – It only takes a second to score
Soccer commentators are renowned for churning out meaningless clichés, but one of the most frequent – 'It only takes a second to score a goal' – is actually quite insightful. There are a huge number of potential goals in any given game – making a live soccer bettor's life interesting.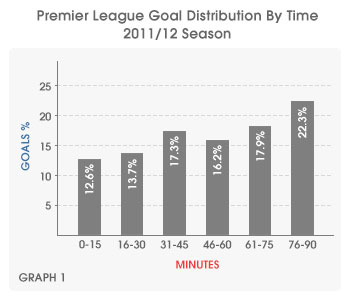 In proportion, however, the actual number scored is very small – goals are rare. And goals are random – from a statistical perspective – as they don't come in clusters, so one goal doesn't necessarily trigger further goals. So how do you predict something that is both random and rare?
Professional bettors and bookmakers use a vast array of complex statistical models that try to predict goal distribution, but at a fundamental level, soccer is played and coached by humans, who can exhibit distinct tendencies. It's the job of the bettor to understand and quantify the impact of those, and recognise when the market's estimation of outcomes might not accurately reflect their impact. So for now, let's start at a basic level by looking at goal distribution for last season's Premier League over six intervals of 15 minutes. This data is freely available over the internet.
Goal Distribution – When are goals more likely?
Graph 1 shows that goals tend to become more frequent as the game progresses, saving the period leading up to half time, where there is a slight spike.
The likelihood of a goal in the final sixth of a game is almost double that of one occurring in the opening 15 minutes.
This data is the overall picture for the Premier League, but by investigating the idiosyncrasies and varying approaches of individual teams and their components – players and coaching staff – things can look very different.
Let's look at the same data for Reading (accurate up to February 11th 2013) in Graph 2. The final 15 minutes of games involving the Royals have produced three times as many goals as the first, and over four times that of the period from 46-60 minutes. It's vital to know this kind of information when betting live, as it shows that Reading's matches have been playing out in a fashion very different to the "average team".
This could bias you in two ways. If you predominantly watched Reading's games this season, you could over-estimate the number of times a team scores near the end of the game. Not watched any Reading? Then you might underestimate their chance of grabbing a last-minute winner (or more likely, an equaliser).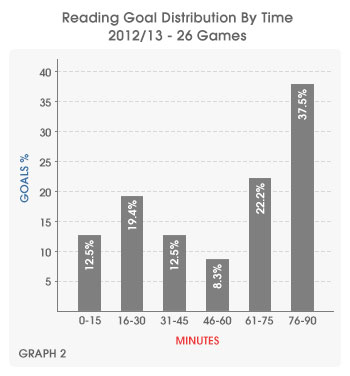 It's equally important to accurately attribute a cause of this. For example, much has been made of Adam Le Fondre's super-sub performances, but that refers to just two specific games. The Royals have scored just one more than they have conceded (14 to 13) in the final 15 minutes. The distorted view the media gives is worthy of a completely separate article.
As the season progresses Reading's distribution may well tend towards the more familiar season wide frequencies (regressing to the mean) but it still presents(ed) an opportunity to exploit if you can pin-point what is behind it, whether it is simply a blip, or is reflective of something more significant.
Goal distribution is a useful headline measure, but this broad data reflects a myriad of goal-trigger events that measure superiority and game intensity, which should be investigated in more detail.
Game Intensity – it's a game of two halves
With a game in full flow, bettors have access to a lot of freely available data – % possession, shots (on and off target) & corners – all of which hint that goals maybe imminent and help define game intensity. Keeping tabs of these can provide a good assessment on who is on top, but given they are no secret, the trick is to use these in conjunction with subjective analysis. The sharp bettor for example, will see where odds are over-valuing a team playing at an unsustainable pace.
Example 1
In the recent El Clasico meeting, the Copa del Rey semi-final between Real Madrid and Barcelona on January 30th at the Bernabeu, Real successfully pressed Barca for the first half but the intensity at which they played was simply unsustainable (at least to the trained eye). In-running bettors would have been making a mistake to predict the final outcome based on that first 45 minutes.
Example 2
A similar example of misleading game stats would be last season's Champions League final between Bayern Munich and Chelsea, which – based purely on possession and interaction stats – was one of the most lopsided matches ever. The Bavarians superiority was only half the story, the other important element was Chelsea's tactical intention to invite pressure and try to land a lucky counter-punch. They made a game plan, followed it, and won on penalties. Bettors who were simply watching the game stats would have considered it insane to bet on Chelsea to lift the trophy.
The most important fact regarding game intensity is that it isn't a constant. There are some basic examples where the balance of possession can be skewed with things like the crowd intensity, adrenalin and situational factors coming into play:
Derby games
Cup games, especially with unbalanced match-ups e.g English FA Cup
Relegation/Promotion battles
Tournament scenarios
In these circumstances seeing the game as literally two separate halves (increasing our cliché quota) for betting purposes can be a smart move. (1st and second half lines are available at Pinnacle for all major leagues).
Our introduction to Goal Distribution and game intensity are really just scratching the surface of the subject of live soccer betting.
By introducing some concepts for live soccer betting, even at a relatively simplistic level, our intention is to get bettors thinking about what constitutes to an edge. This should hopefully encourage bettors to then move their knowledge to the next level and become a more informed bettor.