Ahead of Saturday's all-German Champions League final we take a look at the path the odds have taken since Pinnacle posted the opening line, underlining the importance of tracking odds movement. The data illustrates that even with such a high profile game as the Champions League final, sentiment still fluctuates enough to enable you to lock in a profit before the game has even started.
The Opening Line – Bayern Munich Favoured
As referee Damir Skomina blew the final whistle on the Champions League semi-final at the Nou Camp on May 1st- confirming the 7-0 aggregate demolition of Barcelona by Bayern Munich – many commentators felt the result signalled a decisive shift in dominance of European soccer from Spain to Germany. But who would reign supreme at Wembley– Bayern Munich or close rivals Borussia Dortmund?
The opening handicap odds for the 2013 Champions League final at Pinnacle as indicated by point 1 on our odds movement chart were:
Bayern Munich (-0.5) 1.84, Borussia Dortmund (+0.5) 2.11
(not clear what an Asian handicap is? Read this explanatory article first)
Betting odds give an accurate measure of the relative chances of the two Bundesliga teams winning in 90 minutes, but how can we explain the logic for the opening odds, how have these changed since they were first posted and what causes the fluctuation? We have graphed the movement of the Champions League final odds and analyse the movement.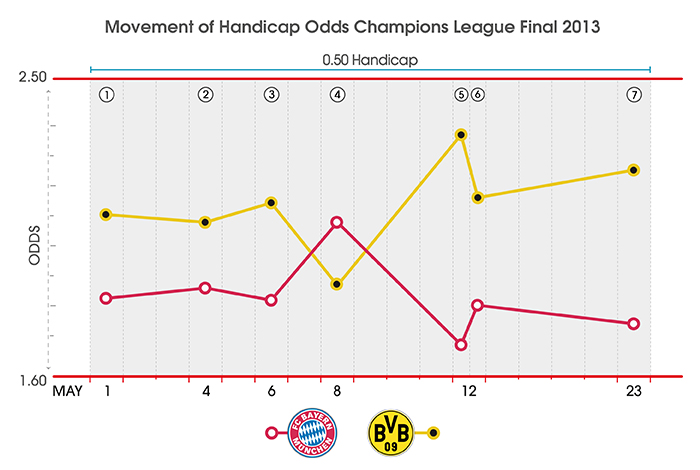 Bayern Munich – Strong at both ends
Both Bundesliga teams were impressive in their semi-final performances against what were regarded by many as Europe's two best teams. However, Bayern Munich's performance was crucially different – they scored seven impressive goals over two legs without conceding.
In fact Bayern didn't concede in their quarter-final against Juventus either, which over two legs produced an aggregate 4-0 score-line and translated to an aggregate 11-0 in the final stages of Europe's toughest club competition – unprecedented.
In contrast Dortmund were somewhat clinging on in the final minutes of their semi-final second leg at the Bernabeu where one more Real Madrid goal would have eliminated them.
On top of that, BVB were literally seconds from going out at home to Malaga in the previous round, so though their resilience is admirable, the Yellow and Blacks clearly rode their luck to book their passage to London. All these factors were built into the opening line.
Pressure Points – Bayern's position cemented
As the dust settled on the drama of the semi-finals, the market gradually crept further towards Bayern as the sentiment regarding their superiority hardened.
As the dust settled on the drama of the semi-finals, the market gradually crept further towards Bayern.
When the semi-final draw took place in Nyon (April 12th), pairing Bayern Munich and Barcelona, Pinnacle' opening line for the game at the Allianz Arena actually had the Spaniards as favourites. This was very short-lived, with the smart money recognising the over-valuing of Barca (many reasons maybe behind this such as the Halo Effect – read about that here).
History was not about to repeat itself, Bayern were viewed as worthy favourites to lift the trophy within ordinary time, but how far would the line move in their favour and would a point be reached when the estimation of their value went too far?
The first pressure point was reached on May 6th (point 3 on our graph) five days after the opening line was published, as Bayern Munich moved to (-0.5) 1.82, with Dortmund at (+0.5) 2.14. This however only lasted two days, before pushing back towards Borussia Dortmund to reach a high on May 8th of – Bayern (-0.5) 2.08 BVB (+0.5) 1.87 (point 4). This would prove a peak in terms of the best odds available for Bayern Munich at Pinnacle.
It is difficult to pin-point what may have been behind the move – if anything at all beyond trading. The sides did meet in the Bundesliga on May 4th, (point 2) sharing a fractious 1-1 draw (six yellows and a red) but both sides rested key players and the game had no significance toward the Bundesliga race, so it is hard to see how much this game was a true barometer of the likely outcome at Wembley.
Within three days between May 8-11th Bayern had moved from its highest to its lowest odds.
From the high of May 8th, the odds have moved consistently back towards Bayern Munich as if the uncertainty in the market was resolved, and the money was firmly behind the Bavarians. Within three days between May 8-11th Bayern had moved from its highest to its lowest odds (point 5):
Bayern Munich (-0.5) 1.67 Borussia Dortmund (+0.5) 2.37
The German champions hovered around that number until softeningto 1.80 (BVB 2.16) on May 14th, but it was been one-way traffic towards Bayern Munich, thereafter. The market seemingly had made up its mind, and the news about Mario Gotze on May 22nd only served to fuel that lean further.
The Gotze Effect – Did his withdrawal impact the odds?
Mario Gotze, hamstrung since the semi-final second leg at the Bernabeu announced on Wednesday May 22 that he would play no part in the final. The 20 year old had made 11 appearances in BVB's Champions League campaign, with 2 goals and 5 assists, but would his loss be felt by the market?
The midfielder's participation was always in doubt; he pulled up in his first training session back, so some uncertainty must have already been built into the odds, on top of which there is some speculation that his 37 million euro summer move to Saturday's opponents may have had some bearing. Given the market had been consistently moving towards Bayern, the Gotze news helped maintain that momentum, but wasn't a game changer on its own. As of May 23rd (point 7) Bayern Munich odds were coming close to eclipsing the low of May 11th :
Bayern Munich (-0.5) 1.74 Borussia Dortmund (+0.5) 2.25
Final Push – Expect public money on the favourite
We should expect more movement as we approach game day and kick-off, when we are likely to see odds leaning further towards Bayern as what is termed 'public money' flows in. This is a common phenomenon for high profile games where more recreational bettors, who tend to bet last minute, disproportionately bet on the favourite, which – if the odds move too far – may create an opportunity for more informed bettors.
Our limits will also be increasing towards game day, to reach close to $500k, and such large volume bets have the potential to move the market further.