Barcelona and Real Madrid are the dominant teams in La Liga, so is it possible to make a profit by consistently betting on them to win at home? And can using the handicap instead of the 1X2 markets provide greater winnings?
Together Barcelona and Real Madrid dominate La Liga, winning a combined 25 titles in the last 30 years – including all of the last eight. 
With such supremacy between the two giants of Spanish soccer, odds are often short on a home win, so is their value in backing them? We compared five years of historical odds to find out.
Betting on 1X2 for Madrid & Barcelona home wins in La Liga
If you'd bet £10 on each 1X2 market for Real Madrid to win their home games over the past five seasons (2006/2007 to 2011/2012), you would have won £1037.59. Minus the £940 stake (94 games and one returned bet), you'd end up with a profit of £97.59.
Despite big odds on teams visiting the Bernabeu, if you'd backed Madrid to lose for every home game, you would be out of pocket £318.80. The worst option was choosing a draw, however – a £940 outlay would have returned just £298.
Although £97.59 seems a small profit, if you had backed Real to win every home game with a £100 stake per game, you would have made a much healthier £970.59. There is no better place to bet on 1X2s than Pinnacle, who have a margin of just 2%, ensuring you win more than other bookmakers.
In comparison, if you'd bet £10 on each Barcelona 1X2 home game, your profit would be just £1, while punting on them to lose every time would have lost you £115.70.
Reasons for this disparity could be:
Despite winning three La Liga titles compared to Real Madrid's two in the five years, Barca were less consistent at home. Over the five seasons Real Madrid failed to win just 14 of their 95 home games with an average non-win percentage of 15%, while Barcelona failed to win 16% of their games at the Nou Camp stadium.
Another reason could be that bettors had such faith in Barcelona that their volume shrunk on home odds, minimising winnings for that outcome.
Betting the Handicap for Madrid & Barcelona to Win at Home in La Liga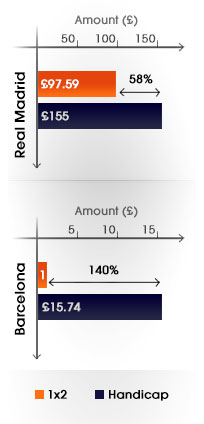 Betting on the 1X2 market has its benefits, however betting the handicap on either Real Madrid or Barcelona to win all home games proved to be more profitable.
In those five years, Real covered the handicap on 53 occasions, fell short 36 times and equalled it five times.
This meant that backing Real Madrid to win all home games in the five seasons mentioned on the handicap, would have made you a profit of £155 – £57.41 more than the 1X2 and an increase of 58%.
Backing Barcelona on the 1X2 would have given you a profit of £1, while betting on them to win every home game on the handicap would have seen a return of £15.74, a difference of £14.74 – or a substantial increase of 140%.
This data highlights the advantage of betting on either Real Madrid or Barcelona to win every home game of the season on the handicap.
And what better place to bet than Pinnacle, who offer unbeatable 2% margin on handicaps?