The World Chess Championship 2018 gets underway at The College in Holborn, London on November 9. Reigning champion Magnus Carlsen and his challenger, Fabiano Caruana, will battle it out over a 12-match series to be crowned winner of the World Chess Championship 2018. Who will win? Read on for some expert insight.
The 10,000 square-foot venue in the centre of London will only house 400 attendees for each day of this year's World Chess Championship but the series is expected to attract a global audience of more than one billion fans. The match will see not only two of the greatest chess players of this era face off, but two of the greatest players of all time.
Carlsen, a grandmaster at the age of 13, is synonymous with the game of chess and has even launched an app where users can try to beat him. Caruana (the first American to play in the World Chess Championship since Bobby Fishcer in 1972) is a genuine threat to Carlsen's crown and many believe he's the best challenger will have had to face in the last five years. 
Having held the crown since 2013, defending champion Magnus Carlsen is currently the 1.476* favourite to win with Fabiano Curana priced at 2.770*. This means that Pinnacle's traders think Carlsen has a 65% chance of winning his third consecutive title - the 35% given to Caruana is a considerable increase on the 21% given to Sergey Karjakin in 2016.
How does the World Chess Championship work?
The earliest beginnings of a World Chess Championship date back to 1886 - Johann Zukertort and Wilhel Steinitz played the first every World Chess Championship match. However, it wasn't until 1948 that the match was officially governed by FIDE (the international chess body). 
In 1993, a former champion (Garry Kasparov) initiated the creation of the PCA (Professional Chess Association) Championship. Both FIDE and the PCA were unified into the World Chess Championship we know today in 2006. Since then, matches have been fairly irregular and only as recently as 2014 was it decided that the match will take place every two years.
The current format of the World Chess Championship is also relatively new. After experimenting with round-robin matches and various knockout formats, since 2013 an eight player double round-robin tournament (known as the Candidates Tournament) is used to determine the challenger of the reigning champion. The two players then play each other in a series of 12 standard matches to determine the winner.
Who is the best chess player in the world?
Aprad Elo, a Hungaran-American physics professor, created his well-known measure of relative skill (the Elo ratings) in 1960 (he elaborated on the idea in his 1978 book The Ratings of Chessplayers). Originally created for chess, this system is now implemented across many different sports and games. 
Taking his FIDE rankings, experience and proven psychological attributes into consideration, it is no wonder that Magnus Carlsen is the favourite in World Chess Championship odds.
In short, a player's number of points before a game (and the difference between the two competitors) determines how many points are won and lost by each player for a given match. This means because a higher rated player is expected to beat someone rated lower, the reward (number of points they take off their opponent) is a lot less than if the lower ranked player were to defeat the high ranked player.
Officially termed as "FIDE ratings", the official World Chess Federation uses the Elo concept with some subtle nuances. These ratings provide insight into the ability of different chess players and provide bettors with a means of assessing each player's chance of winning a match. 
Carlsen is currently number one in the FIDE ratings on 2,839, with his challenger, Caruana, second on the list with a FIDE rating of 2,827. To put this into context (using Elo ratings which are very similar to FIDE's) a novice is classed as anyone with a score below 1,200. Scaling up 200 points at a time, there are multiple categories up until grandmaster status (anything above 2,500).
Carlsen is widely regarded as the greatest chess player of all time, and he's added substance to this claim after achieving a record high FIDE rating of 2,882 in May 2014, eclipsing the 2,851 achieved by Garry Kasparov in July 1999. Caruana is actually third on the all-time list with his highest score of 2844 achieved in October 2014 and this is why the matchup at the World Chess Championship 2018 is so highly anticipated.
Carlsen vs. Caruana: Analysing the market
Below is a table that tracks the movement of the Carlsen vs. Caruana odds: 
Carlsen vs. Caruana odds movement
Magnus Carlsen's odds for winning the World Chess Championship 2018 are currently the highest they've been (and conversely, Caruana's are the lowest his have been). While the Norweigen's odds did hit 1.322 (73% chance of victory) in August of this year, since then they have steadily been on the rise. This suggests the market isn't as confident in Carlsen's chances of retaining his crown as Pinnacle may have initially thought.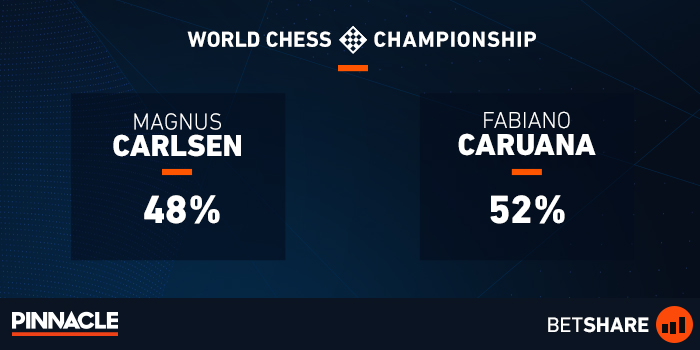 This above BetShare infographic gives a percentage representation of the share of the number of bets in Pinnacle's Carlsen vs. Caruana odds. The current BetShare for the World Chess Championship 2018 reflects what we can see in the odds movement. Bettors seem to think Caruana's odds offer value and thus far he has been the most popular pick (despite the odds suggesting he is the outsider.
World Chess Championship 2018: Who will win?
In addition to the title of the world's greatest ever chess player, Carlsen also has a slight advantage in his head-to-head record against Caruana. The two of them have played against each other 33 times in the standard chess game format. Carlsen has won 10, Caruana five and there have been 18 draws.
The 27-year-old Norwegian is also the more experienced of the two. A two-time World Chess champion, Carlsen will be familiar with the surroundings in London and is unlikely to be phased by any kind of pressure.
One thing that does favour Caruana is recent form. Not only did he win the Candidates Tournament, he won the London Chess Classic in December of 2017 (ahead of Carlsen who finished in third) and has built on his strong opening preparation to ensure he isn't on the back foot (something that has cost him in games against Carlsen in the past).
Carlsen is widely regarded as the greatest chess player of all time, and he's added substance to this claim after achieving a record high FIDE rating of 2,882 in May 2014.
Unlike soccer or other sports, things like the benefit of home field advantage don't influence the outcome of a game of chess. Although players will need to adjust to the surroundings, a neutral venue isn't much different to playing in their home country, something made evident by Carlsen's victory over Viswanathan Anand in 2013 when they played in Anand's native India.
Instead, it is the preparation, concentration levels and tactics employed by each player that can become the deciding factor when they meet in an enclosed glass, sound-proof area at The College in Holborn, London.
After winning the Candidates Tournament in March of this year, Caruana has had eight months to prepare for the World Chess Championship and try to devise a plan to beat Carlsen. However, Carlsen is renowned for his unpredictability. 
Whilst Caruana can mentally and physically prepare for what will be an exhausting encounter, what he can't do is plan for how his opponent is going to play, something that will undoubtedly benefit the Norwegian.
Carlsen vs. Caruana odds: What to consider
In addition to all of the above, if you are betting on the winner of the World Chess Championship 2018, there are numerous factors that need to be considered.
The ability of each player is obvious, their form coming into the series will be key and the behaviour of the betting market can give some indication of what is likely to happen. However, things that are more difficult to measure like the pressure the player's will be under will have a major impact on who emerges victorious from the World Chess Championship 2018. 
Concentration is an integral attribute of a successful chess player. There is no debating Caruan's ability, but this is a big step up for him. The question is, can he maintain focus and avoid any slip-ups against the practically faultless Carlsen? A challenge that becomes even more difficult with a €1 million prize fund on the line.
The World Chess Championship in 2014 between Carlsen and Anand is one example of how the slightest lapse in concentration can have a major impact on a match. In game six, Anand was presented with an opportunity after Carlsen's 26.Kd2. However, the vastly experienced former champion missed 26…Nex5! and instead, played 26…a4?. Missing the move that would have picked up two extra pawns and given him a great winning chance cost Anand the game and ultimately, the match.
Taking his FIDE rankings, experience and proven psychological attributes into consideration, it is no wonder that Magnus Carlsen is the favourite in World Chess Championship odds. Fabiano Caruana may be able to spring a surprise in London, but he'll have to play some of his best ever chess to do it.