In arguably the most intriguing of the three title bouts taking place at UFC 259, Petr Yan seeks to defend the Bantamweight Championship against #1 Aljamain Sterling. Can Yan retain the belt at the first time of asking, or will Sterling's impressive rise through the ranks culminate in him becoming champion? Read on to inform your Yan vs. Sterling predictions.
Event: UFC 259
Date: March 7, 2021
Venue: UFC Apex (Las Vegas, US)
Yan vs. Sterling: Tale of the tape
| | | |
| --- | --- | --- |
| Petr 'No Mercy' Yan | Fighter | Aljamain 'Funk Master' Sterling |
| 28 | Age | 31 |
| 171 cm | Height | 170 cm |
| 61 kg | Weight | 61 kg |
| 170 cm | Reach | 180 cm |
| 7-0-0 | UFC record | 11-3-0 |
| 15-1-0 | Overall MMA record | 19-3-0 |
| 46% | Striking accuracy | 50% |
| Champion | UFC ranking | #1 |
Yan vs. Sterling is one of three title bouts taking place at UFC 259, meaning it will be the first flagship UFC event to feature a trio of title fights on the card since UFC 251 in July last year. In the other two, Israel Adesanya is taking on Jan Blachowicz for the Light Heavyweight Championship after Amanda Nunes attempts to defend the Women's Featherweight title against Megan Anderson.
This fight was initially slated for UFC 256 in December last year, but was postponed when Yan was disrupted by visa and travel issues. It is the first bout for which he is defending the Bantamweight Championship, after securing the vacant belt at the expense of Jose Aldo at UFC 251 courtesy of a punch-led final round TKO win.
The victory meant he maintained his unbeaten UFC record and extended his ongoing MMA winning streak to 10 fights, during which he has collected a Fight and Performance of the Night award apiece, while also rising to #10 in the UFC men's pound-for-pound rankings.
Sterling enters this bout in similarly eye-catching form, having recovered from an arguably shaky start to his UFC career comprised of three defeats in eight bouts by racking up five successive wins.
In his most recent outing at UFC 250, he earned a maiden Performance of the Night award for his 88-second submission victory over Cory Sandhagen, which was also the first time he enjoyed a UFC win in the opening round.
Amidst the scheduling issues, which has ensured this fight a lengthy build-up, both Yan and Sterling have been particularly vitriolic about their upcoming opponent in recent weeks. Yan has promised to "break and destroy" Sterling, while the latter has claimed that Yan is "definitely nervous about fighting [him]".
Analysing the Yan vs. Sterling odds
Yan is the narrow favourite at 1.793*, which translates to just under a 54% probability of victory. Meanwhile, Sterling is priced at 2.100*, equating to an approximate 46% chance. The Over/Under for rounds is set at 3.5, with 1.925* for both over and under.
Both Yan and Sterling's odds tend to shorten between open and close.
Yan has been priced at noticeably longer than the average closing odds for his last five bouts of 1.324 and indeed, the market implies that Sterling possesses a much greater chance of victory than any of Yan's recent opponents.
Yan was firm favourite for each of his last five fights and on every occasion his odds shortened between open and close by an average margin of 0.07. This indicates that those confident he will successively defend his belt may access slightly better value by placing their bets early.
Conversely, Sterling has been priced slightly higher than his rolling five-bout closing odds of 1.834, and among these he only closed at longer odds ahead of his victory against Jimmie Rivera (2.17). Of his last five wins, he was favourite on three occasions, the underdog for one, and closed at equal to his opponent before the other.
Similarly to Yan, Sterling's odds demonstrate a more consistent tendency to shorten between open and close, doing so on all but one occasion ahead of his last five fights by an average margin of 0.24. With this in mind, it would not be surprising if the betting market is palpably struggling to separate the two combatants by fight night.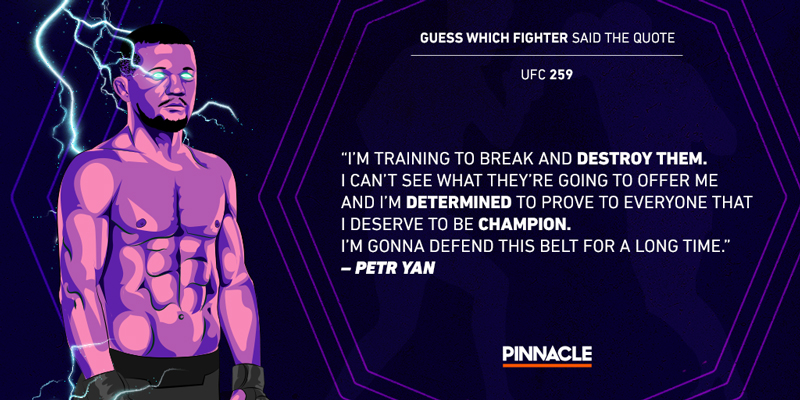 Yan vs. Sterling: Fighting styles analysed
Yan is a notably aggressive fighter who predominantly focuses on attempting to outstrike his opponent. While his primary aim is landing knockouts, he is equally content to craft a points victory over the distance and of his 15 MMA wins to date, seven each have featured a knockout and decision victory.
Sterling has earned more submission victories of the pair, despite somewhat weak grappling stats.
His commitment to such an attacking approach is perhaps best illustrated by the fact that he exceeds Sterling for both significant strikes landed (5.65 to 4.82) and absorbed (3.15 to 1.94) per minute. Only Rivera outstruck Yan among his recent opponents, and most impressively he recorded over 100 more strikes on Aldo than he managed in return (194 to 83) during their bout at UFC 251.
Yan's preference is to keep the fight upright while targeting the upper body, and he launches 67% of his attacks from a standing position and directs 75% of them towards his opponent's head. While he has only recorded a lone submission MMA victory to date, he can utilise respectable wrestling skills when required and his takedown defence rate of 88% firmly implies that he is particularly adept at keeping his balance.
By contrast, Sterling's 19 MMA wins have included only two knockouts and he is closer of the pair to a submission specialist. Perhaps unsurprisingly, he posts higher numbers for takedowns (1.89 to 1.73) and submissions (0.99 to 0.22) per 15 minutes than Yan, although his grappling accuracy rate of just 29% is a fair indication that he often requires numerous attempts to take a bout to the ground.
Sterling's overall style is arguably more versatile, although it features a similar consistency for outstriking his opponent. Notably, he achieves a higher striking accuracy than Yan (50% to 46%) and spreads his attacks more evenly across his opponent's body, suggesting that while he is undeterred from going on the offensive, he sacrifices a degree of aggression for precision.
Initially, this approach was occasionally guilty of being too hesitant and thus squandering opportunities to take control of fights, culminating in back-to-back split decision defeats after his first three UFC wins. However, Sterling appears to have refined it in the last few years, and his last five fights that lasted the duration were all unanimously decided in his favour.
With this is mind, Sterling's chances of victory perhaps directly depend on the extent to which he can overcome his main weakness – his inconsistent grappling ability. Not only will he be required to minimise damage from Yan's likely onslaughts, he will be attempting to submit a defensively strong combatant who remains on his feet nine times out of 10 when his opponents attempt to tackle him to the floor.
There isn't anything significant to suggest that Yan will deviate from his tried and tested approach, particularly as Sterling boasts decent but unspectacular defensive stats. While Sterling has only been knocked out once in his 22 MMA bouts, Yan will likely feel confident of outscoring him over the distance.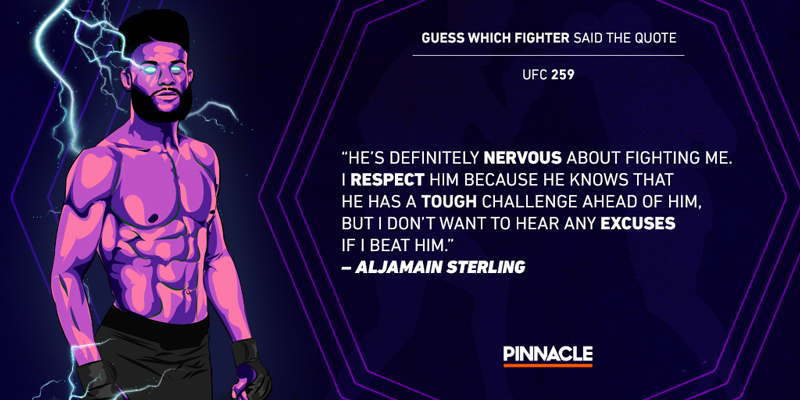 Yan vs. Sterling: Where is the value?
The odds for this bout reflect the suggestion that while Sterling is certainly capable of winning this fight, it will require a career-best performance that is unhindered by his most prominent deficiencies. If Sterling successfully wrestles Yan on the ground then the latter could easily find himself in trouble, although this entails a route to victory that Sterling could plausibly be unable to rely upon.
Indeed, Yan could debatably be declared the favourite for this bout on the basis that it will presumably be more tailored for his comfort zone alone. As mentioned, he has no reason to shift from his preferred method that has consistently proved successful, and his strong attacking ability is well-placed to exploit the fact that Sterling's approach may become increasingly desperate as the fight progresses.
Irrespective of who you think will win, over 3.5 rounds seems the obvious value bet here. Yan will be wary that knocking out Sterling is a difficult task and will likely settle for a decision victory, while the latter is yet to prove himself as adept of taking control of bouts in the early stages. There is good reason to anticipate a lengthy clash, that will probably also be the most closely contested of the three title fights at UFC 259.