Over half a year since their original bout was scheduled, Kamaru Usman is finally set to defend the UFC Welterweight Championship against Gilbert Burns at UFC 258. Will The Nigerian Nightmare enjoy a 17th successive MMA victory or can Durinho build upon back-to-back Performance of the Night awards by taking the belt? Read on to inform your Usman vs. Burns predictions.
Event: UFC 258
Date: February 14, 2021
Venue: UFC Apex (Las Vegas, US)
Usman vs. Burns: Tale of the tape
| | | |
| --- | --- | --- |
| Kamaru 'The Nigerian Nightmare' Usman | Fighter | Gilbert 'Durinho' Burns |
| 33 | Age | 34 |
| 183 cm | Height | 178 cm |
| 77 kg | Weight | 71 kg |
| 193 cm | Reach | 180 cm |
| 12-0-0 | UFC record | 12-3-0 |
| 17-1-0 | Overall MMA record | 19-3-0 |
| 52% | Striking accuracy | 46% |
| Champion | UFC ranking | #2 |
This fight was originally slated as one of three title bouts taking place at UFC 251 in July last year, but was postponed after Burns and his coach Greg Jones both tested positive for COVID-19. In Burns' absence, Usman fought and defeated Jorge Masvidal in a unanimous decision victory to retain the belt. The bout was initially moved to UFC 256, but was once again cancelled when Usman stated that he required more time to recover from undisclosed injuries.
This is the third fight for which Usman will defend the Welterweight Championship, having won it via unanimous decision against Tyron Woodley at UFC 235 in March 2019, before retaining it at the expense of Colby Covington and Masvidal.
Usman and Burns are undefeated in 16 and six MMA bouts respectively.
The 33-year-old can boast an undefeated UFC record stretching 12 bouts, which included a two Performance of the Night awards and nine lasting the distance. This has culminated in a #5 spot in the men's pound-for-pound rankings and Usman becoming only the fourth Welterweight champion among the last 10 to successfully defend their belt for at least two fights.
Meanwhile, this is Burns' first bout since he defeated Woodley at UFC on ESPN 9 last May in a victory that was widely considered to grant him a shot at Usman. Since returning to Welterweight, Burns has chalked up four successive victories and two Performance of the Night awards to rise to #2 in the division rankings.
Similarly to Usman, four of his last six bouts ran the duration and only two of his last 10 were settled in the opening round. This is Burns' first championship fight during his UFC tenure and the fact that he has reportedly declined opponents since his original bout with Usman was moved suggests that he is entirely focused on attempting to take his title.
Analysing the Usman vs. Burns odds
Usman is the favourite at 1.384*, which translates to just over a 69% probability of victory. By comparison, Burns is the underdog at 3.150*, equating to an approximate 31% chance. The Over/Under for rounds is set at 4.5, with 1.813* for over and 2.050* for under.
Burns' odds lengthened between open and close ahead of each of his last five fights.
Usman has been priced at slightly shorter than the average closing odds for his last five bouts of 1.616. Of these, he was the favourite for four, and his odds shortened between open and close on every occasion when he was and lengthened ahead of the one fight he was underdog for against Woodley.
This suggests narrowly greater value can be enjoyed by betting on Usman sooner rather than later, although it is worth noting that among these five bouts, his odds did not move between open and close by a greater margin than 0.15.
Conversely, Burns has been set at considerably longer than the average closing odds for his last five bouts of 1.948. Burns was favourite for three for these, although his odds actually lengthened between open and close on every occasion.
They tend to move by a larger margin when he is the underdog and lengthened by an average of 0.2 ahead of the last three fights he was predicted to lose. This indicates those who favour Burns may want to hold off on any bets until nearer February 14.
The market suggests that he has an average chance of victory compared to Usman's recent opponents, with his odds longer than both Woodley (1.52) and Covington (2.75), but shorter than all of Masvidal (3.36), Rafael dos Anjos (3.70), and Demian Maia (4.90).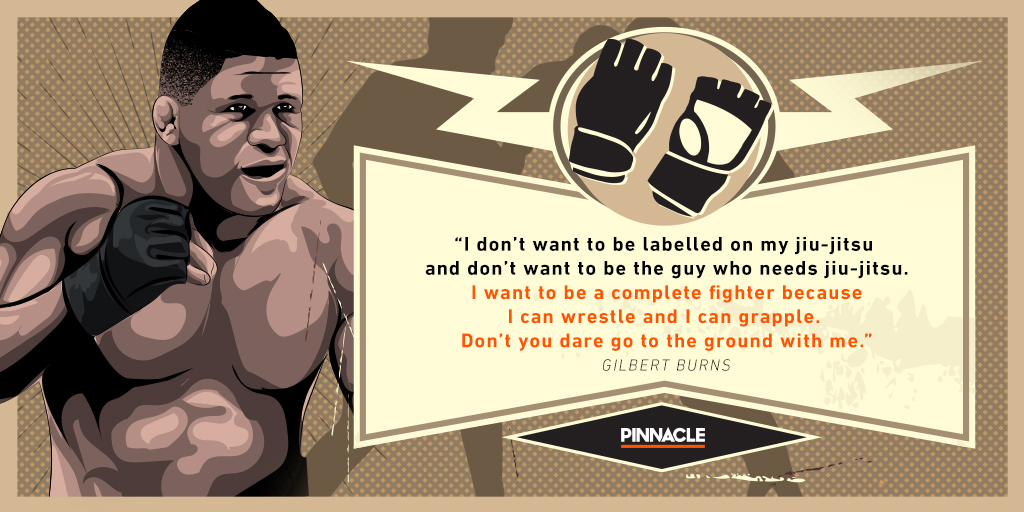 Usman vs. Burns: Fighting styles analysed
Usman has deservedly crafted a reputation as one of the most effective fighters in the UFC at grinding out victories over the distance. Of his last 10 victories, eight were settled by decision but on each occasion it was unanimous, illustrating his ability to control proceedings irrespective of who he is fighting.
Usman attempts to balance attack and defence in a bid to land more strikes and ensure a points victory.
Indeed, his stats point to an underlying versatility and ability to adapt his approach as the situation requires. He launches just 51% of his attacks from a standing position (compared to 67% to Burns) and achieves high figures for both significant strikes landed per minute (4.60) and takedowns per 15 minutes (3.44).
At first glance this might indicate an attack-minded attitude, but Usman is equally capable of relying upon strong defensive attributes. Aside from boasting a thoroughly impressive 100% takedown defence rate, he defends 60% of significant strikes and absorbs just 2.17 per minute.
As a result, Usman's strategy can be simply defined as attempting to balance attack and defence in a bid to land more strikes and ensure a points victory. He attained the former in each of his last 10 bouts, most notably obliterating Woodley with 141 strikes to 34. This highlights that if he is afforded too much license to dictate the bout, his opponent is granted very limited room to fight back.
With this in mind, Burns will need to be particularly wary of both Usman's superior striking accuracy (52% to 46%) and reach (193 cm to 180 cm). Indeed, the combination of Usman's physical attributes and more impressive stats indicates that Burns will have to work harder than usual to cause his opponent damage on the night.
Burns has earned most of his 19 MMA wins to date via submission, although this served as the route to victory for only three of his last 10 wins. Instead, all but one of his last eight were earned via decision or KO and the main strength he has highlighted during his UFC tenure has been his formidable punching ability.
Indeed, his last three KO wins were achieved with his fists, which he has increasingly relied upon if he senses an opportunity for a quick victory. Burns' reach is not his greatest asset and relying upon this strategy does mean opponents occasionally fend off his attacks without difficulty and fight back on the counter. As a consequence, he lands just 3.15 significant strikes per minute while absorbing 2.74.
Perhaps more worryingly, for a self-declared wrestling specialist his stats on this front do not compare favourably with Usman's. He manages only 2.21 takedowns per 15 minutes with 37% grappling accuracy (compared to 50% for Usman) and successfully defends just 50% of attempted takedowns.
However, he does beat Usman for attempted submissions with 0.71 per 15 minutes compared to Usman's 0.16, implying that he is more effective at transferring grapples on the ground towards opportunities for victory.
All of this indicates that to stand a plausible chance of claiming the belt, Burns will require a near flawless performance featuring palpably improved fighting and wrestling components than his recent outings have mustered. Otherwise, Usman should not face any considerable difficulty in once again dictating proceedings.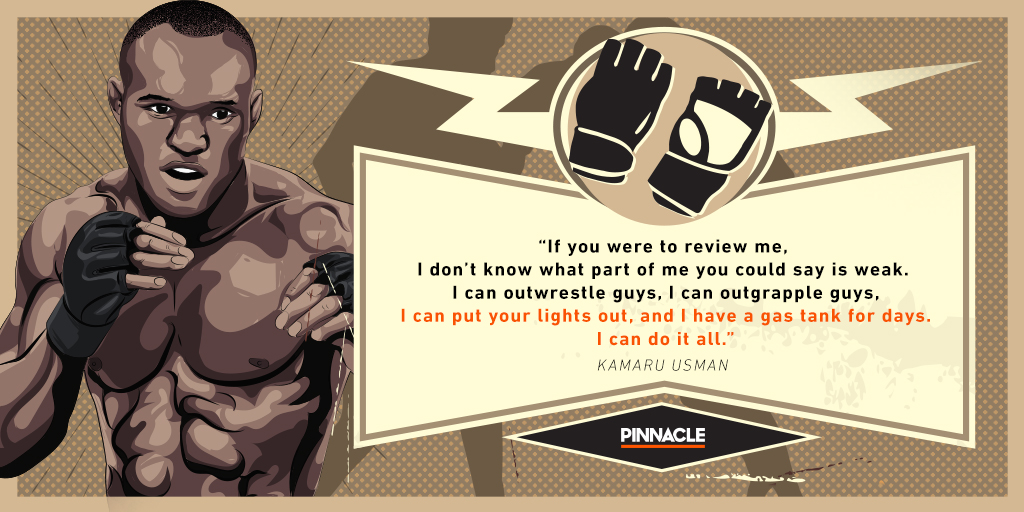 Usman vs. Burns: Where is the value?
It isn't difficult to assess why Usman is the comfortable favourite for this clash. Aside from the fact that he is the Welterweight champion and enjoying a lengthy winning streak, he has consistently demonstrated an ability to control fights against a broad range of opponents and land more blows irrespective of their attempted strategy to defeat him.
More importantly, there is nothing significant to suggest that Usman will deviate from his habitual approach and attempt to outstrike Burns in order to secure a decision victory over the distance. Therefore, over 4.5 rounds at 1.813* is instantly worth considering.
For those who do favour Burns, aiming for a quick knockout might prove his most promising route to victory, despite the aforementioned drawbacks attached to such a plan. Therefore, a swift Burns win seems the obvious value bet in this regard.
Looking forward to UFC 258? Make sure to check out Pinnacle's predictions for all the other bouts on the night.