Conor McGregor is set for his first UFC bout in just over a year when he takes on Dustin Poirier for a Lightweight clash at UFC 257. Will 'The Notorious' mark a winning comeback to the octagon, or can 'The Diamond' successfully exact revenge for his defeat in the first fight between the pair six years ago? Read on to inform your McGregor vs. Poirier predictions.
Event: UFC 257
Date: January 24, 2021
Venue: Etihad Arena, 'Fight Island' (Yas Island, UAE)
McGregor vs. Poirier: Tale of the tape
| | | |
| --- | --- | --- |
| Conor 'The Notorious' McGregor | Fighter | Dustin 'The Diamond' Poirier |
| 32 | Age | 31 |
| 175 cm | Height | 175 cm |
| 66 kg | Weight | 70 kg |
| 188 cm | Reach | 183 cm |
| 10-2-0 | UFC record | 18-4-1 |
| 22-4-0 | Overall MMA record | 26-6-1 |
| 49% | Striking accuracy | 50% |
| #4 | UFC ranking | #2 |
This is the third successive fight for McGregor that is being touted as his 'comeback' to UFC, largely because at least a year has elapsed between each of his bouts since he beat Eddie Alvarez at UFC 205 in November 2016. His most recent outing in the octagon witnessed him earn a 40-second victory over Donald Cerrone at UFC 246 last January.
Since then, McGregor claimed in June that he was in fact retiring for a third time, stating that he had grown "bored" of MMA and there were "no potential opponents that excited [him]". What specifically inspired a reversal of this decision is unclear, although McGregor has confirmed that he will be utilising the bout to help support Poirier's charity The Good Fight Foundation.
In the pair's first fight at UFC 178 in September 2014, McGregor landed a TKO victory in 106 seconds.
McGregor enters this bout in mixed (and obviously sporadic) form. His last five fights featured three wins, although all but one of his last eight UFC victories also earned the Performance of the Night award and his victory over Cerrone meant he became the first ever UFC combatant to achieve knockout wins in each of the Featherweight, Lightweight, and Welterweight divisions.
Conversely, Poirier has racked up eight UFC bouts during the same period in which McGregor has featured in just two. These have produced six wins, one defeat, and one no contest, as well as five Fight of the Night awards and a Performance of the Night award for his victory over Alvarez.
During this time, Poirier claimed the interim Lightweight Championship by overcoming Max Holloway at UFC 236, only to lose the belt to Khabib Nurmagomedov in his next fight at UFC 242. In his most recent bout, he secured a unanimous decision victory against Dan Hooker at UFC on ESPN 12 last June.
As mentioned, this bout is McGregor and Poirier's second clash, having initially fought at UFC 178 in September 2014. On that occasion, McGregor (who Pinnacle gave a 68.5% likelihood of victory) landed a punch-led TKO victory after just 106 seconds. This is Poirier's second fastest MMA defeat and McGregor's fourth fastest UFC victory to date.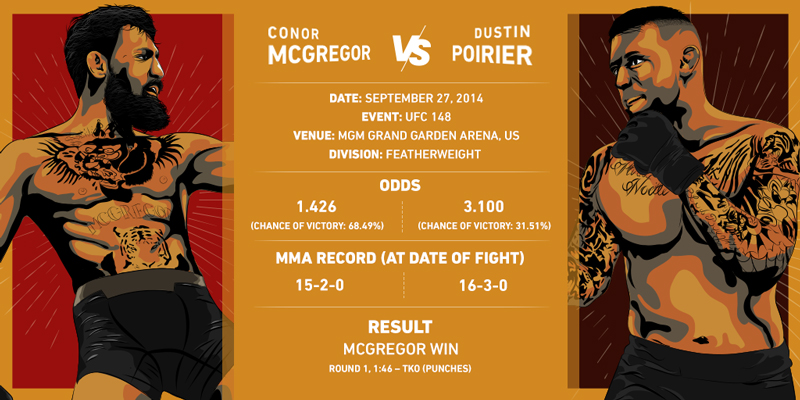 Analysing the McGregor vs. Poirier odds
The market has placed McGregor as the favourite with an almost exact 70% likelihood of victory at 1.374*, whereas Poirier is priced at 3.200*, equating to an approximate 30% chance of causing an upset. The Over/Under for rounds is set at 2.5, with 2.500* for over and 1.558* for under.
McGregor is noticeably shorter than the average closing odds for his last five bouts of 1.72. Among these, he was favourite on four occasions, winning three, and lost when he was the underdog against Khabib at UFC 229.
McGregor's odds have a recent tendency to narrowly shorten when he is the favourite, moving by an average margin of 0.09 ahead of the four fights in question. This suggests those confident he will win may enjoy somewhat better value by placing their bets sooner rather than later.
Meanwhile, Poirier is considerably longer than his rolling five-bout closing odds of 2.45. The market gives him a mid-range chance of victory in comparison to McGregor's last five opponents, with his odds longer than Khabib (1.52), Nate Diaz in their second fight (2.22) and Alvarez (2.36), but shorter than Cerrone (3.75) and Diaz ahead of their first bout (4.60).
Poirier's last five fights include three wins when he was the favourite, and a victory and defeat apiece on the two instances he was the underdog. Ahead of all but one of these, Poirier's odds shortened between open and close by an average margin of 0.13, although McGregor's recent combatants also witnessed significant movements in the opposite direction, most notably Cerrone (2.86 to 3.75) and Diaz (3.58 to 4.60).
By courtesy of the fact he is underdog, this indicates any bets on Poirier may be well-advised to hold off until nearer January 24.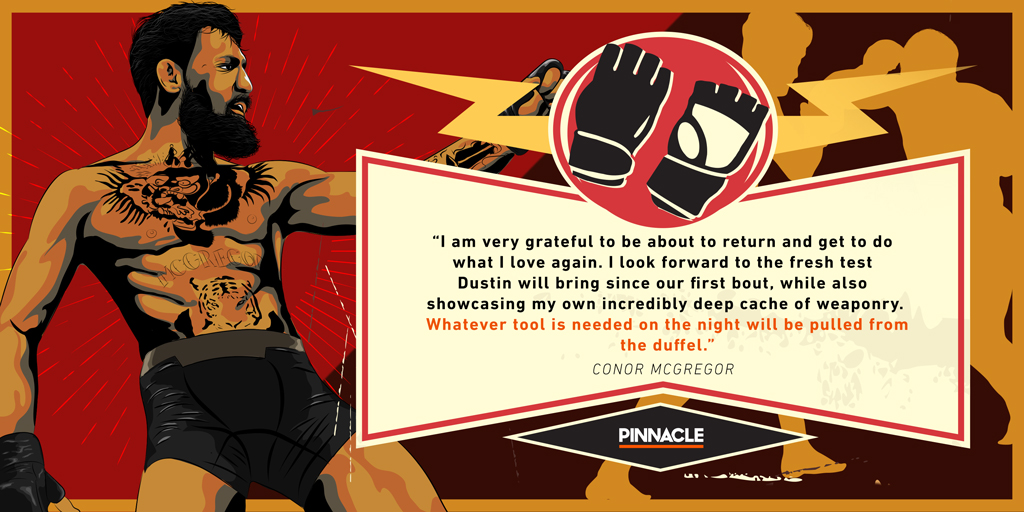 McGregor vs. Poirier: Fighting styles analysed
McGregor is broadly considered one of the most aggressive fighters across the UFC circuit, who unreservedly attempts to secure knockout wins as quickly as possible courtesy of his fast and fierce fists. Of his last 10 UFC victories, seven were punch-led KOs or TKOs and half concluded in the opening round. In fact, only three of his 22 MMA victories to date have been settled by a method other than knockout.
With this in mind, his style can be portrayed as simple yet effective. He launches 77% of his significant strikes from a standing position and aims 71% at his opponent's head. He rarely relies on taking down his opponent, averaging 0.75 takedowns per 15 minutes compared to 1.75 for Poirier, and yet is to attempt a submission in a UFC bout.
McGregor is unreservedly aggressive whereas Poirier possesses a more versatile skill set.
While McGregor is edged by Poirier for significant strikes landed per minute (5.43 to 5.59) and his striking accuracy is unglamorous (55%), the sheer power of his punches ensures that he doesn't require many to cause significant damage. Indeed, the first fight between the pair witnessed McGregor land a knockout blow with just his ninth significant strike and while this might have been six years ago, and it is likely that this will be playing on Poirier's mind.
McGregor's all-out attack approach does enable opportunities to hit him on the counter, as reflected by the fact that he absorbs 4.40 significant strikes per minute to Poirier's 3.69. 'The Notorious' posts decent if unspectacular defensive stats comprised of a significant strike defence rate of 55% and takedown defence rate of 70%, although it is worth noting that five of his last 10 opponents landed 10 significant strikes or fewer in their bout.
Poirier's skill set is more versatile and he is certainly more comfortable with relying upon submission-led tactics or crafting out victories over the distance if the situation requires. By contrast, just under half of his 26 MMA wins have featured knockouts (46%), with the remainder evenly spread between submission and decision wins.
While McGregor attempts to outpunch his opponents in a blatant bid to knock them out, Poirier utilises his fists to gain control of fights. Primarily punching from a standing position with attacks to the head, Poirier is unafraid to wrestle his opponent to the ground if he senses benefits in doing so, averaging 1.32 submissions per 15 minutes.
Poirier's weaker reach (183cm to McGregor's 188cm) may lend itself to such an approach for this fight, as it could reduce the time McGregor possesses to unleash his fists. However, Poirier's grappling accuracy of 41% indicates room for improvement, and any attempt to swipe McGregor from his feet will have to be particularly well-timed if it is to disrupt his swarm of punches.
As mentioned, Poirier boasts similar defensive stats to McGregor, and the fact that his six MMA defeats thus far consist of two knockouts, two submissions, and two decisions does not shine a light on a primary weakness. Poirier out-struck his opponent in seven of his last 10 octagon appearances and managed at least 50 significant strikes in all but one of his last eight.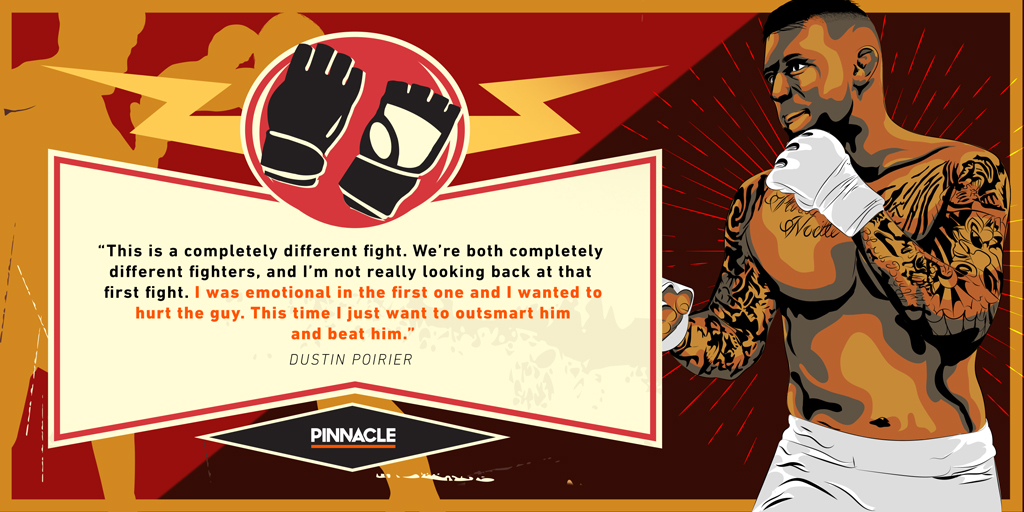 McGregor vs. Poirier: Where is the value?
By virtue of the fact that Poirier is likely to enter this bout with superior stamina, the opening couple of rounds could prove the most crucial. There is little to suggest that McGregor will deviate from his habitual strategy of unloading his fists from the outset, meaning Poirier's chances of victory largely depend on how effectively he gains a foothold in the fight if he successfully avoids an early knockout.
Supplementing a McGregor victory with under 2.5 rounds is an easily justifiable method of adding value to your bet. Only one of his last nine UFC wins progressed beyond the second round, and 'The Notorious' may feel that the best approach to offsetting any potential rustiness is denying Poirier time to take control of proceedings.
Naturally, this means the inverse applies and a longer fight could be on the cards if Poirier wins. 'The Diamond' should be more focused on substance than style, and will presumably be happier to drag the bout out over the distance. However, this will require an arguable career-best defensive performance and an easily adaptable strategy capable of negating the impact of McGregor's fists.
Looking forward to UFC 257? Get the lowdown for every fight on the night with UFC 257 Predictions.