Deiveson Figueiredo is set to make UFC history when he defends the Flyweight Championship against Brandon Moreno at UFC 256, as it will be the shortest ever time period between two title bouts for a UFC fighter. Will Figueiredo once again retain the belt despite the tight timeframe, or can Moreno pull off a fourth successive victory to become the new champion? Read on to inform your Figueiredo vs. Moreno predictions.
Event: UFC 256
Date: December 12, 2020
Venue: UFC APEX (Las Vegas, US)
Figueiredo vs. Moreno: Tale of the tape
| | | |
| --- | --- | --- |
| Deiveson Figueiredo | Fighter | Brandon Moreno |
| 32 | Age | 27 |
| 165 cm | Height | 170 cm |
| 56.5 kg | Weight | 57 kg |
| 173 cm | Reach | 178 cm |
| 9-1-0 | UFC record | 6-2-1 |
| 20-1-0 | Overall MMA record | 18-5-1 |
| 52% | Striking accuracy | 35% |
| Champion | UFC ranking | #1 |
Organising a headline fight for UFC 256 has proved particularly tricky and it has changed hands on multiple occasions. UFC initially slated a Welterweight Championship bout between Kamaru Usman and Gilbert Burns (which had been postponed itself from UFC 251), but this was cancelled when Usman cited a need to recover from undisclosed injuries.
It will have been just 21 days since both Figueiredo and Moreno last fought at UFC 255.
At that point, attention turned to a Women's Featherweight Championship fight featuring Amanda Nunes and Megan Anderson, but this was postponed to 2021 when Nunes pulled out due to an undisclosed injury. An attempt was then made to stage a Bantamweight Championship bout between Petr Yan and Aljamain Sterling, but this fell through when Yan encountered visa and travel issues.
As a consequence, Deiveson Figueiredo will be taking to the octagon once again, despite the fact that it will have been just 21 days since he successfully defended the Flyweight Championship against Alex Perez at UFC 255.
This is by far the shortest period of time between two title bouts for a fighter in UFC history, breaking the previous record of 56 days. This was jointly held by Matt Hughes, who defended the Welterweight Championship at UFC 63 on September 23, 2006 before losing the belt at UFC 65 on November 18, 2006, and Ronda Rousey, who defended the Women's Bantamweight Championship at UFC 168 on December 28, 2013 before repeating the feat at UFC 170 on February 22, 2014.
Figueiredo became Flyweight champion by claiming the vacant belt at the expense of Joseph Benavidez at UFC Fight Night 172 in July this year. His aforementioned victory over Perez was his first attempt to defend his title, and meant that his 10 UFC and 21 MMA bouts to date can sport just a solitary defeat. His current five-bout winning streak has also produced a Fight of the Night and Performance of the Night award apiece.
Meanwhile, three successive victories has witnessed Brandon Moreno rise to #1 in the Flyweight rankings. After a shaky start to his UFC career that featured two losses in his opening five bouts, he has recovered to become broadly regarded as one of the most consistent fighters in the division. Moreno also fought at UFC 255 in what was his most recent outing, earning a first round punch-led TKO victory over Brandon Royval.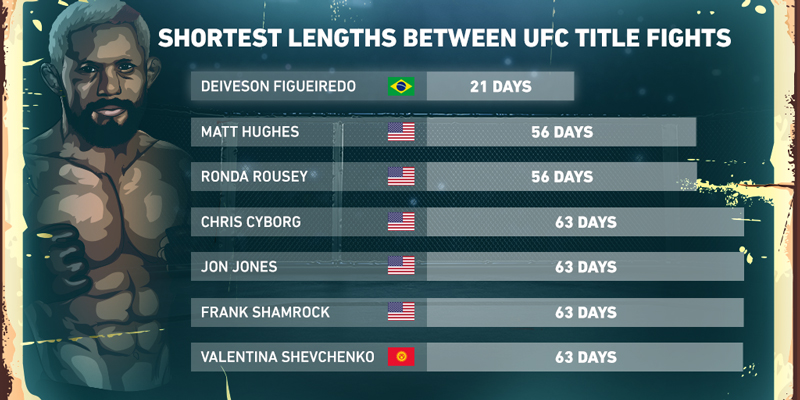 Analysing the Figueiredo vs. Moreno odds
The market has placed Figueiredo as the favourite with just over a 72% likelihood of successfully defending his belt at 1.331*, whereas Moreno is priced at 3.450*, equating to an approximate 28% chance of emerging victorious.
Figueiredo has been priced slightly shorter than the average closing odds for his last five bouts of 1.74. While, as mentioned, the 32-year-old won all five, he was favourite on three occasions, and the underdog for the other two. Notably, his odds are largely unaccustomed to significant movements and for his last four fights, they did not fluctuate between open and close by a greater margin than 0.1.
However, it is worth noting that more often than not Figueiredo's odds lengthen during the build-up to fight night. This suggests those confident he will retain his status as Flyweight champion may secure narrowly better value by holding off on any bets until nearer December 12.
Conversely, Moreno closed at a far shorter average of 2.19 for his last five UFC bouts, which are comprised of three wins preceded by a loss and draw. Of these, he was favourite for his victory over Royval, underdog for the three fights before (which produced two wins and a draw) and closed equal to Alexandre Pantoja at 1.94 ahead of his defeat to him.
Moreno's price of 3.450* also indicates that he has a weaker chance of defeating Figueiredo than any of his last five opponents. However, while Moreno's odds have a tendency to lengthen between open and close, doing so by an average margin of 0.12 for his last five fights, several of Figueiredo's recent challengers have undergone significant shortenings.
The most notable examples are Perez (3.40 to 3.16), Tim Elliott (2.90 to 2.55), and Pantoja (2.13 to 1.74). This indicates that if you're considering betting on Moreno causing an unlikely upset, you should do so sooner rather than later.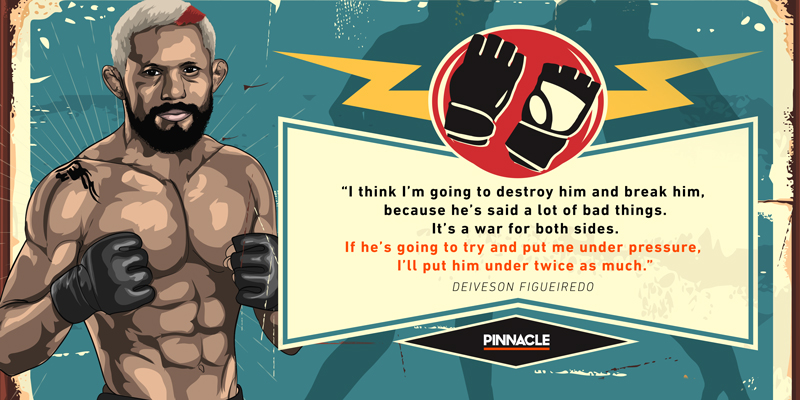 Figueiredo vs. Moreno: Fighting styles analysed
Figueiredo's preference is to launch with his fists and attempt to punch out his opponent as quickly as possible, as reflected by the fact that 52% of his attacks are instigated from a standing position and 69% aim for his opponent's head. This regularly pays dividends – just three of Figueiredo's 20 MMA victories thus far lasted the full duration, and none of his nine knockout wins progressed further than the second round.
Moreno's preference is to craft out decision victories over the distance.
Notably, this strategy also often proves effective at flooring his opponents, at which point he is capable of deploying his decent grappling skills. Figueiredo has earned eight MMA submission victories and is yet to lose in such a manner, and he boasts a knockdown ratio of 1.03 and 2.27 submissions per 15 minutes, compared to just 0.27 and 0.54 respectively for Moreno.
This refined all-out approach is led by a palpable reliance on quality over quantity. Figueiredo records just 2.43 significant strikes landed per minute alongside a striking accuracy of 52%, indicating that he feels he doesn't require many hits to cause significant damage.
His defensive abilities are also deceptively impressive. While significant strike and takedown defence rates of 56% and 59% respectively aren't much to boast about on the surface, he has frequently proved his capability to punch his way out of threatening situations.
Moreno is a former submission specialist that has adapted his style since joining the UFC to focus on crafting out victories over the distance. Indeed, while 10 of his 18 MMA victories to date were achieved via submission, each of his last four UFC wins were either TKOs or settled on decision.
'The Assassin Baby' seeks to control bouts by outhitting and thus outscoring his opponent. He both lands (3.00 per minute) and absorbs (2.94 per minute) more significant strikes than Figueiredo while boasting a weaker striking accuracy (35%), indicating a more unrelenting and aggressive approach that considers attack to be the best form of defence.
Despite this, it is Moreno's strong defensive attributes that enable such an approach. He bests Figueiredo for both significant strike (63%) and takedown defence (70%) rates, and is yet to suffer a knockout or submission loss in his MMA career. He is equally adept at wrestling his opponents to the floor, attempting 1.75 takedowns per 15 minutes.
However, this specific bout features the important context that it will have been just 21 days since both combatants last fought, meaning stamina will be a considerably more palpable component than under usual circumstances.
Partially as a consequence of their respective approaches, Moreno's average UFC fight time (13 minutes and 56 seconds) is almost two minutes longer than Figueiredo's (12 minutes and seven seconds), indicating that the former may be better equipped to deal with the demands on this front.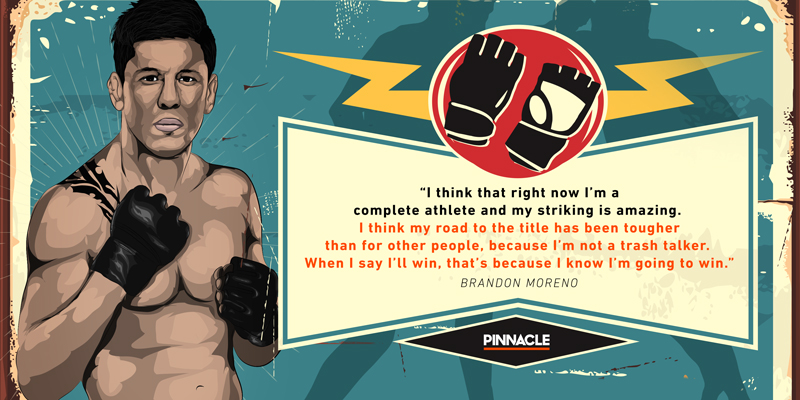 Figueiredo vs. Moreno: Where is the value?
There is a lot to suggest that this fight will be largely decided by what unfolds in the opening couple of rounds. Figueiredo will presumably deploy his usual punching strategy from the outset, with the intention of an early knockout. If Moreno can successfully navigate this, his ability to control fights and superior stamina should then lend themselves to an opportunity to try and secure a win over the distance.
As his near perfect MMA record suggests, Figueiredo is excellent at combining his formidable punching ability with developed wrestling skills to intimidating effect. Similarly to many of his recent bouts, a swift win via knockout or submission seems the obvious value bet. Indeed, only one of his nine UFC victories to date lasted the duration and was settled by decision.
Meanwhile, Moreno's most proficient route to victory seems to be over the distance. He boasts impressive defensive and stamina attributes which offer a plausible chance of surviving Figueiredo's presumed initial onslaught and has highlighted his ability to earn decision wins. However, Figueiredo is undoubtedly the strongest opponent he has faced and his chances of victory rely on a career-best performance.
Looking forward to UFC 256? Get the lowdown for every fight on the night with UFC 256 Predictions.