UFC is set to make its long-awaited return as Tony 'El Cucuy' Ferguson takes on Justin 'The Highlight' Gaethje for the interim Lightweight Championship at UFC 249. Will the veteran Ferguson enjoy a record 13th consecutive UFC Lightweight win, or can the rising star Gaethje pull off another significant victory? Read on to inform your Ferguson vs. Gaethje predictions.
Event: UFC 249
Date: May 9, 2020
Venue: VyStar Veterans Memorial Arena, Florida, US (behind closed doors)
Ferguson vs. Gaethje: Tale of the tape
| | | |
| --- | --- | --- |
| Tony 'El Cucuy' Ferguson | Fighter | Justin 'The Highlight' Gaethje |
| 36 | Age | 31 |
| 180 cm | Height | 180 cm |
| 70 kg | Weight | 70 kg |
| 194 cm | Reach | 178 cm |
| 15-1-0 | UFC record | 4-2-0 |
| 25-3-0 | Overall MMA record | 21-2-0 |
| 10:04 | Average fight time | 08:39 |
| 44% | Striking accuracy | 55% |
| #1 | UFC ranking | #4 |
This bout was initially a hastily arranged replacement after the originally planned fight between Ferguson and UFC Lightweight champion Khabib Nurmagomedov was called off for a fifth time due to the ongoing COVID-19 pandemic.
Khabib withdrew from the fight on April 1 amid concerns that he would not be allowed to leave his home nation Russia, with Gaethje confirmed as Ferguson's new opponent four days later.
This bout (along with all other future UFC events) was then cancelled on April 9, before on April 24 it was in fact confirmed that it would take place on May 9 at the VyStar Veterans Memorial Arena in Florida behind closed doors.
Ferguson enters this bout on the back of 12 successive UFC victories, rising to #1 in the Lightweight rankings and earning three Performance of the Night awards in the process. Widely regarded as one of the best combatants the division has ever witnessed, he is also the second oldest amongst its top 16 fighters behind only Donald Cerrone.
A win for the 36-year-old in this bout will give him the record of being the first ever fighter to record 13 consecutive wins in the UFC Lightweight division, which would also be the joint-second longest winning streak ever in UFC overall.
Meanwhile, Gaethje has only six UFC fights under his belt. While he endured a rocky start with two defeats in his first three, he firmly caught the attention of the Lightweight division courtesy of first round knockouts in his last three outings versus James Vick, Edson Barboza and Donald Cerrone.
The 31-year-old American has quickly asserted himself at #4 in the Lightweight rankings and has been touted as a future opponent for Khabib and Conor McGregor. However, he is yet to defeat any fighter presently above him in the rankings.
Analysing the Ferguson vs. Gaethje odds
Ferguson is the favourite at 1.561*, which translates to just over a 62% probability of victory. By comparison, Gaethje is set at 2.560*, equating to an approximate 38% chance.
The Over/Under for rounds is set at 2.5, with 2.080* for over and 1.793* for under.
Ferguson has been priced at almost exactly the average closing price for his last five bouts of 1.510. He was favourite for all but one of these, the exception coming with his win against Rafael dos Anjos, when he closed at 2.29 with an estimated 42.5% chance of victory compared to 1.69 for the Brazilian.
For the last five bouts he opened as favourite, Ferguson's odds have shortened between open and close by an average margin of 0.11, indicating those keen to back El Cucuy could enjoy better value by placing their bets sooner rather than later. Conversely, those eyeing up Gaethje should be wary that on these occasions his opponents' odds lengthened by a sizeable average margin of 0.59.
By comparison, amongst his last five bouts Gaethje was favourite for two (winning one) and underdog for three (winning two). Historically, his odds have shortened when he is expected to lose and lengthened when he has opened as favourite.
The market implies that he has a better chance of winning than many of Ferguson's recent challengers, with his odds longer than dos Anjos (1.69), but shorter than all of Cerrone (2.93), Kevin Lee (3.39), Anthony Pettis (3.98) and Landon Vannata (6.26).
Ferguson vs. Gaethje: Fighting styles compared
Ferguson adopts an orthodox stance, although similarly to other UFC competitors of a comparable age, in the latter half of his career he has developed a versatile edge capable of responding to the demands of a bout as it unfolds. Of his last ten MMA victories, five were secured via submission, three witnessed the 36-year-old knock out his opponent and two were awarded on decision in bouts that lasted the distance.
Gaethje's approach is relentless - all but three of his 21 MMA victories were achieved via knockout.
History dictates that when he is permitted to control the fight, Ferguson's preference is to keep proceedings upright. He attempts only 0.60 takedowns per 15 minutes and launches 89% of his attacks from a standing position. When he does find himself grappling on the ground, he often opts to try and force a quick submission instead of utilising the opportunity to hurt his opponent, averaging 1.49 attempted submissions per 15 minutes.
Ferguson also possesses strong punching ability as well as a considerably greater reach than Gaethje of 194 centimetres to 178. As a result, he may feel inclined to attack from the outset and lead with his fists.
If Ferguson's approach can be considered aggressive yet tactical, then Gaethje's is relentless. All but three of his 21 MMA victories were achieved via knockout and he has landed a massive 8.50 significant strikes per minute in his UFC outings to date (compared to 5.51 for Ferguson).
Considering the sheer quantity of his attacks, he records an arguably impressive striking accuracy rate of 55%, which again edges Ferguson (44%). However, this is at the cost of absorbing a gargantuan 10.23 significant strikes per minute, illustrating his unwavering commitment to constantly attempting to harm his opponent, but also why he has suffered two knockout defeats in his last five fights.
Gaethje also consistently opts to keep the fight standing. He is yet to attempt a single takedown or submission in his UFC bouts and has only been involved in one MMA fight settled via the latter.
He shares another similar trait to Ferguson in boasting a strong takedown defence rate of 80% alongside Ferguson's 77%. While their respective fighting histories suggest that the bout will likely not witness it anyway, this indicates that for both fighters attempting to force their opponent to the ground will not prove a viable method of catching them off guard.
As a result, how this fight plays out directly depends on Gaethje's stamina and preparations ahead of it. Ferguson has been readying himself for UFC 249 since December, whereas Gaethje was only confirmed for the fight in early April.
If Ferguson starts as the markedly more primed of the pair, he may opt to counter Gaethje's initial onslaught while attempting to utilise his greater reach and attack him from distance to lay the foundations for a middling to late knockout.
Conversely, if Gaethje enters in full form then the bout has the definite potential to escalate into an unyielding punching contest for which the victor may poise on whose fists prove more vicious and effective on the night.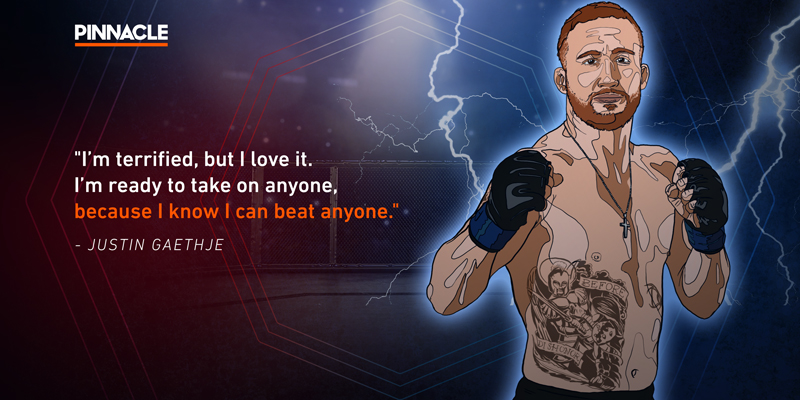 Ferguson vs. Gaethje: Where is the value?
It isn't difficult to assess why Ferguson is the favourite for this bout – he is higher ranked, in better form and should be the more prepared competitor on fight night.
A knockout seems the most proficient route to victory for both fighters.
However, Gaethje's status as more favoured to win than four of Ferguson's previous five opponents is equally justified: at his peak, he is arguably one of the most intimidating fighters in UFC and easily capable of forcing brisk knockouts in a blaze of fists.
For this reason, where possible any bets should informed by Gaethje's preparation standards. Naturally, the weaker they appear the more this favours Ferguson, although if Gaethje enters the octagon in decent shape then this is very much a bout that could plausibly go either way.
A knockout seems the most proficient route to victory for both fighters. As previously mentioned, if Ferguson feels that Gaethje is incurring stamina issues that can be exploited, he may prime himself for a knockout attempt from the third round onwards, having let Gaethje tire himself out with his immediate all-out attacks during the early stages.
For those backing Gaethje, an opening round knockout win is definitely worth considering – of his last six MMA victories, four were settled before round two. As adept as Ferguson may be at adjusting style when necessary, Gaethje's formidable attacks will likely afford him limited room to manoeuvre should he find himself vulnerable to his wrath in the opening minutes.
Irrespective of who you think will win, the fighters' styles and stats indicate that bets should steer clear of the bout lasting the distance or being settled by submission. Instead, focusing on the length of the bout could be where the most promising value lies for this fight.