The Light Heavyweight Championship is on the line as Jon Jones seeks to defend his title against Dominick Reyes at UFC 247 on February 8. Will the man currently ranked as the best pound-for-pound men's fighter successfully stay on as champion, or can The Devastator extend his perfect MMA record to 13 fights? With an absorbing all-American match-up in store, read on to inform your Jones vs. Reyes predictions.
Jones vs. Reyes: Tale of the tape
| | | |
| --- | --- | --- |
| Jon "Bones" Jones | Fighter | Dominick "The Devastator" Reyes |
| 32 | Age | 30 |
| 6 ft 4 in | Height | 6 ft 4 in |
| 205 lbs | Weight | 205 lbs |
| 84.5 in | Reach | 77 in |
| 19-1-0 (1 NC) | UFC record | 6-0-0 |
| 25-1-0 (1 NC) | Overall MMA record | 12-0-0 |
| 12:34 | Average fight time | 5:05 |
| 57% | Striking accuracy | 52% |
| Champion | UFC ranking | #4 |
Jones is an acclaimed if controversial figure within UFC, who has achieved consistent success primarily marred by doping controversies and incidents in his personal life.
He first won the Light Heavyweight Championship by defeating Mauricio Rua via TKO at UFC 128 in March 2011. He successfully defended the belt for eight successive bouts, but was stripped of the title following the last versus Daniel Cormier at UFC 182, for contravening the UFC's Athlete Code of Conduct by causing a hit-and-run incident.
He initially won the title back against Ovince Saint Preux at UFC 197, but was removed of it again after testing positive for clomiphene and letrozole ahead of a unification fight with Cormier, for which he was also handed a one-year suspension.
Jones eventually fought and beat Cormier again at UFC 214, although he was then stripped of the title for a third time for another doping violation, also nullifying the result as a no contest. He won it back at his next outing against Alexander Gustafsson at UFC 232 in December 2018, and has since defended it for two bouts.
Dominick Reyes was something of a late bloomer to MMA, and did not participate in his first professional fight until the age of 25. Despite this, he is undefeated in his first twelve bouts and crafted a reputation for fast, sharp knockouts.
Reyes has won two Performance of the Night awards in his opening six UFC outings, most recently in his last victory against former Middleweight Champion Chris Weidman. This assisted his brisk rise to #4 in the rankings, which has culminated in being handed a shot at taking on the man large sections of UFC fans consider MMA's greatest ever fighter.
Analysing the Jones vs. Reyes odds
Jones is the overwhelming favourite at 1.212*, which translates to just under a 79% chance of winning. By comparison, Reyes is set at 4.550*, equating to an approximate 21% chance.
The market implies that Reyes has an average chance of winning compared to Jones' other recent opponents.
The reasons for this are fairly straightforward. Aside from possessing champion clout and considerably more experience, Jones has a palpably better reach and striking accuracy and has not lost since being defeated by Matt Hamill in December 2009.
For several of his recent major bouts, Jones's odds have lengthened in the build-up to fight night. Most notably, for his last bout against Thiago Santos he opened at 1.125 but closed at 1.174, and also drifted from 1.13 to 1.19 for his aforementioned clash with Saint Preux. This indicates that those considering betting on the favourite could get slightly better value if they hold off until the days leading up to the fight.
Being the underdog is uncharted terrority for Reyes, whose odds have only closed above 1.5 once in his six UFC appearances thus far. The market implies that he has an average chance of winning in comparison to Jones' other recent opponents, with his odds shorter than Santos (5.140) and Anthony Smith (6.760), but longer than Gustafsson (3.530) and Cormier (3.660).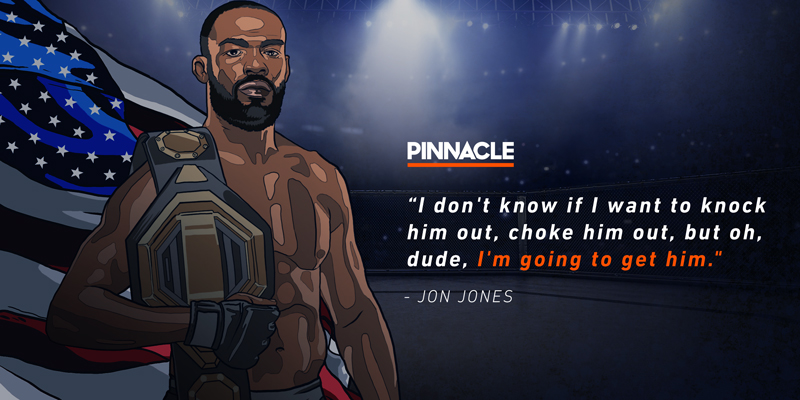 Jones vs. Reyes: Fighting styles compared
Jones is a thoroughly adaptable fighter that enjoys capitalising on his monumental reach and refined technique to land blows with a touch of flair. He favours attacking via a flurry of kicks, often utilising front kicks to target his opponent's body and head, roundhouse kicks to throw their legs and upper body off balance and the 'oblique' kick to cause damage to their knees.
Reyes' reach is over seven inches shorter than Jones', meaning that he will be forced to attack from distance.
The second half of Jones' career has witnessed an defensive shift in approach, with an emphasis on exploiting opponents' mistakes as opposed to overpowering them with brute physicality. Indeed, six of his last eight bouts have lasted the distance and relied on decision victories, and he has only recorded two knockouts in his last twelve wins. This fight also being a lengthy one is a distinct possibility, with it to last over 2.5 rounds available at 1.632*.
A former football running back, Reyes is considered one of the most athletic fighters on the circuit, and relies on his immense stamina to continuously pulverise his opponents with relentless punches. Often, this succeeds at injuring them before they have had a chance to assert themselves, explaining why nine of his twelve MMA bouts to date have finished in the opening round.
Whilst Reyes is a decent all-round fighter who has also earned wins via his powerful high kick and submission, unsurprisingly his most proficient route to victory lies in sticking to his strengths. He produces 5.03 significant strikes per minute to Jones' 4.31, and will likely aim for a quick punch-heavy attack in the opening rounds in an attempt to disarm Jones before he has a chance to take control of the fight.
However, in order to achieve this, Reyes will require a precise balance of power and timing. His reach is over seven inches shorter than Jones', meaning he will be forced to attack from distance. Staying too close for extended periods will make it dangerously easy for Jones to launch into his kicks and grappling moves.
Indeed, should the fight move towards the ground at any stage, it is difficult to look beyond a Jones victory. As one of the best wrestlers in the UFC, he averages 1.90 takedowns per 15 minutes and 45% takedown accuracy, whereas Reyes manages just 0.39 and 16% accuracy.
Jones is particularly adept at controlling his opponents' arms during grapples in order to work opportunities to score elbow and knee strikes. An attempt by Reyes to beat him at his own game on this front would be misguided, as Jones also successfully defends a massive 95% of attempted takedowns.
Jones vs. Reyes: Where is the value?
Jones is the better placed of the two fighters to govern proceedings, and as his recent form dictates that he will be content to let the bout last the distance, betting on this is automatically worth considering. Equally, opting for a Jones victory by points or decision is a straightforward but practical method to lengthen his outright odds for those confident he will comply with pre-fight expectations.
Jones should be able to rely upon his natural ability to pass any new tests Reyes' style may present.
However, Jones should be wary that Reyes possesses better stamina than most opponents, meaning there is a chance that he could deploy a slightly edgier and direct approach and attempt victory via submission. All of Jones' last four submission wins were in the second or fourth round, suggesting this will happen in the middle stages of the bout if at all.
If Reyes is to claim the title, he will essentially have no choice but to do so with his fists. However, as discussed, his usual attempts to earn a KO or TKO first round win will likely play to Jones' advantage. This means he could be inclined to utilise the first round to land as many punches as he can safely manage, before trying to deliver a knockout strike in the second and third.
Overall, Reyes is a somewhat intriguing opponent for Jones but arguably little more. Jones has repeatedly fended off a variety of skill sets throughout his career, and should be able to rely upon his natural experience and ability to pass any new tests Reyes' style may present – and ultimately guide himself to victory.