The build-up to the 86th Masters has been hijacked by Tiger Woods. The five-time winner is set to make his return to tour golf after his single-car accident last year, but the truth is, whether he plays or not should not affect who you are tipping to win. It would be a heart over head decision to back him to win and that is coming from a diehard Woods fan. But who am I backing for success? Read on to inform your predictions.
get the best golf betting insight
Bet on the 2021 US Masters with Pinnacle
Follow Pinnacle
Dates: April 7-10, 2022
Venue: Augusta National Golf Club (Georgia, US)
Defending champion: Hideki Matsuyama

Bet: Masters 2022 odds
2022 Masters: Background and build-up
The Masters is the first of four men's professional golf majors of the year. The event is the most exclusive invite in golf; it has a field half the size of the Open Championship, is played around the same course every year, and makes grown men feel like a child walking into Disney World for the first time.
The course itself is the real superstar. Designed by Bobby Jones and Alister MacKenzie, it is at the top of every golfer's bucket list. I have only visited as a patron (we aren't allowed to call them fans) and I remember my first visit in 2018 like it was yesterday - I headed straight to the back nine and Amen corner, not caring about who was playing, as I just wanted to see the course and how perfect it was.
The Masters is magical and I am here to talk you through whose game best suits this event. And the fact the event has been played at Augusta National since 1934 means we have a comprehensive collection of data to help us make a decision on who is going to play well.
Experience is key at the Masters
The Masters tournament began in 1934 and the only rookie to ever win post-1935 is Frank Urban "Fuzzy" Zoellar Jr., who won in 1979. So, we know that experience is key around Augusta as it is the only major to return to the same venue year on year. It is also a place that is so special that even tour professionals get nervous, and it can take a few years for golfers to feel comfortable around the course.
An understanding of how to play each hole and access the tight hole locations is key to success at the Masters. However, 2022 sees a significant change in the course set-up with the 11th and 15th holes being lengthened making the course a record 7,510 yards in length. The third, 13th, and 17th greens have also been renovated. However, despite these changes, I still believe a rookie is unlikely to win.
History suggests that players perform their best between their sixth and 12th year at the tournament, which is supported by the last two winners: Dustin Johnson had played in nine Masters and Hideki Matsuyama in 10 when they won.
A bad omen for players looking to do well at Augusta is winning the Par 3 Contest held on the Wednesday of the Masters week, as a third of the winners of this event have gone on to miss the cut in the Masters. All players know of this stat and many golfers are also very superstitious - they either don't play in the Par 3 or ruin their scorecard on the last hole in order not to take the victory and the bad luck that comes with it.
2022 Masters: Field and former champions
With only 90 confirmed players, this is the smallest field for a major in world golf. The field includes six amateurs and many past champions who have an invite for life - which is why you will see oldies Sandy Lyle (aged 64) and Larry Mize (aged 63) teeing off at the tournament.
However, there has never been an amateur winner, with the best finish in recent times coming from Ryan Moore, who finished T13 in 2005. And the oldest-ever Masters winner is Jack Nicklaus at 46 years of age. There are 11 players in the field over 46 in 2022 - one of them is Tiger Woods (51.600*) - but I don't foresee any of them breaking Jack's record this year.
All 40 of the top players in the world will tee up in Georgia. Since the world rankings began in 1986 there have only been two Masters champions ranked outside the top 40 in the world - Angel Cabrera and Zach Johnson - which leads me to say that Tiger Woods, Bubba Watson, and Sergio Garcia would be outsiders even with their previous experience of winning on this course. In fact, if you are looking for a winner you can already confidently disregard over half of the field (51 golfers).

Now that I have told you who not to back, let's now look into the form guide to see who the legitimate contenders are.
What type of golfer suits Augusta National?
Augusta National is generous off the tee and the priority for any golfer is to be very good at approach shots to the green. The ball needs to find the correction portion of the green and use the slopes to get close to the hole. All of the par-5 holes are achievable in two shots rather than the regulation of three shots.
Augusta is a ball-strikers course rather than a putters course. Because of this, I am looking at players with a positive number in Strokes Gained: Approach and Strokes Gained: Off-the-Tee. Also, the previous seven winners before Matsuyama were all ranked inside the top 11 of the PGA Tour's Scoring Average statistic during their year of victory.
The enormity of winning the green jacket cannot be ignored; this is the biggest event in golf so a golfer needs to be good under pressure. This is not the place for a golfer to end a winning drought; 10 out of the last 13 champions have won another event in the 12 months leading up to their Masters victory.
2022 Masters: Contenders
Who fits this profile? Well, the only guy who meets all of my criteria is last year's winner Hideki Matsuyama. The other top players - Viktor Hovland, Cameron Smith, Scottie Scheffler, Daniel Berger, and Joaquin Niemann - are so young and haven't played in more than nine Masters before 2022.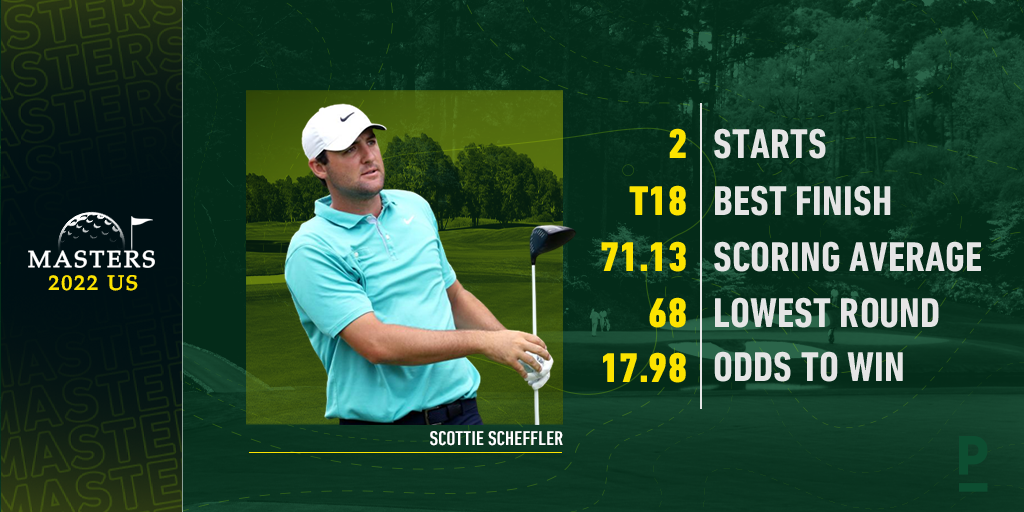 We have seen a huge shift towards youth in the men's game with the current top five players in the world all under the age of 30. Will we see this reflected at the Masters? It is something worth considering but if you are looking for a winner, you have to put Matsuyama right up there in your mind.
One caveat, though, is that he has had a back injury and he has not played since the first week of March; however, he is now back practising. There have been three back-to-back winners of the green jacket (Jack Nicklaus, Nick Faldo, and Tiger Woods). Can Matsuyama (37.730*) be the fourth?
Justin Thomas
Thomas (16.680*) was my favourite last year but was affected mentally by an embarrassing outburst at an event earlier in 2021. He took the (much-deserved) criticism hard and that impacted his performance. This year, he has fixed his issues, learnt from his mistakes, and played some good golf (though without winning anything). He has had five top-10 finishes on the PGA Tour, is currently second in the Scoring Average (69.6) and has a secret weapon in caddie Jim 'Bones' Mackay - Mackay was Phil Mickelson's caddie for all three of his green jacket wins.
The scoring data is there for all to see but having commentated on him a lot this year, I am very excited about his new partnership with Mackay. He looks calmer, more mature, and less likely to make mistakes than ever before.  He is lucky enough to mix in the inner circles of Tiger Woods, and he looks to be more Tiger-like on the course than his old goofy self. The only drawback to his title bid is his lack of top-10 finishes in the majors, with three top-10 finishes in 14 tries since his only major win back in 2017. The positive spin on that stat is that one of those good performances was in the 2020 Masters where he finished fourth. He has also never missed the cut here, which is good.
Cameron Smith
The Australian became the first man to shoot four rounds in the 60s at Augusta National in 2020 when he finished second. Smith (16.660*) has been on my Masters betting radar for the past few years but thanks to his Players Championship win, he now moves from an outsider to a favourite. The 28-year-old is dynamite on the greens, ranking second in Strokes Gained: Putting but also excels in approach play. He isn't the best off the tee but he won around Sawgrass which is also known to be a ball-strikers course. Smith leads the Stroke Average (69.27) and Birdie Count (5.58) on the PGA Tour heading into this event.
Dustin Johnson
The only reason he isn't higher in the odds is that he hasn't won since his Masters win in 2020 but I get the impression he can win around Augusta National whenever he feels like it. With a win and four other top-10 finishes in his last six starts, the 37-year-old has the third-best Scoring Average around Augusta of those taking part in the 2022 Masters tournament (71.03). Johnson (17.120*) hasn't played much this year but he did finish ninth at The Players Championship and fourth on his last outing at the World Match Play tournament.
2022 Masters: Outsiders
Joaquin Niemann
Out of all the players that fit most of the criteria I outlined above, Niemann's (46.280*) odds are the longest. But even at 40/1, he is worth a look at. The reason I think he is down in the betting is that this is only his third appearance at the Masters and he isn't known as a long-hitter. However, the weather forecast is good which means the fairways will run and so suit his low right-to-left ball flight. He has also gained yardage this year and averages over 300 yards thanks to plyometric training sessions.
He won this year on the PGA Tour at Riviera CC, a venue which has had multiple winners of their championship also win the Masters (Phil Mickelson, Bubba Watson, and Adam Scott).
Max Homa
Another player to have won around Riviera, Homa (56.990*) won the Genesis Open in 2021 and finished 10th there this year. He sits inside the top 30 in Strokes Gained: Tee-to-Green and has shot up the world rankings from 843 in 2018 to 37th. The Californian has won three times on the PGA Tour since this slump in 2018 and, importantly, has won early on in this wrap-around season.
The 31-year-old's Masters record is brief - two appearances and two missed cuts - but his game is so incredibly well-suited to Augusta National. He has also added length from the tee, meaning he will be coming into the par-5 holes using one less club.
Corey Conners
I backed the Canadian last year and he finished inside the top 10 for the second time in a row, despite a two over par final round. The 30-year-old is at a career-high of 32 in the world rankings thanks to a third-place finish at the World Matchplay event. Why does his game suit Augusta? Well, his natural shape from the tee is a draw and he ranks third on the tour for Greens in Regulation. Conners (44.380*) is what is known as a ball-striker but importantly he doesn't lose shots with his putting. If he gets it right with the putter, he can turn his top-10 run into a win this time.
There are my picks for the first major golf event of the year - I hope this has helped you inform your own predictions. Enjoy the Masters and let's hope Tiger Woods does make an appearance.
Do you think one of the favourites will win or could be there another surprise on the cards? Get the latest golf odds on the 2022 Masters Tournament with Pinnacle.