Super Bowl LV is taking place on Sunday February 7, when the AFC champions and current world champions Kansas City Chiefs take on the NFC champions Tampa Bay Buccaneers at the Raymond James Stadium in Tampa, coincidentally the home of the latter.
Tampa Bay and the role of Tom Brady
This will be only Tampa's second appearance in a Super Bowl. Their only other to date came to a successful conclusion in 2003, a year after a hitherto unknown sixth round draft pick quarterback named Tom Brady upset the double digit favourites St. Louis Rams en-route to the first of his six rings.
The Bucs possess a top five defence, excelling against the run.
Fast forwarding to this season, Brady's transition from New England to Tampa has been a steadily improving learning curve from a relatively lofty baseline. He's had an impressive array of targets, along with the familiarity of Rob Gronkowski, who was traded from the Patriots.
His passing yards per attempt has trended constantly upwards from around six at the start of the regular season to nearer 10 by Week 17. Other key performance indicators have followed suit, such as his completion and touchdown percentages and interception rates.
It's been predictably tougher for Brady in the postseason, during which his completions percentage has fallen by 10%, his yardage per attempt is down and he's been sacked once every 20 drop backs compared to every 30 in the regular season.
However, even as Brady's efficiency numbers have tumbled in the postseason, he's maintained Tampa's regular season scoring rate, assisting them in averaging just over 30 points per game against playoff quality opposition.
Tampa's excellent defence is a luxury that Brady wasn't always afforded during his time in New England.
Overall, the Bucs possess a top five defence, excelling against the run. They allow opposing offences that gain an average of 4.3 yards per carry to achieve just 3.4, and are only marginally easier to pass against, conceding 6.4 yards per pass attempt against a usual opposition average of 7.0.
Only a below par rushing offence prevents Tampa from scoring above average efficiencies across the board. Their running game averages just over four yards per carry, but this has been achieved against defenses that allow nearly 4.5.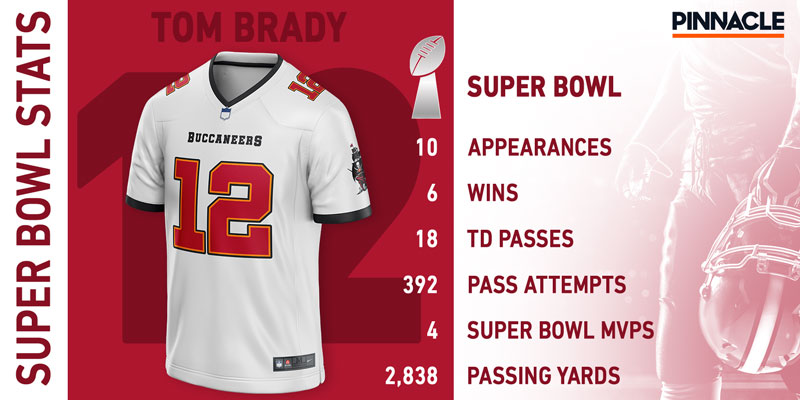 Kansas City and MVP Mahomes
Kansas City have justified their pre-season position at the top of the market to defend their title and the routinely celebrated and decorated MVP Patrick Mahomes looks ready to dominate the passing ranks for years to come.
Unlike Tom Brady, Patrick Mahomes has managed to improve his completion rate during the postseason.
Even with a well-documented post bye week lull, whereby victories in the second half of the year continued but winning margins shrank from double figures to less than a touchdown, Mahomes still topped the efficiency rankings.
He passed a yard further per attempt than the usual concession rate for the defences he faced in the regular season and was backed up by and has actively contributed to an above par running game. Kansas City scored over 30 points per game in meaningful regular season matches against defences that allowed an average of just 25.
Double digit margin wins returned in the Championship game against Buffalo and would likely have been a feature of the previous divisional matchup against Cleveland, if Mahomes had featured for the entirety instead of suffering a third quarter and match-ending concussion.
Unlike Brady, he's improved his completion rate during the postseason, reaching the dizzy heights of 74% through 68 attempts, and he's also slightly increased his yards per attempt compared to his regular season average.
However, the Kansas City defence isn't in the same league as Tampa Bay. They are below average against the run, but do have a top ten passing defence, only allowing 6.7 yards per attempt against offences that have averaged seven.
They've done well to restrict teams on the scoreboard, as the relentless scoring pressure from Mahomes and the offence often compromises a balanced response. This has produced an allowance of three fewer points per game than their opposition usually score.
Tampa Bay vs. Kansas City: Who is the favourite?
Mahomes and Brady are tied with two wins apiece in head to heads, albeit with the former holding the recent victories, most notably in Week 12 when Kansas threatened to run away with the game.
Kansas City are favoured to win by three points, the margin of victory they enjoyed over Tampa Bay in their last meeting in Week 12.
A fumbled turnover from Mahomes when KC were poised to take a 24-point lead turned the tide in Tampa's favour, although two stalled Tampa drives from Brady interceptions culminated in a three-point win for the current Super Bowl champions.
Statistically, Sunday's game should be a tight affair. Scoring rates and offensive to defensive matchups suggest around 52 total points, although Super Bowls often have more points than the regular season average, which would edge the total points over the current spread.
Single match scores are volatile. In 2018, Super Bowl LII witnessed the second most points in the season's conclusion, only to be followed by LIII, which featured the fewest ever total points for a Super Bowl. Notably, Tom Brady participated in both games.
Tampa will be playing in familiar surroundings, although the crowd will not be as partisan as a traditional home fixture and will be limited to around a third of the usual Super Bowl capacity.
With all of this in mind, Kansas City is favoured to win by three. That was the margin of victory they enjoyed in Week 12 and the current spread prediction, although Kansas City have given the impression that they may be able to play to a higher level if needed.
This has particularly applied during their regular season home stretch, when they just did enough to carry their winning streak, and the defending champions are taken to repeat by a more comfortable margin of six points.