After 16 regular season games and some thrilling postseason football, there are just two sides left. What information will help you make more accurate Super Bowl predictions? Read on for an in-depth analysis of the Super Bowl odds.
Live Super Bowl odds
Get the best Super Bowl odds at Pinnacle. Join now.
Already a memeber? View all the Super Bowl odds here.
Super Bowl 52: Two worthy contenders
The 52nd Super Bowl takes place on February 4 at the U.S. Bank Stadium, home of the Minnesota Vikings. Defending champions, the New England Patriots, led by Tom Brady and representing the AFC meet the NFC's Philadelphia Eagles, quarterbacked by Nick Foles. 
It is a meeting of the respective number one conference seeds and it is also a reprise of Super Bowl XXXIX when the Patriots edged the Eagles 24-21.
Tom Brady and Donavon McNabb were the quarterbacks on that day in 2004 in Jacksonville and while Brady's New England has since accrued four more Super Bowl appearances and eleven divisional crowns, Philadelphia's fortunes have been much more mixed.
Eleven quarterbacks have been given a shot at under centre for the Eagles in the ensuing seasons, compared to Brady's near permanence in New England and three divisional titles have been balanced by four fourth-place finishes.
The Eagles most recent basement finish was as recent as 2016.
Super Bowl odds: Analysing the quarterback
Promising underlying stats, that their divisional rivals couldn't match, and a developing young quarterback in Carson Wentz suggested 2017 would be a title contending season for the Eagles. 
The statistical faith in Wentz' 2017 Eagles was well justified. Personally he threw for longer (with just a slight dip in completion rates) massively increased his touchdown percentage, but reined in his interception rate compared to 2016.
Wentz was largely responsible for Philadelphia's 10-2 until a week 14 injury against the Rams ended his season and in the eyes of many much of their postseason hopes.
After his injury, Nick Foles (one of the Eagles' post-2004 quarterback experiments) replaced Wentz. He was lined up as a 2012 season replacement for Michael Vick, but had departed for firstly, St Louis and then Kansas City by 2015 - he returned as Wentz' backup in 2017.
Invariably, Super Bowl matches have been closely fought affairs, decided in the fourth quarter and never by more than six points in favour of the winning side.
Foles' best season in Philadelphia was 2013, initially as a backup to Vick he was 9-2 as a regular season starter, with completion rates and yards per attempt figures that stand up with not only Wentz' 2017 performances, but also eclipsed Brady's 2013 record.
A regressive 2014 season paved the way for his departure and another Eagles' reboot. Foles has been relatively poor in the regular season since Wentz' week 14 injury; perhaps understandably so.
He came in as relief against the Rams, was benched for the postseason after a brief week 17 appearance, but trails just Brady in postseason passing contribution, producing figures not dissimilar to his impressive 2013 campaign, albeit in only 63 passing attempts.
So there is at least some evidence that Foles may not be quite the downgrade that the postseason lines implied, where the Eagles were outright winners as home field dogs in both the Divisional and Championship rounds.
Tom Brady remains a peak performer, even in his 40's. He hasn't been out of the top five performing quarterbacks since 2013.
His core completion percentage, yards per attempt and interception rate for 2017 is indistinguishable from many of his regular season performances over the past decade.
If both quarterbacks replicate the best of their talents, the game should be a closely fought, quality contest.
Super Bowl predictions: What do the stats suggest?
Whichever way you look, the teams appear to be very evenly matched (including the same 13-3 regular season record).
New England have scored one more regular-season point compared to the Eagles and conceded one more than their Super Bowl opponents, equating to a regular season Pythagorean win percentage of 0.74 or around 12 wins for each.
Philly won four regular season games by seven points or fewer, plus one in the postseason, losing just once by a similar margin, as did the Pats.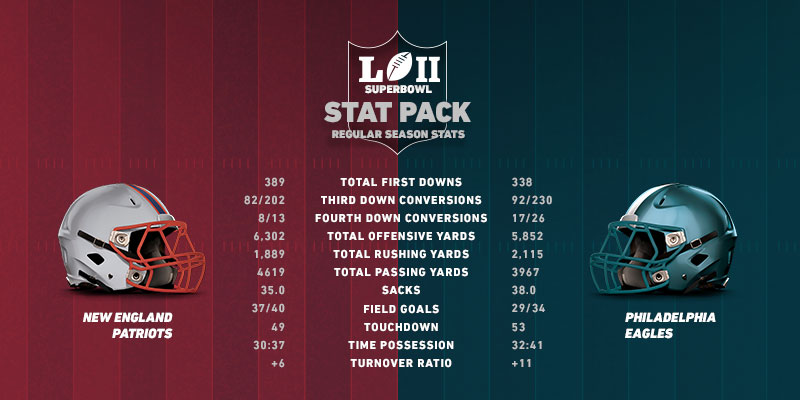 New England is a hugely efficient passing side, backed up by an above league average running game, which converts territory into points.
The Eagles passed with slightly above average efficiency, combined with an above par ground game and a predatory defence to elevate scoring rates to the same levels as New England achieved. 
Philadelphia's core defensive stats are top five. They were second only in limiting opponent's passing efficiency to a Jacksonville side who ran New England close in the championship game.
Whichever way you look, the teams appear to be very evenly matched (including the same 13-3 regular season record).
But, unlike the Jags they are a much more balanced defensive unit, who also excel against the run.
New England is below average against the pass and more so against the run, ranking in the bottom quarter in terms of defensive efficiency.
However, as a bottom line they allowed sides that averaged 21 points per game on offence in the regular season to score an average of just 18.5 points per game (a figure matched by Philadelphia). 
Brady has played in seven Super Bowls since he announced his arrival in the 2001 campaign, overturning the heavily fancied St Louis Rams 20-17, winning five.
Invariably, the matches have been closely fought affairs, decided in the fourth quarter and never by more than six points in favour of the winning side.
Efficiency matchups marginally favour Philadelphia, both sides look capable of producing above average passing efficiency, but the Eagles are favoured to run more efficiently.
However, much of that potential advantage relies on their defence preventing the Pats' passing building up a lead and Foles continuing his post, rather than regular season form.
Scoring rates, unsurprisingly fail to split the sides, with total points projected to be around 48 points.
Having picked the Eagles as the team to follow in September and sided with them getting points in the postseason, we'll continue to root for the Eagles in receipt of a start in Super Bowl 52.
Looking for an interesting bet? Read more about Super Bowl prop bets.