After their dramatic first fight ended in a controversial draw, Deontay Wilder and Tyson Fury will meet again on February 22, at the MGM Grand Garden Arena, in Las Vegas. Who is the favourite this time around and where does the value lie? Read on to inform your Wilder vs. Fury 2 predictions.
A close look at the Wilder vs. Fury 2 odds
| | |
| --- | --- |
| Deontay Wilder | Tyson Fury |
| 51.95% | 48.05% |
The Money Line odds suggest this is a 50/50 fight. Deontay Wilder is the slight favourite, despite many experts believing that Tyson Fury won the first fight, and the odds propose the American has approximately a 52% chance of victory.
The total rounds is set at 10.5, which is one round higher than the first fight, with over 10.5 rounds priced at 1.709*, suggesting there is around a 60% chance that the fight will go long.
Date:
Saturday, February 22.
Venue: MGM Grand Garden Arena, Las Vegas.
Get the best boxing betting advice
Big fight previews, BetShares and the latest odds
Follow Pinnacle
Wilder vs. Fury 2: Tale of the Tape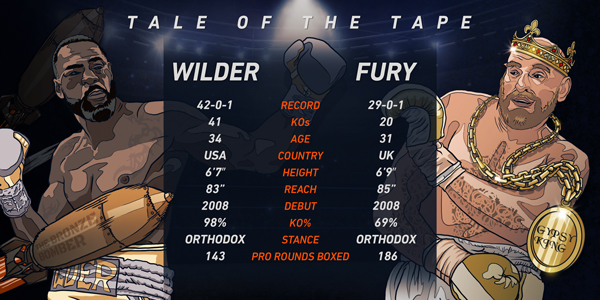 Wilder vs. Fury 2: Analysing the rematch
In the first fight between the pair, Wilder landed just 17% of his power punches according to CompuBox stats, which highlights an interesting analysis. When we compare this to previous Deontay Wilder opponents, the contrast is quite staggering. Below is a breakdown, fight-by-fight, of the percentage of power punches the American has landed in his world title fights, before his bout with Fury.
| | |
| --- | --- |
| Wilder Opponent | % Power Punches landed |
| Tyson Fury | 17% |
| Luis Ortiz | 39% |
| Bermane Stiverne 2 | 60% |
| Gerald Washington | 47% |
| Chris Arreola | 52% |
| Artur Szpilka | 42% |
| Johann Duhaupas | 69% |
| Eric Molina | 56% |
So evidence suggests that no fighter has puzzled and confused Wilder more in his career than Fury (Wilder landed just 17% of his power punches), so it would be detrimental to Fury's chances to change his tactics to be more offensive in the rematch, a tactic that increases the chances of the fight going the distance.
Fury is also likely to be even faster with the extra mass he seems to have gained judging by his recent training pictures. The Brit is not a muscle-bound fighter like Anthony Joshua so he will be tightening up the loose skin he had in the first fight after such a long layoff, in the hope of being faster, stronger, and much more elusive in the rematch.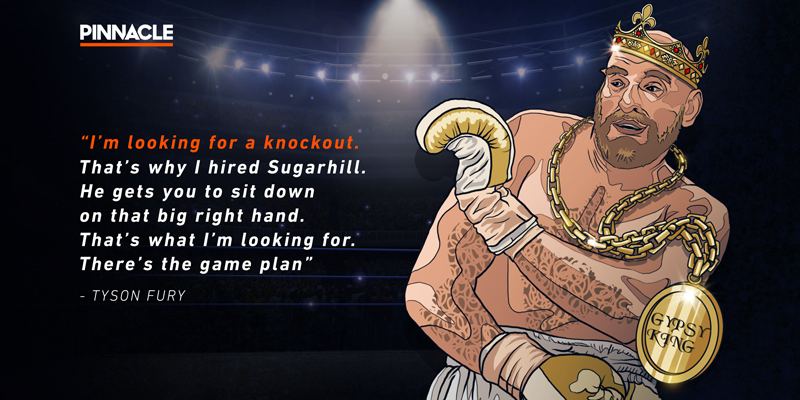 Analysing the rematch
The first step to assessing the Wilder vs. Fury rematch is seeing the two fighting styles of each boxer, and analysing how both fighters can improve and adapt from the first fight. Wilder might choose to be more cautious in the second fight, so he can set up his big right hand for a more destructive finish, much like he did in the Luis Ortiz rematch.
Fury, for all his boxing skills, is not a big puncher at the top level, but he hits hard enough to gain your attention. Big punchers typically come in two categories: Those who carry speed-based power and those with heavy hands. Then there is the uncommon fighter who will have both abilities – Deontay Wilder fits into this category – which in turn makes the American dangerous for all 12 rounds of the fight.
"Power is a great weapon to have, but it can mean very little at the elite level if the opponent knows how to nullify it correctly"
Punching hard is effectively a natural gift to a fighter. You can increase punch power through training and working on new techniques, but largely, at top-level, it is natural. One fighter hits another fighter and they create a serious dent in their opponent, or score a knockout punch, another fighter hits his opponent multiple times and nothing transpires.
Wilder for all his bravado, knows his limitations as a boxer, and we have evidence of how inferior (skill-wise) he is compared to Fury from the first battle. A key factor in this analysis also is that the 34 year-old is largely a low-volume fighter when he is facing someone who is trying to box with him. He will bide his time and wait for a mistake before going for a knockout punch, it is a tactic that has got the American out of trouble on numerous occasions throughout his career when he is behind on the scorecards, but it is a tactic that almost certainly favours Fury if the fight goes the distance.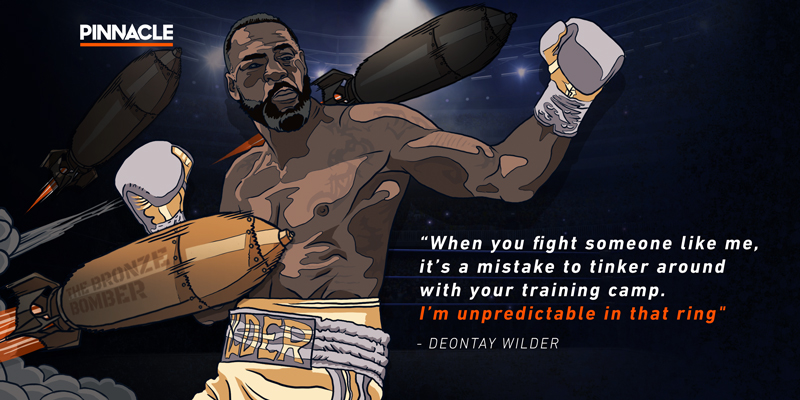 Boxer vs. Puncher: What does history suggest?
The rematch represents the classic boxer vs. puncher style matchup. The common boxer vs. puncher is a style matchup that many believe favours the boxer but there are many attributes outside of this that you to need consider.
A skilled boxer with a weak chin against a not-so-skilled fighter with great power makes for an exciting match-up. On one side, the boxer can outbox the less-skilled fighter. On the other side, the less-skilled fighter potentially only needs one punch to end the fight, but when considering two fighters at a comparative level, boxers will usually have the edge over punchers - in this case, that is Tyson Fury.
Power is a great weapon to have in boxing, but it can mean very little at the elite level if the opponent knows how to nullify it correctly. Every fighter punches hard at world heavyweight championship level - it's just a matter of how hard.
Fury is the better, more skilled boxer, but Wilder carries superior power, so by analysing this data, the evidence suggests that Fury will not engage in any type of slugfest with Wilder, despite what he has been stating.
Wilder will target Fury's cut
Fury has stated that he feels fantastic after having 47 stitches removed from his eye in his last bout after he sustained a horror cut in the third round of his unanimous points victory over Otto Wallin, but this is certainly a factor that needs to be considered when betting on the Wilder vs. Fury rematch.
Despite Fury's positive reaction to treatment, it was a horrific cut, and should it open up again it could have serious repercussions for the challenger.
The point of the cut as a fighter is one of the worst places it can occur, as it obstructs the vision for them to see during the fight, and against a puncher as ferocious as Deontay Wilder, if it opens up again, it could spell the beginning of the end.
Wilder undoubtedly has the capability and punch power to damage both scars, and it might not take a big punch to even do so. Fighting a huge puncher with both eyes fully functional is hard enough, so to have one eye closed and blood continually pouring from it (like it was against Otto Wallin) Fury may find himself not being able to see some of the huge looping and unorthodox punches coming from the champion.
Recent opposition
Before to the first fight opponents like Sefer Seferi and Francisco Pianeta, were lined up for Fury not because the former champion wanted a string of easy fights, but because he wasn't yet ready for fights that carried any kind of risk. In terms of the level of opponents faced since the first fight, Wilder has secured another knockout win over an aging Luis Ortiz, and a concussive one round knockout over Dominic Breazeale. Fury has been ticking over and expanding his profile in the US, with wins over some rather obscure opposition in Tom Schwartz and Otto Wallin, as well as making an appearance in WWE.
"Wilder undoubtedly has the capability and punch power to damage both scars, and it might not take a big punch to even do so"
But despite Wilder boxing a better level of opposition recently, it is the 31 year-old Fury that has a better resume. It is also key that bettors know how to analyse the style that Fury brings to the ring, in that he is a fighter who will perform better against stonger opposition, as he is never going to look outstanding against weaker opponenets due to his lack of punching power. Against Wladimir Klitschko (a fight where Fury was a huge betting underdog) Fury boxed, neutralised, and used all of his advantages. Fury, against Klitschko, closed the Ukrainian down, and he beat him convincingly. But, likewise, Klitschko's negation to throw any kind of telling or meaningful punches, was as much a determining reason as to why Fury could win so comfortably.
Fury's size was a big factor, and against Klitsckho he reduced the champion to tactics of overthinking every punch he was about to, or wanted to throw. Deontay Wilder, for all his technical flaws, doesn't think like Klitsckho. He is ultra-energetic once he has even a slight sense that his opponent is hurt, and will risk everything in a ring to secure a big knockout win. A concussive puncher, The "Bronze Bomber" has 41 knockouts in 42 fights. This style makes Wilder dangerous against anyone, and the American carries this power right the way through the fight, for all 12 rounds.
Wilder vs. Fury: Where is the value?
The rematch is a classic case of boxer vs. puncher, and this means it is easier to conclude on the potential outcome of the fight. The odds at Pinnacle slightly favour Wilder's chances of winning, but the edge should sit with Fury.
Wilder was favoured also in the first fight due to Fury's inactivity, and backed by plenty of bettors due to the serious power he carries. So by analysing both styles, and the strategies that they will likely bring to the ring on February 22, it is likely the fight will be decided with Wilder by KO, or TKO, or Fury winning on points
Adopting a betting strategy on this fight, where you cover both outcomes, will reduce your risk on unlikelier ones and increase your chance of profit. Your advantage is reduced, but you will be able to eliminate improbable outcomes that have little chance of occurring. Similarly, to Money Line betting in boxing, analysing the two fighter's strengths and weaknesses is imperative if you are hedging or considering other markets.
Fury will come into the rematch with improved reactions and better endurance than he did in the first fight, and the 31 year-old possesses such fantastic boxing skills and speed for a big man, that it is almost a case of avoiding the big punch of Wilder to win the fight. If bettors are to witness a Fury knockout, it will likely come later in the fight when Wilder is so frustrated that he throws caution to the wind and comes out swinging, looking for the knockout, allowing the naturally bigger man to plant his feet and walk the American onto a big shot.
Now that you know how to approach the Wilder vs. Fury 2 betting markets, you can bet with Pinnacle's great Wilder vs. Fury 2 odds.