On Saturday October 31, Ukrainian star Oleksandr Usyk will finally face Derek Chisora in their much anticipated rescheduled heavyweight bout. Read on to inform your Usyk vs. Chisora predictions.
A close look at the Usyk vs. Chisora odds
| | |
| --- | --- |
| Oleksandr Usyk | Derek Chisora |
| 86.04% | 13.96% |
After becoming undisputed cruiserweight king (reigning from 2018-2019), Usyk is now aiming to win all the world heavyweight belts, and victory over Chisora will keep him on the right path for a title fight with unified champion Anthony Joshua. Looking for value in the Usyk vs. Chisora odds? Read on to inform your Usyk vs. Chisora predictions.

The Money Line odds suggest this is a fight that Pinnacle is expecting Oleksandr Usyk to win, and the odds propose the Ukrainian has approximately a 86% chance of victory.
The Total Rounds is set at 10.5, with Over 10.5 rounds priced at 1.751*.
Date: Saturday, October 31
Venue: TBD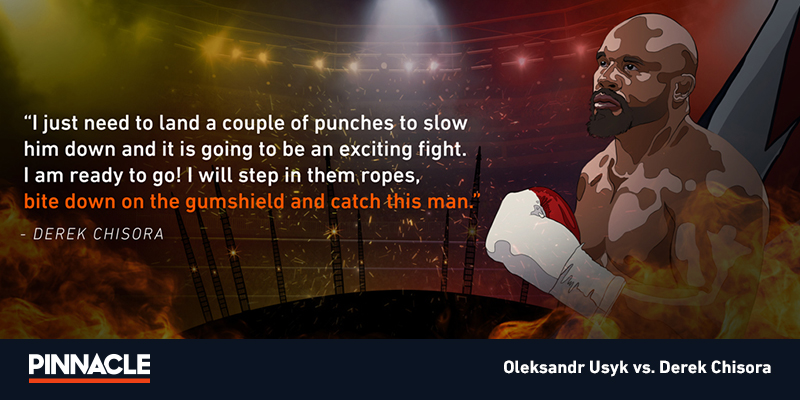 Can Chisora shock Usyk?
After witnessing his fellow countryman Vasyl Lomachenko get dethroned by Teofimo Lopez recently - in a fight where the American was given just a 25% chance of victory based on Pinnacle's odds - Ukrainian Uysk will not be wanting a repeat shock himself against Chisora, whom Pinnacle gives around a 15% chance of victory, based on the odds.
Usyk (17-0, 13 KOs) is undefeated, a superb mover in the ring, and a complete boxer. This will be his second fight as a heavyweight, and there are still questions to be answered after his first performance in the division was a sub-par one by his standards, against 39 year-old Chazz Witherspoon.
Chisora (32-9, 23 KOs) has been around the block as a heavyweight, but after a string of defeats against the better fighters in the division, he has almost reinvented himself over the past two years to stay relevant across the heavyweight landscape. "Del Boy" will enter the ring the more experienced of the two fighters at the weight, having fought the likes of Vitali Klitschko, David Haye, Tyson Fury, Robert Helenius, Kubrat Pulev, and Dillian Whyte to name a few, but it is worth noting that these are all fights in which he has lost, and been stopped in three of them.
Chisora will be the bull, but a key factor is that he has often looked poor against southpaw fighters and movers in the past
The key factor that a lot of people seem to be pointing to when giving Chisora a real shot against Usyk is the size difference between the pair, and the fact that Chisora has campaigned at heavyweight for all of his career, whereas Usyk is having only his second fight in the division. However, Usyk is no stranger to boxing bigger men, he has fought and beaten some of the current heavyweight crop already as both an amateur and professional, and has never looked in danger of losing as a professional.
Joe Joyce is a big heavyweight and he was dealt with as an amateur by Usyk comfortably. He has also beaten Michael Hunter who was unlucky not to have got the decision over Dillian Whyte's conqueror Alexander Povetkin recently. He also has wins over Murat Gassiev, who is arguably a bigger puncher than Chisora.
Looking at Chisora, the assets he possesses that could potentially lead him to victory are a solid enough chin, a great heart, and - when he is fit and prepared (which he will most certainly be against Usyk) - a great work rate, with the will to back his opponent up at all costs - an ingredient that will be vital if size does play a factor.
Nevertheless, the odds favour Usyk heavily against Chisora for a reason. Not only is he considered one of the greatest cruiserweight champions of all time, many experts believe he is the one fighter that could trouble both Tyson Fury and Anthony Joshua, with many predicting that the Ukrainian would have too much skill for the latter.
It is also worth noting that Evander Holyfield and David Haye are the only fighters who came up from cruiserweight to become heavyweight world champions. They both have the same height and reach as Usyk (6'3'' and 78'') so it is certainly possible to come up in weight and be successful, especially at the level or two below the elite of the division, in which Chisora remains.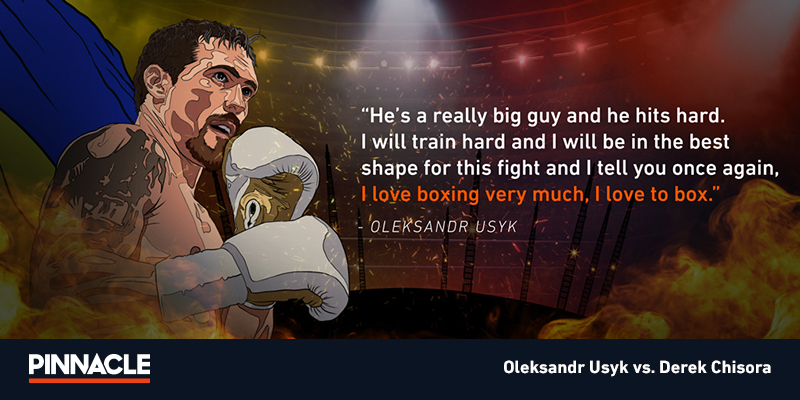 Strengths vs. Weaknesses
Despite being a natural cruiserweight, Usyk has great technique and superb speed of foot to be a real danger as a heavyweight, ultimately bringing something different to the top of the division.
The Ukrainian has also boxed all over the world in the past, fighting top level fighters such as Marco Huck, Michael Hunter, Murat Gassiev, Maris Breidis, Tony Bellew and now Dereck Chisora, all as the away fighter, which demonstrates the confidence he and his team have in his ability.
This will be his second fight as a heavyweight, and there are still questions to be answered after his first performance in the division was a sub-par one by his standards
Usyk landed 70% of his power punches (88/123) in his heavyweight debut and held old hand, Chazz Witherspoon, to just 21 total punches landed in their bout - which highlights that his elusiveness at the weight looks to have remained intact, but we will get more evidence of this against the bigger and stronger Chisora.
As a cruiserweight, Usyk was restricted to weighing just 14st 4lbs (200lbs), so his second heavyweight weigh-in is well worth bettors keeping an eye on, as it will tell us a lot about how he will approach this fight.
Chisora will likely be the one with a sizable weight advantage, which does make him a danger, and it is very clear from looking at his training techniques for the fight and the interviews that he has given in the build-up, that his tactic will be to use his size advantage to mount physical pressure upon the former Olympic gold medallist, with power shots that the Ukrainian will not be used to in a professional ring.
Chisora will be the bull, but a key factor is that he has often looked poor against southpaw fighters and movers in the past, and Usyk is better at both than anyone Derek has fought (apart from arguably Tyson Fury), so it is plain to see that there will be one game plan for the 36 year-old to be successful and that is to apply consistent and constant pressure and hope to break Usyk's will.
Usyk vs. Chisora betting: Where is the value?
This certainly won't be an easy fight for Usyk, and there likely will be some drama along the way, but it cannot be ignored that the 33 year-old has never been stopped or troubled in 373 amateur, semi-professional, and professional bouts, and has a far superior skill set than the Brit.
In history, Chisora has struggled against boxers who can move, and one of Usyk's best attributes is his movement. He has found it extremely hard to catch fighters who are far less superior boxers than Usyk, so he will need to have the best performance of his career to come close to beating the Ukrainian.
Early on it will almost certainly be competitive, where Chisora is expected to be piling on the pressure to make Usyk feel uneasy and let him know what it feels like to be in with a true heavyweight, and this will create some early drama.
But the key factor will likely be that as the fight settles more into a pattern and the Ukrainian weathers the early onslaught, then expect Usyk's fleet of foot, stamina, boxing skills, and general ring IQ to take over, resulting in a points decision or late stoppage.
Ready to get into the action? Get unbeatable Usyk vs. Chisora boxing odds at Pinnacle.