On Saturday, July 20 at the MGM Grand Garden Arena in Las Vegas, WBA regular welterweight champion Manny Pacquiao returns to face undefeated Super WBA Welterweight Champion Keith Thurman in an intriguing showdown. Looking for value in the Pacquiao vs. Thurman odds? Read on to inform your Pacquiao vs. Thurman prediction.
A close look at the Manny Pacquiao vs. Keith Thurman odds
The Money Line odds suggest this will be a competitive fight. Keith Thurman, despite not looking convincing in his last performance against Josesito Lopez, is the favourite, and the odds suggest the younger man has around a 55% chance of victory.

Get the best boxing betting advice
Big fight previews, BetShares and the latest odds
Follow Pinnacle
Pacquiao vs. Thurman: Tale of the Tape
Manny Pacquiao is a future hall of famer who has a stellar resume of ring legends, and his record currently reads 61-7-2, with 39 KOs. Pacquiao stands at 5'6" with a 67" reach and has won world titles from junior lightweight all the way up to Junior Middleweight. Some of the Filipino's most notable fights include Juan Manuel Marquez, Marco Antonio Barrera, Erik Morales, Oscar De La Hoya, Ricky Hatton, Miguel Cotto, Shane Mosley, Antonio Margarito, Timothy Bradley and Floyd Mayweather. His most recent bouts have been against solid welterweight contenders Jessie Vargas, Lucas Matthysse and Adrien Broner, and he has been victorious on all three occasions.
Keith Thurman is an American fighter from Clearwater Florida, and at 30, is still undefeated as a professional. His record reads 29-0, with 22 KO's. Thurman is 5'8" with a 69" reach. His most notable fights include decision victories over Shawn Porter, Danny Garcia, and Robert Guerrero. The American had his most recent bout against Josesito Lopez, a fight in which Lopez was put down in round two, but fought back to give Thurman a serious scare in round seven. The champion had a 168-100 superiority in power punches landed - an advantage of just six per round. Only 24 of Thurman's 247 landed punches were body shots, and the consensus was that the champion looked well below his best.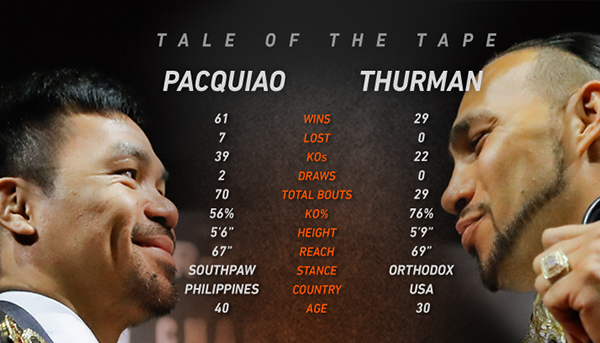 Pacquiao vs. Thurman: How will the fight be won and lost?
Pacquiao has looked impressive in his last two bouts against Lucas Matthysse and Adrien Broner, and even though the Philippine fighter will enter the bout 10 years older than Thurman, he is still a live underdog. 'Pac Man' doesn't throw the same amount of punches now as he did in his prime, but he still throws enough to be capable of winning high-level fights, whilst his experience in knowing how to negate and pace a fight over 12 hard rounds at championship level is invaluable.
Thurman holds advantages in height and reach, is in his physical prime, and has never really been in serious danger of losing so far in his career, which is the motive for the betting edge in this bout in his favour. The American will bring a 76% knockout ratio into the contest, having only gone the distance seven times in a professional career which has spanned 12 years.
A key factor for Thurman (and potentially an advantage for Pacquiao) is activity, or a shortage thereof. 'One time' has only boxed twice in three years due to injuries to his elbow, and he did look off the pace against a shopworn Josesito Lopez last time out.

"Lopez applied a lot of pressure against Thurman which unsettled him, but Pacquiao is not a pressure fighter, and is more of a boxer at this stage of his career"
Thurman will need to leverage his youth and power and impose himself on the older Pacquiao early, to prevent him continually getting into range and letting his hands fly. The 30 year-old's movement will be central to unsettling the 40 year-old and his balance, and as there is a high probability that the fight will go the distance, he will need to fight intelligently from the opening bell. Against Soto Karrass, Chavez, and Porter, Thurman showed good punching power, robustness and athleticism that should give bettors confidence he can do the same against an aging Pacquiao.

Thurman likes to box a bit more and almost snap his jabs out to allow him to throw hooks from the outside along with uppercuts as his opponent comes forward. Lopez applied a lot of pressure against Thurman which unsettled him, but Pacquiao is not a pressure fighter, and is more of a boxer at this stage of his career. Thurman has solid legs for 12 rounds and will have to overcome the southpaw style of Pacquiao, but the fight is more Thurman's to lose at this stage of both fighters career.
Manny Pacquiao vs. Keith Thurman betting: Where is the value?
The age factor will be likely to control pre-fight debates and predictions, but bettors should focus more on how the two fighter's strengths and weaknesses shape up against each other, rather than how far Pacquiao has regressed or slowed down since his peak years.
The 40 year-old has looked a refreshed fighter in recent bouts, but even in a fight where he was expected to win against Jeff Horn, it was evident his once almost freakish powers in the ring were on the slide, and bettors should expect Keith Thurman to represent a bigger task than Horn did.
Thurman, will need to improve on his last performance to be victorious, but his focus and determination as a fighter should ensure he is a close to the top of his game as he can be at this stage of his career. Razor-close victories against Danny Garcia and Shawn Porter give rationale for the Thurman edge, and it is likely the American will box and move a lot more against Pacquiao due to the power the Filipino carries in either hand.
Thurman's power seems to have been reduced as the opposition's quality has increased, but he should carry enough power to be able to hurt Pacquiao, and certainly gain his respect. Five of his last six wins have come on points after he started off his career, with a record of 23-0 and 21 Knockouts, and this points to a high probability that the fight will go the distance.
At his best, Thurman is tough, very skilled and as resolute a fighter as you will get in the 147 pound division. Providing he carries his key attributes into the fight, he should be just a little bit too physical a force for Pacquaio at this stage of his career in a competitive, distance fight. The higher the quality of contest in the lower weight classes, the more probable a decision victory becomes - and bettors should expect no different in this contest.