On Saturday, September 25, unified world heavyweight champion Anthony Joshua will return to the ring to face the highly talented and unbeaten Oleksandr Usyk at Tottenham Hotspur Stadium in a fight that has divided many fight fans' opinions. Can the Ukrainian cause an upset? Read on to inform your Joshua vs. Usyk predictions.
A close look at the Joshua vs. Usyk odds
| | |
| --- | --- |
| Anthony Joshua | Oleksandr Usyk |
| 68.97% | 31.03% |
The
1X2 odds
suggest this is a fight that Pinnacle is expecting Joshua to win, and the odds propose the Brit has approximately a 70% chance of victory, which will possibly come as a surprise to some due to the high-quality boxing skills and experience that Usyk possesses.
The Total Rounds is set at 9.5, with Over 9.5 rounds priced at
1.735
*, which means Pinnacle is slightly favouring the fight to go the distance rather than end in a KO/TKO.
Date: Saturday, September 25  
Venue: Tottenham Hotspur Stadium, London, England

Bet: Joshua vs. Usyk odds
Joshua vs. Usyk: Tale of the Tape


Get the best boxing betting advice
Big fight previews, BetShares, and the latest odds
Follow Pinnacle
Joshua vs. Usyk: Big fight statistics
Joshua comes into the fight with a record of 24 wins (22 of which have come via knockout), 1 loss, and 0 draws. Usyk holds an untarnished record of 18 wins, 0 losses, and 0 draws, with 13 of his wins coming via knockout  ̶  although 15 of his wins have come at cruiserweight which is a weight division below heavyweight. 
The stats propose that Joshua has an advantage in power over Usyk, with a 92% knockout percentage compared to Usyk's 72%, whilst Joshua also holds a height advantage of three inches over the Ukrainian together and a four-inch reach advantage.
The clash of styles is an interesting angle for bettors to analyse. Joshua fights from an orthodox stance, while Usyk is a southpaw and is actually the first southpaw Joshua will have faced since winning the WBO heavyweight title against Charles Martin inside two rounds back in 2016.


Power vs. Skill: Who has the edge? 
The classic boxer (Usyk) vs. puncher (Joshua) is a style matchup that many believe favours the boxer but there are many attributes outside of this that bettors need to consider before making their Joshua vs. Usyk predictions.  
A skilled boxer with good punch resistance who is matched against a less skilled fighter with great power and strength makes for an exciting match-up and that is what the Joshua vs. Usyk fight represents. On one side, Usyk can potentially outbox the less-skilled fighter but on the other side, Joshua can potentially use his strength and power to end the fight. But what makes this battle so intriguing is that when considering two fighters at a comparative level, the boxer will usually have the edge over the puncher – which is why this fight is fascinating to analyse.
Usyk is the more skilled boxer, whilst Joshua is more explosive and powerful, but many different factors will come into play when the pair meet.
There have been many examples over the years of boxers being beaten by punchers and vice versa, which demonstrates the variance in outcomes that can occur. This is important to remember when betting on boxing: that all other factors are not equal. For example, if a boxer is not physically conditioned to fight at a high pace for 12 rounds, then he has the potential to be stopped by a power puncher who is superiorly conditioned late on in the fight. In terms of this fight though, Joshua has experienced stamina issues during his career.
Also, power, size, and strength are great weapons to have but they can mean very little at the elite level if the opponent knows how to nullify it correctly, and Usyk has shown in his previous fights as an amateur and as a professional that he knows how to do this, which makes the betting element of the fight extremely thought-provoking.
Joshua has fought, on average, once every eight months over the last five years as a professional boxer, accumulating a total of 47 rounds during that period. This means that those fights have lasted 9.4 rounds on average, which highlights that since he stepped up a level in competition his contests are lasting much longer than they did his earlier career when he was facing lower-level opponents.
In Usyk's last five fights, the Ukrainian has fought, on average, once every eight months and 23 days (almost identical to Joshua). In that period, he has amassed a total of 51 rounds, meaning his fights have lasted 10.2 rounds on average, slightly higher than Joshua's average. 
Usyk is the more skilled boxer, whilst Joshua is more explosive and powerful, but many different factors will come into play when the pair meet. Therefore, this fight cannot be analysed simply as boxer vs. puncher and gathering more data could prove to be the difference between finding a potential edge in the Joshua vs. Usyk betting markets and not.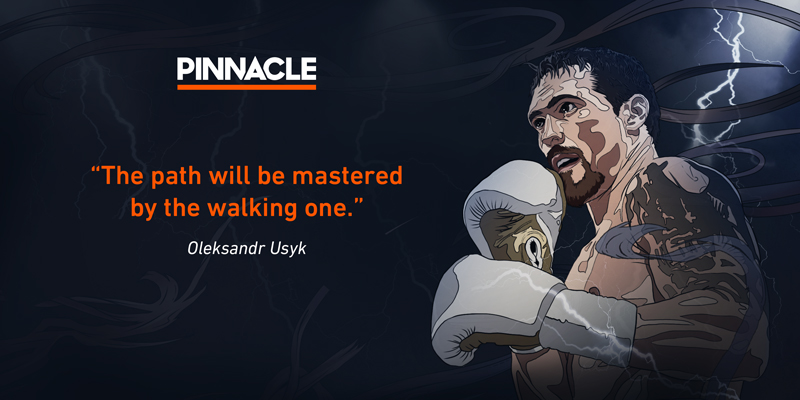 Joshua vs. Usyk betting: Strengths vs. Weaknesses
One key factor in the Joshua vs. Usyk fight is size and weight. Examining Usyk's social media channels, it is clear that he is trying to bulk up and increase his weight to avoid being outweighed and overpowered by Joshua. This is potentially a mistake, but it is hard to know the true value of this until we have seen the Ukrainian at the weigh-in.
I expect Usyk to tip the scales at somewhere around 230 pounds so he won't be too disadvantaged in terms of strength and power but with an increase in weight and muscle mass comes a potential loss to his speed, movement, and stamina which are Usyk's greatest assets and the things he will need if he is to be victorious in this fight.
Usyk is a fighter who is set apart from almost all other boxers at heavyweight (apart, perhaps, from Tyson Fury) due to his brilliant technical skill as a boxer inside the ring. The Ukrainian is a fighter with excellent control, technique, and speed, and the former Olympic gold medallist rarely lost as an amateur and is unbeaten as a professional.
Usyk is a fighter who is set apart from almost all other boxers at heavyweight (apart, perhaps, from Tyson Fury).
Joshua is skilled but Usyk has better fundamental boxing ability and looks more skilled all-round. The main assets that Joshua brings to the fight, that are superior to Usyk, are his strength, power, and a more efficient and powerful straight right hand (especially from range).
Another aspect to consider when analysing which bets to place on the Joshua vs. Usyk fight is that whilst many pundits and fight fans are predicting that Joshua will win early in the fight, the stats and his recent performances don't back this prediction up. In fact, the stats point more to the fight going the distance, as when we analyse Joshua's record since he has stepped up a level, his fights have generally been longer distance ones compared to when he was blowing away weaker opposition at the start of his career.
As mentioned, Joshua's last five fights have lasted 9.4 rounds on average and if you look at his opponents since his win over Wladimir Klitschko, only Alexander Povetkin was defeated before round eight with almost 100% of his fights going over 9.5 rounds (the Total Rounds set by Pinnacle for this fight). Couple that with the fact that he is fighting a man who has never been in any serious trouble throughout his entire boxing career and at the same time proved he can handle strength and physical size (against Derek Chisora in his last fight, despite not looking ultra-impressive offensively) and there's a very good chance we will not see this fight ending in the early rounds.
Joshua vs. Usyk betting: Where is the value?
For Joshua to win this fight, it is essential that he doesn't give Usyk any opportunities to gain confidence or get into any kind of rhythm in the first four rounds. He needs to attack Usyk's body to offset his rythm, pick his offensive periods correctly, and apply calculated pressure whilst moving with Usyk, not away from him (thus allowing him to dictate movement in the ring). As mentioned, Joshua has a three-inch height advantage and a four-inch reach advantage, and he must take maximum advantage of these benefits to be successful.
For Usyk, measured and disciplined boxing is key. Timing will also be important when letting his hands go, due to Joshua being more powerful and effective in the clinches and inside with hooks and uppercuts. The Ukrainian will also need to be careful when coming in and out of range. The former cruiserweight king will need to use his greater footwork to pivot and make Joshua miss (thus aggravating him), offsetting his style to the point where Joshua is almost confused as to what punch to throw next, or what strategy to employ. Then he must look to rack up the rounds in the hope that Joshua has to then go for a finish, leaving himself exposed to being countered.
Joshua's key to victory is if he can impose his power and strength on Usyk quickly and he must not fall into the trap of trying to have a boxing match. If he does, he will be in for a long night. Once the Ukrainian has the front foot in a fight and starts controlling the centre of the ring, it is very hard for his opponents to negate what he is doing. Can Joshua negate this and overpower him if this kind of fight unfolds? Yes, but he would then have to take some serious risks which could even result in him being stopped. 
Both fighters will have their moments in this fight and Usyk might even make Joshua look quite basic during periods of the bout. Usyk has never been stopped as an amateur or professional and certainly has enough mobility and skill to see the fight out without suffering too much damage – assuming he hasn't gained masses of weight – which is why backing over 9.5 rounds (or the fight to go the distance) looks like the best value bet.
The home advantage for Joshua and the potential of a multimillion-pound fight with Tyson Fury on the horizon are also worth taking into consideration if you are looking at betting on Usyk to win via decision, as there is a possibility that the bout will end with a disputed result, despite Usyk being the better man on the night.
For bettors looking at things more simplistically, the story of this fight is that Usyk has the experience, boxing ability, and skillset to win the fight providing he can handle Joshua's strength and power. If the Ukrainian can overcome this then he holds a good chance of victory due to being technically more well-rounded whilst possessing some of the best footwork and boxing intelligence in the heavyweight division.
The Money Line betting odds at Pinnacle should be closer in my opinion, as Usyk is the better boxer and the odds do seem to factor (and favour) power and strength over skill and technique (a case of 'a good big fighter will always beat a good little one') but the counter-argument to that is that Joshua is a good big fighter boxing an elite small fighter.
Power can sometimes be overrated in boxing and you don't have to necessarily punch hard to take a giant heavyweight off his feet; you have to hit correctly and accurately, and Usyk is certainly capable of that. Joshua has plenty of weaknesses but he also possesses many strengths which make this such a fascinating heavyweight fight and it has a much better chance of going the distance than finishing early on which is why, as mentioned, backing Over 9.5 Rounds is a much more calculated bet.
Best bet: Back Over 9.5 rounds @ 1.753*
Bold prediction: Back Usyk to win @ 3.150*
Outside prediction: Back the draw
Ready to get into the action? Get unbeatable Joshua vs. Usyk boxing odds at Pinnacle.