World heavyweight champion Anthony Joshua returns to the ring on December 12, as he takes on Bulgarian hard man Kubrat Pulev.
Joshua won back his three heavyweight world titles from Andy Ruiz Jr. last December and will start as the betting favourite against Pulev, but the Bulgarian has vowed to wreck any plans the Brit has of re-establishing himself as a dominant heavyweight force once again. Will we see an upset? Read on to inform your Joshua vs. Pulev predictions.
A close look at the Joshua vs. Pulev odds
| | |
| --- | --- |
| Anthony Joshua | Kubrat Pulev |
| 86.53% | 13.47% |
The 1X2 odds suggest this is a fight that Pinnacle is expecting Anthony Joshua to win, and the odds propose the world heavyweight champion has approximately an 85% chance of victory.
The Total Rounds is set at 6.5, with Over 6.5 rounds priced at 1.740*, which could represent great value to bettors.
Date: Saturday, December 12
Venue: Wembley Arena, London, England
Get the best boxing betting advice
Big fight previews, BetShares and the latest odds
Follow Pinnacle
Joshua vs. Pulev: Tale of the Tape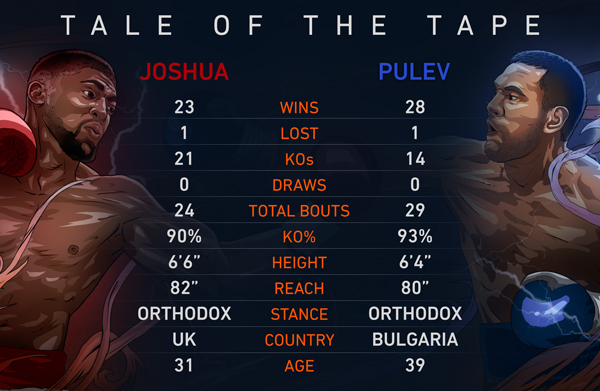 Joshua vs. Pulev: Big fight statistics
Anthony Joshua's record currently stands at 23 wins, 1 loss, and 0 draws. Of those 23 wins, the Brit has stopped 21 of his opponents, meaning his current knock-out ratio is 91%. In his only defeat, he was stopped inside six rounds by Andy Ruiz Jr. The 31 year-old has boxed a total of 103 rounds, meaning his professional fights last on average 4.3 rounds per fight. Joshua's last fight took place against Andy Ruiz Jr. in December 2019. A fight in which he won by unanimous decision.
Kubrat Pulev will enter the ring with a record that currently stands at 28 wins, 1 loss, and 0 draws. Of those 28 wins, the Bulgarian has stopped 14 of his opponents, so his current knock-out ratio is around 50%. In his defeat, he was stopped brutally by a prime Wladimir Klitschko in five rounds. Pulev has boxed a total of 203 rounds, meaning his professional fights last on average seven rounds per fight. The 39 year-old is coming off the back of a win against American journeyman Rydell Booker, in a fight that took place almost exactly one year ago, winning by unanimous decision over 10 rounds.


How good is Kubrat Pulev?
In short, very good but not great. The 39 year-old is a good boxer with a solid amateur pedigree, who jabs very well to both body and head, and is also teak-tough. The Bulgarian possesses more of a patient style than someone like Andy Ruiz Jr. (who stopped Joshua) and will likely be more calculated and methodical in his approach than Ruiz was.
Pulev does have good pedigree, claiming bronze at the amateur World Boxing Championships back in 2005 and gold in the European Championships back in 2008. "The Cobra" has spent the vast majority of his pro career fighting in Germany, until recently where he has been boxing back home in Bulgaria, meaning he is no stranger to fighting on the road.
Pulev has decent power, but he's not a concussive one-punch knockout artist, winning a lot of his top-level bouts on points and seems to be one of those fighters that does just enough to win rounds. He will need to be a little more aggressive than usual if he is to stand a chance of stopping Joshua though. The Bulgarian tends to outbox and jab with his opponents, rather than look for a knockout (this was evident against Hughie Fury, who was a taller fighter), so there is always the chance that he will try and make it boring and will look to be victorious on the scorecards, rather than go all out for a stoppage win.
Pulev has been rated in most of the governing bodies' top 10 spots at some point, but he has never seemed to have quite what it takes to win a major world title belt. The Bulgarian is also up there in age, approaching his 40th birthday, whereas Joshua is more in, or around, his prime at this stage of his career.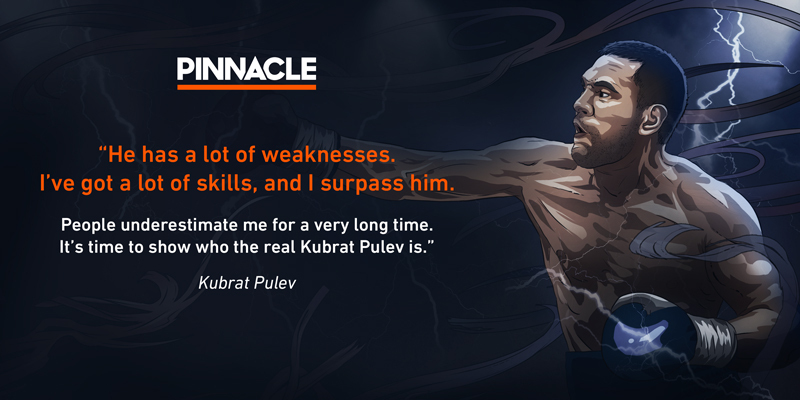 Can Pulev shock Joshua?
Joshua will come into the fight with Pulev with a significant amount of expectation on his shoulders and this boils down to two things: his most recent performance against Andy Ruiz Jr. where he boxed and moved, rather than employing his fan-friendly explosive style (which made him a major pay-per-view attraction); and the recent emergence of Tyson Fury as the leading heavyweight in world boxing - who he will inevitably be compared to after the fight, win or lose. 
After Joshua's 2017 win over Wladimir Klitschko, it propelled the Brit to superstardom in the United Kingdom but his projected invincibility has since come to a shuddering end at the hands of the unfancied Andy Ruiz Jr. That defeat has seen plenty of criticism geared towards the 31 year-old and despite winning the rematch by a wide margin on all the judges' scorecards, there are still plenty of fight fans who believe Joshua is an accident waiting to happen once again.
Joshua will have learnt valuable lessons from that fight with Ruiz, so there is very little danger of the champion making the same mistake twice. Expect him to be fully switched on against such an experienced opponent, who has gone the distance in plenty of championship level fights, including three of his last four contests.
Joshua vs. Pulev: Where is the value?       
Pulev has always been confident of beating Anthony Joshua, and it seems that confidence has escalated to a new level since the Olympic gold medallist was beaten by Andy Ruiz Jr. From a mental and psychological point of view, the fight being on home soil for Joshua in London will make the Brit a lot more relaxed, and this could be an underrated factor coming into the fight.
The notion amongst some fight fans is that Joshua is now potentially an exposed fighter, referring back to his safety-first approach in the rematch with Andy Ruiz Jr., where he was ultra-cautious to engage in any kind of fire with the Mexican and used back-foot boxing and movement to win the fight - tactics he had never employed before in his pro career.
One area that can be analysed is that the Brit is vulnerable to left hooks around the temple, having been badly hurt on multiple occasions from these shots, but this looks to be more of a defensive flaw in his arsenal, than a straight-up chin problem. It is also worth noting that Joshua takes an extremely long time to recover after being hurt or buzzed by a shot, and the Pulev camp will have noted this. Evident flaws were exposed in Joshua's game against Ruiz Jr. and his survival skills and powers of recovery were extremely poor for a unified heavyweight champion, so it is certainly possible that Pulev has the power and ability to be able to hurt and even knock Joshua out.
There is a substantial difference in speed and even more so in power when comparing the two boxers and this will be the reason that Pinnacle makes Joshua such a one-sided betting favourite. Pulev doesn't have Ruiz's quick hands, he's quite basic (but effective with it) and has no real special effects - a style that the Joshua camp will feel they can overcome and presents less risk than other matchups currently in the heavyweight division. It is also worth noting that Pulev's straight-up lean-back style is one that Joshua has faced multiple times as an amateur.
The fact that Pulev has such a good jab and is so experienced over 12 rounds means that Joshua will need to take the fight to Pulev, unsettle any kind of rhythm the Bulgarian will have, and look to make his 39 year-old legs work tirelessly. Mid-range and inside fighting will be the keys to victory and he will need a devastating win to really set up the mammoth all-British heavyweight clash with Tyson Fury in the New Year, and to get fans divided in their opinion on the outcome of that fight once again.
After the embarrassment and manner of the Andy Ruiz Jr. loss in America last June, a more measured and precise approach is likely moving forward in the career of the Brit, but the fact that he will need a stoppage win to get the boxing public believing in him again brings an element of risk, so the prices of a late stoppage for Joshua in the second half of the fight look far more attractive than the early blowout many are suggesting. The Total Rounds is set at 6.5, with Over 6.5 rounds priced at 1.740*, which could represent great value to bettors.
Joshua vs. Pulev prediction: Joshua via KO/TKO 7-12

Now that you know how to approach the Joshua vs. Pulev betting markets, you can bet with Pinnacle's great Joshua vs. Pulev odds.