This weekend, in an all-British clash George Groves (27-3, 20 KOs) and Chris Eubank Jr (26-1, 20 KOs) will go head to head for a place in the final of the super-middleweight world boxing super series. Is there value in the Groves vs. Eubank Jr betting? Read on for some expert insight into the Groves vs. Eubank Jr odds.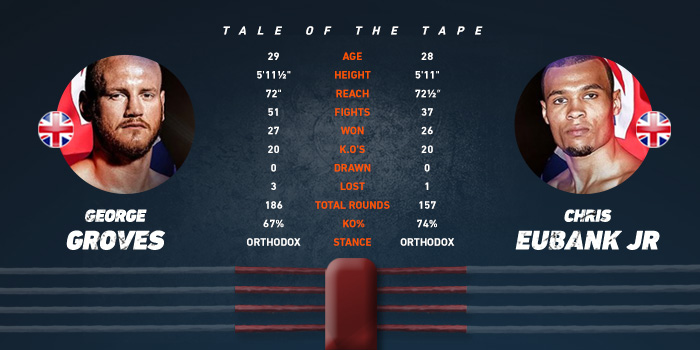 What do the stats suggest?
George Groves on average has fought better challengers overall than Eubank Jr (18-5-1 in comparison to 16-6-1) and even though the WBA champion has suffered three career defeats, they have been to world class opponents in Carl Froch (twice) and current WBA light-heavyweight champion Badou Jack.
Equally, both boxers have logged 20 KO victories between them. Groves has never knocked an opponent out after round seven but has accumulated 60% of his knockouts sandwiched between rounds four and six, signifying that the WBA champion analyses his challengers' style and observes their strengths and weaknesses during the early rounds – ultimately allowing him to decide the best route of victory from the outset.

Eubank has been exceedingly active during his career, averaging 3.9 fights per year compared to exactly three for Groves
Eubank Jr in comparison has recorded four Knockout wins after round seven – including one stoppage victory during the 12th round – underlining his well-known persistent and tenacious style from round one right through to the final bell – a style which has noticeably demonstrated that the IBO champion is one of the fittest and most robust boxers in the super-middleweight division.
Eubank has been exceedingly active during his career, averaging 3.9 fights per year compared to exactly three of Groves. The challenger fought seven times during 2014 and eight in 2016, emphasising his approach and dedication to the sport.
Groves' holds extra familiarity in world title fights and has fought some of the best fighters in the division over the years and although resulting in close losses, it could hold an advantage for Groves experience-wise in the championship rounds.
Groves vs. Eubank Jr betting: How does Groves win?
George Groves has never been defensively blessed, but offensively Groves possesses many fine qualities as a fighter. The Londoner is dynamic and exciting and carries tremendous explosive power in his right hand.
Eubank Jr's main weakness is the decisions that he makes in the ring.
On the outside Groves' right hand is faster than anything Eubank Jr can throw at long-range, however when the pair get into mid and close range there is a massive speed advantage for Eubank Jr – something Groves will need to nullify if he wants to win the fight.
The WBA champion will likely look to box a long range fight on the outside from the opening bell, picking his shots correctly without wasting punches – a tactic that gives the WBA champion his best chance of victory.
For bettors looking to back George Groves, the fight will ultimately hinge on whether Groves can gain Eubank Jr's respect with his right hand. If he can, then he can win the fight and has the ability to bank rounds against his less experienced opponent – if he can't then the champion could find himself in serious trouble.
In Groves' previous outing against Jamie Cox the London fighter showed that he is still more than capable of being offensively sharp and elusive whilst also demonstrating the power he possesses in that right hand.
The 29-year-old will likely attempt some misdirection to bettors in the build-up by promising an early knockout when in reality the likelihood is that Groves will replicate a similar strategy and game plan that he implemented against James De Gale back in 2011.
Groves will almost certainly have to adapt to what Eubank Jr throws – a style that will be relentless and unrelenting throughout the fight using all his boxing awareness and ring craft to offset the challengers' persistent assaults.
Groves vs. Eubank Jr betting: How does Eubank Jr win?
Chris Eubank Jr is approaching his peak as a fighter. At 28 years old, the Brighton warrior is athletically gifted and with experience is getting better and better with each fight.
The IBO champion possesses a vastly superior inside game to George Groves – also holding a key advantage in hand speed on the inside to the Londoner.
Groves possesses a boxing stance which is conducive to landing hard explosive punches from long range – Eubank Jr's stance and style is completely different.
29-year-old Groves has been known to gas late in fights and can look extremely slow-moving and lethargic late in bouts and has previously been knocked out and stopped – this is where Eubank Jr will look to capitalise.
The challenger throws vastly more punches in terms of punch volume so will be very reliant upon this tactic to draw the champion into fighting his fight, knowing he has the work rate and fitness to do twelve rounds at a pace that Groves cannot.
Eubank Jr's main weakness is the decisions that he makes in the ring. Deciding to be macho and carry a low guard against fighters who carry a passive defence (a boxer who will very rarely counterpunch) such as Arthur Abraham and Avni Yildirim is fairly easy to avoid what is coming back.
Against George Groves he will need to be wearier and almost force the champion to survive against him for every minute of every round they fight whilst being calculated in his attack.
Eubank can be relentless and emphatic with every round he fights - chilling at times. He will need to use this approach to be successful on Saturday night.
Groves vs. Eubank Jr betting: What can bettors expect?
With George Groves maintaining that Eubank Jr is merely too small and Eubank Jr insisting that George Groves is finished as a fighter something has to give.
The size, the Jab, ring craft and experience lie in Groves' favour – Eubank holds his advantages in the pace that he sets, along with the sheer volume in punch output and athleticism he brings.
The physical strength of George Groves shouldn't majorly trouble Eubank and bettors should assume a distance fight
The physical strength of George Groves shouldn't majorly trouble Eubank and bettors should assume a distance fight. The challenger is extremely fit and also spars in a very physical way with plenty of inside work against fighters who outweigh him by several pounds so it would be surprising to see the Groves strength factor come into play.
If Eubank is able to walk through and walk down George Groves' power then he will win the fight. The Brighton fighter has improved immeasurably over the last few years, and although certain styles certainly suit the IBO champion more than others, he holds many attributes in the fight that will present George Groves with complications.
All fighters retain strengths and weaknesses and it is a big mistake for bettors to obsess over one fighter's weaknesses, whilst totally ignoring all their strengths. Eubank Jr has a better inside game, a better chin, is superior in hand speed, athleticism and punch variety – Groves has the size, the Jab, ring craft and experience.
Groves is not as fast on his feet as the challenger and is not a better inside fighter at this stage of his career. He hits harder and is more proven at a higher level but the challenger is a fighter fiercely on the rise and is far fresher than Groves – despite there only being a one year age gap.
Power is not the be-all and end-all in boxing. Eubank Jr has the work rate, the pace, the engine and the fitness to do the 12 rounds at a pace that will make the champion uncomfortable.
He impresses with his talent, his energy and his single-minded spite inside a ring – sometimes a fighter will simply want something more than the other. You need to be self-absorbed, narcissistic and feel superior when boxing at the highest level – Eubank Jr ticks all those boxes.

For more analysis of the fight read the industry's Groves vs Eubank Jr predictions.
Sign up here to get the best odds on boxing form Pinnacle.