In what promises to be one of the fights of 2018 George Groves takes on Chris Eubank Jr. Pinnacle asked the boxing industry to break down the bout, give us their prediction and explain where the fight will be won and lost. Read on for analysis from some of boxing's biggest names.
It's the semi-final of the Super-Middleweight World Boxing Super Series on February 17 as George Groves (27-3, 20 KO) and Chris Eubank Jr (26-1, 20 KO) clash. But who will win the Groves vs Eubanks Jr fight? The industry has had their say here.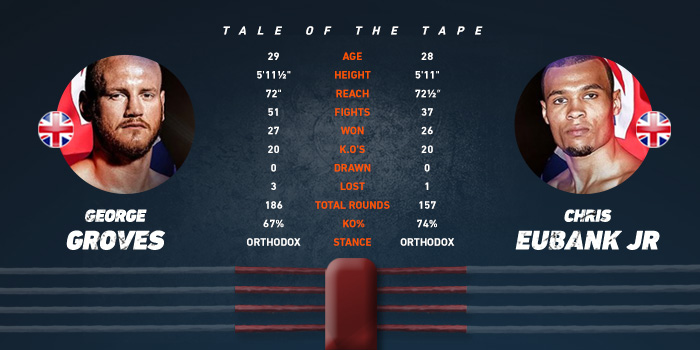 Groves vs. Eubank Jr: Industry predictions
Kid Galahad - British professional boxer who has held the European, British, and Commonwealth super-bantamweight titles.
If George Groves cannot finish Eubank within the first six rounds then I feel Eubank will win on points. His work rate is very good and Groves has been known to tire late in fights. The key for Groves will be how he approaches the first half of the fight, if he doesn't hurt Eubank inside six rounds then I feel he will lose.
Prediction: Eubank Jr Points
Robbie Davies Jr - Former WBA Continental super-lightweight champion who fought on the Chris Eubank Jr. vs Arthur Abraham undercard last July.
I think Eubank Jr will start the fight explosive in the early rounds and try and take it to George – I expect George to be cagier.
I think if there is a KO early between rounds 1-5 it will be Groves. Anything after that I can see Eubank Jr's work rate winning him the fight on points or possibly a late stoppage.
Prediction: Eubank Jr Points
Lee Selby - Welsh professional boxer and IBF featherweight title-holder since 2015, previously the European, British, and Commonwealth featherweight champion.
At first I thought Chris Eubank Jr, but after seeing the pair up close and head-to-head I would have to go with George Groves.
I think Groves' size, power and strength will be the deciding factor in a great fight.
Prediction: Groves Points

Billy Joe Saunders -
British professional boxer who has held the WBO middleweight title since 2015, and currently the only fighter to have beaten Chris Eubank Jr.
I think that Eubank Jr will beat George Groves. If he does what I think he will against Groves people will be talking. I think there is a very high chance that Eubank wins. 
Groves is an extremely good fighter and an extremely good boxer. Eubank Jr is an extremely good fighter, but he can't handle a boxer. So if George can box him, he can win. But if he goes in there and is careless, he will get beat.
Prediction: Eubank Jr Points
Phil Seymour - Boxing Board of Control licensed Master of Ceremonies working with ITV Box Office. Phil has been Master of Ceremonies for Chris Eubank Jr's last two fights.
I am going for Chris Eubank Jr on points. I think Chris will make George look old in a similar way to how he did with Arthur Abraham. His phenomenal work rate will wear George Groves down in the early rounds and sap him of his energy, nullifying George's power.
People underestimate the power and stamina Chris has and I believe Georges' only real chance will be to land some very big shots in the first three rounds before he tires. If it goes past three, there is only one winner, Chris Eubank Jr.
Prediction: Eubank Jr Points
Terrence 'TDX' Campbell – Multimedia presenter working with Chris Eubank Jr, ITV Box Office, Boxing Ego, Poxon Sports, and Sheffield Live.
Great fight, and one I think Eubank wins, just! Despite being knocked out by Carl Froch, Groves has been in with big punchers and lasted the distance, so I can't see Eubank stopping him. However, Eubank's work rate is far superior and I don't think Groves will be able to catch Eubank clean enough to stop him coming forward. I anticipate a great fight that will eventually be decided by the superior work rate and will of Chris Eubank Jr.
Prediction: Eubank Jr Points
Jordan Gill – British boxing prospect with a 16-0 record.
First off, I think it's going to be a great fight. I think Eubank Jr will struggle with Groves' size and strength early on – but Groves' age will show after 5-6 rounds and Eubanks relentless work rate will take over. Overall I am predicting a close points win for Chris Eubank Jr.
Prediction: Eubank Jr Points 
Danny Wilson - Co-founder of Boxing Science working with elite professional boxers.
I enjoy watching both fighters, both bring skill, heart and character to the game. A lot are favouring Eubank, even though I reckon it's a close fight I can't see it! The size, the Jab, ring craft and experience all lies in Groves' favour – Eubank has a relentless pace, but I can't see him maintaining that over 12 rounds. He's has had 2 fights that have gone the distance - Saunders and Abraham. He stepped up the last six against Billy Joe Saunders and took his foot off the gas in the latter.
Also, Groves is a huge Super-middleweight who cuts down. Eubank has looked very close to the weight for several weeks - I believe the difference in size will be apparent on the night.
Groves has the power, but Eubank has a good chin. I'm going for a Groves on points.
Prediction: Groves Points

Renold Quinlan - Australian professional boxer and ex Chris Eubank Jr opponent. Quinlan held the IBO super-middleweight title from 2016 to 2017. 
I think Eubank Jr can win the fight but he shouldn't take George Groves lightly. Chris's best chance of success is utilising his speed, whilst George can defiantly win if he uses his distance and tries to outbox Eubank like Billy Joe Saunders did. Hopefully I can get a rematch with Eubank down the line – I would love that fight. 
Prediction - Eubank Jr points 
Wayne Alexander - Former professional boxer in the light-middleweight division and former world boxing union champion. 
This is a fight I would pay to watch, a very evenly matched contest between Groves who has been there and done it, and Eubank Jr who has great potential. I am picking the younger, fresher, more hungry fighter to pull through in Chris Eubank Jr, but only just. 
Prediction - Eubank Jr points 
Chris '2Slick' Kongo – A former member the Team GB boxing squad and now 7-0 as a professional – Chris has sparred countless rounds with both fighters. 
I am on both sides at the minute and I am predicting that George will try and stick to his boxing and outbox Eubank Jr. If Georges' engine doesn't hold up however, I expect Eubank Jr to dominate the fight through work rate. I genuinely call this fight a 50/50 fight. My final prediction though is George Groves to win via unanimous decision.
Prediction – George Groves Points 
Atif Shafiq - Highly rated Sheffield based Lightweight Atif 'Unique' Shafiq who fights out of the legendary Ingle gym. 
This is a fight I have been really looking forward to. It's going to be a great fight and I believe both styles will gel well on the night. I am slightly leaning towards Eubank Jr only because I believe he is the fresher out of the two but it's a very difficult fight to predict. Groves has the size and power on his side so Eubank will need to be on top form if he is to leave the ring as champion. 
Prediction – Eubank Jr Points 
Now that you know more about the George Groves vs. Chris Eubank Jr odds, put your knowledge to good use with the best boxing odds online at Pinnacle.
Want to learn more about boxing before the big fight? Follow Pinnacle and these 10 boxing Twitter accounts to improve your knowledge.