The third fight between Tyson Fury and Deontay Wilder, originally set for July 24, will take place this weekend in Las Vegas. Fury is the clear betting favourite even though Wilder has vowed to produce a devastating knockout and regain his WBC title belt. But does he have the skill set to deliver? Read on to inform your Wilder vs. Fury 3 predictions.
A close look at the Wilder vs. Fury 3 odds
| | |
| --- | --- |
| Tyson Fury | Deontay Wilder |
| 71.76% | 29.41% |
The 1X2 odds suggest that this is a fight Pinnacle thinks Tyson Fury will win, with them giving the champion approximately a 70% chance of victory.
The Total Rounds is set at 7.5, which is three rounds lower than the first fight, with Under 7.5 Rounds priced at 2.150*, suggesting that Pinnacle feels there is a higher probability that the fight will finish earlier than the first and second fight between the pair.
Date: Saturday, October 9
Venue: T-Mobile Arena, Las Vegas

Bet: Tyson Fury vs. Deontay Wilder 3 odds
Get the best boxing betting advice
Big fight previews, BetShares and the latest odds
Follow Pinnacle
Wilder vs. Fury 3: What do the stats suggest?
In the first fight, Wilder landed an extremely low percentage of power punches (17%) according to the CompuBox stats. In the second bout, Fury landed 82 of his 267 total punches (31%), including 58 out of 160 power punches (36%), whilst Wilder landed just 34 of 141 his total punches (24%), and 18 out of 55 power punches (33%).
When we compare this to previous Deontay Wilder opponents, the difference is quite astounding. Below is a breakdown, fight-by-fight, of the percentage of power punches that Wilder has landed in his world title fights. The evidence suggests that no fighter has been able to negate Wilder's main asset, which is his straight right-hand power punch, like Fury. It also highlights that when Wilder has stepped up a level, he has found it much harder to land his heavy punch and once you take that punch away from the American, his chances of winning the fight diminish emphatically. 
| | |
| --- | --- |
| Wilder Opponent | % Power Punches landed |
| Tyson Fury (1st fight) | 17% |
| Tyson Fury (2nd fight) | 33% |
| Luis Ortiz | 39% |
| Bermane Stiverne 2 | 60% |
| Gerald Washington | 47% |
| Chris Arreola | 52% |
| Artur Szpilka | 42% |
| Johann Duhaupas | 69% |
| Eric Molina | 56% |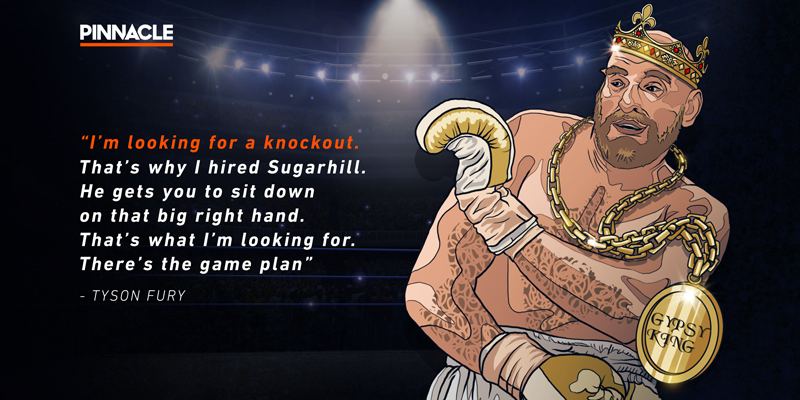 Fury vs. Wilder 3: Analysing the third fight
The first step in assessing the third fight between Fury and Wilder is to analyse the two fighting styles of each boxer and examine what key attributes both bring to the ring, whilst also examining how both fighters could potentially improve and adapt from the second fight.
For Fury, despite what the second fight would suggest, he is not a huge puncher at the elite level but he hits hard enough to back a fighter up and hurt them if they lack the skill set, physical strength, and stamina to be able to defend against his attack. He also has a good enough boxing IQ to be able to sense a weakness in his opponent and pounce on it, as seen against Wilder previously.
For Wilder, it seems he has one chance to win and that is to find a way of landing his best attribute – his big right hand
For Wilder, it seems he has one chance to win and that is to find a way of landing his best attribute – his big right hand. Big punchers normally come in two categories: Those who have speed-based power and those with heavy hands. Then there are the special punchers who have both. Deontay Wilder fits into this category, which will always make the American dangerous for all 12 rounds of a fight, despite his average level of boxing ability.
Wilder, for all his boasting and boldness, knows his limitations as a boxer and if he didn't, then he certainly will now after facing an in-form Tyson Fury last time out. We now have evidence of how sub-standard (skill-wise) Wilder is compared to Fury from both fights and this is something that needs to be considered if you are betting on the fight.
It is also worth pointing out that any time Deontay Wilder steps in the ring at an elite level, he becomes largely a low-volume fighter when facing someone who is trying to box with him. He will bide his time and wait for an opponent to make a mistake before going for a knockout punch. It is a tactic that has got the American out of trouble on numerous occasions throughout his career when he has been behind on the scorecards. This is a tactic that Wilder employs a lot against weaker opposistion who he knows he can knockout if he connects cleanly with his power punch, but if he continues with these same tactics then Fury will know how to fight against it. He will need to change his tactics if he is to surprise Fury and win this fight, which will be difficult at this stage of his career.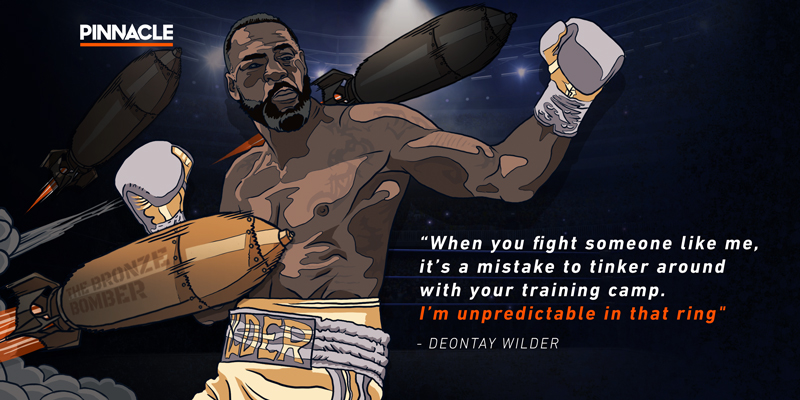 Fury vs. Wilder 3: Size, strength, and weight are key
One key component to consider in this third fight is the size of Fury compared to Wilder. Fury came into the ring at 273lbs for the rematch, the third-heaviest weight of his career. But his trainer SugarHill Steward has stated that the Brit will be around 290lbs this weekend after adding more muscle, saying: "The bigger the better, the heavier the stronger". This indicates that Fury believes his boxing ability is so superior to Wilder's, that by coming in heavier he will again be able to go for the knockout and overpower the American again.
Power (which Wilder possesses) is different from strength in boxing and it also means very little at the elite level if the opponent you are facing knows how to nullify it correctly (think how Oleksandr Usyk took away Anthony Joshua's power recently through using his boxing IQ and ability).
One key component to consider in this third fight is the size of Fury compared to Wilder
Fury is the much better, physically stronger, and more skilled boxer, whereas Wilder carries that one-punch power that makes him relevant and dangerous in the fight but if he's unable to land that punch, the rest of his boxing IQ and ability at world title level is poor. So by analysing this data, and the evidence we have from the two previous fights between Fury and Wilder, it's clear that Fury holds almost every advantage in the fight apart from one-punch knockout power.
Fury is also a big heavyweight, whilst Wilder is not. The Gypsy King stands at 6ft 9 inches with a reach of 85 inches or 216 cm. Meanwhile, Wilder stands at 6ft 7 inches with a reach of 83 inches or 211 centimetres. So Fury has a two-inch reach advantage. Fury also holds a huge weight advantage. Wilder generally weighs in at around 210-215lbs whereas Fury weighs in at around 260-275lbs. Wilder did enter the rematch at his heaviest-ever weight, weighing in at 231lbs, but Fury was a huge 273lbs and has vowed to come in even heavier this time around. This is something that needs to be considered as physically Fury will hold a huge advantage due to size and weight, and he has shown before that he can use this to his advantage over Wilder in the ring.
Fury vs. Wilder 3: Where is the value?
The odds at Pinnacle heavily favour Fury's chances of winning and this will be down to not only the destructive nature in which he delivered the stoppage in the last fight but also how evident it was that Wilder lacks the boxing IQ, mindset, and technical skills to be considered on the same level as Fury.
Adopting a betting strategy on this fight, where you cover more than one outcome, is sensible if you are wary of Wilder landing that one punch but if you look at the statistics and analysis from the previous fight, it's difficult to see that happening.
Fury looks to be heading into the third bout relaxed and full of confidence but also with his mind on the job knowing the danger that Deontay Wilder brings to the ring. Fury's boxing IQ and experience are good enough to know that the American will come into the ring looking at ways to reserve energy so he can land that big punch, so it's unlikely that Fury will fall into the trap of allowing this to happen.
Wilder's sudden switch in trainers to Malik Scott (a man he previously defeated in one round and has never coached at elite level) all seem like disturbances in his camp. It's being used as an angle to make the public believe he can change his style and tactics but at the age of 35 (nearly 36), this is highly unlikely to happen.
Fury has taken Wilder's best shots and survived whereas Wilder has taken Fury's best shots and crumbled. It is also worth noting that Fury has won all but four of their 19 rounds of action whilst performing at about 30% of what he can, due to his inactivity in the ring and the problems that he has faced outside of it.
It's vital if you are looking to bet on this fight to look back at the two previous bouts to measure how this final fight of the trilogy might unfold. After doing so, it is clearly evident that Wilder will need to make some major adjustments to avenge his loss, which is highly unlikely at this stage of his career, despite employing a new trainer.
Best bet: Back Tyson Fury to win @ 1.338*
Bold prediction: Back Under 7.5 Rounds @ 2.150*
Now that you know how to approach the Wilder vs. Fury 3 betting markets, you can bet with Pinnacle's great Wilder vs. Fury 3 odds.