Tyson Fury will put his unbeaten record on the line when he fights Dillian Whyte in an all-British heavyweight clash at Wembley on Saturday night. "The Gypsy King" staked his claim as the best heavyweight on the planet after two crushing wins over Deontay Wilder recently, so will rightly enter the ring against Whyte as the betting favourite. Can Whyte do the unthinkable and dethrone Fury? Read on for some expert insight into the Fury vs. Whyte odds.
A close look at the Fury vs. Whyte odds
| | |
| --- | --- |
| Tyson Fury | Dillian Whyte |
| 82% | 18% |
The 1X2 odds suggest that this is a fight Pinnacle thinks Tyson Fury will win comfortably, with the fair value odds giving the champion approximately an 80% chance of victory.
The Total Rounds is set at 9.5, with Under 9.5 Rounds priced at 1.763*, suggesting that Pinnacle feels there is a higher probability that the fight will end in a stoppage win for either fighter rather than go the distance.
Date: Saturday, April 23, 2022
Venue: Wembley Stadium, London
Bet: Tyson Fury vs. Dillian Whyte odds
Get the best boxing betting advice
Big fight previews, BetShares and the latest odds
Follow Pinnacle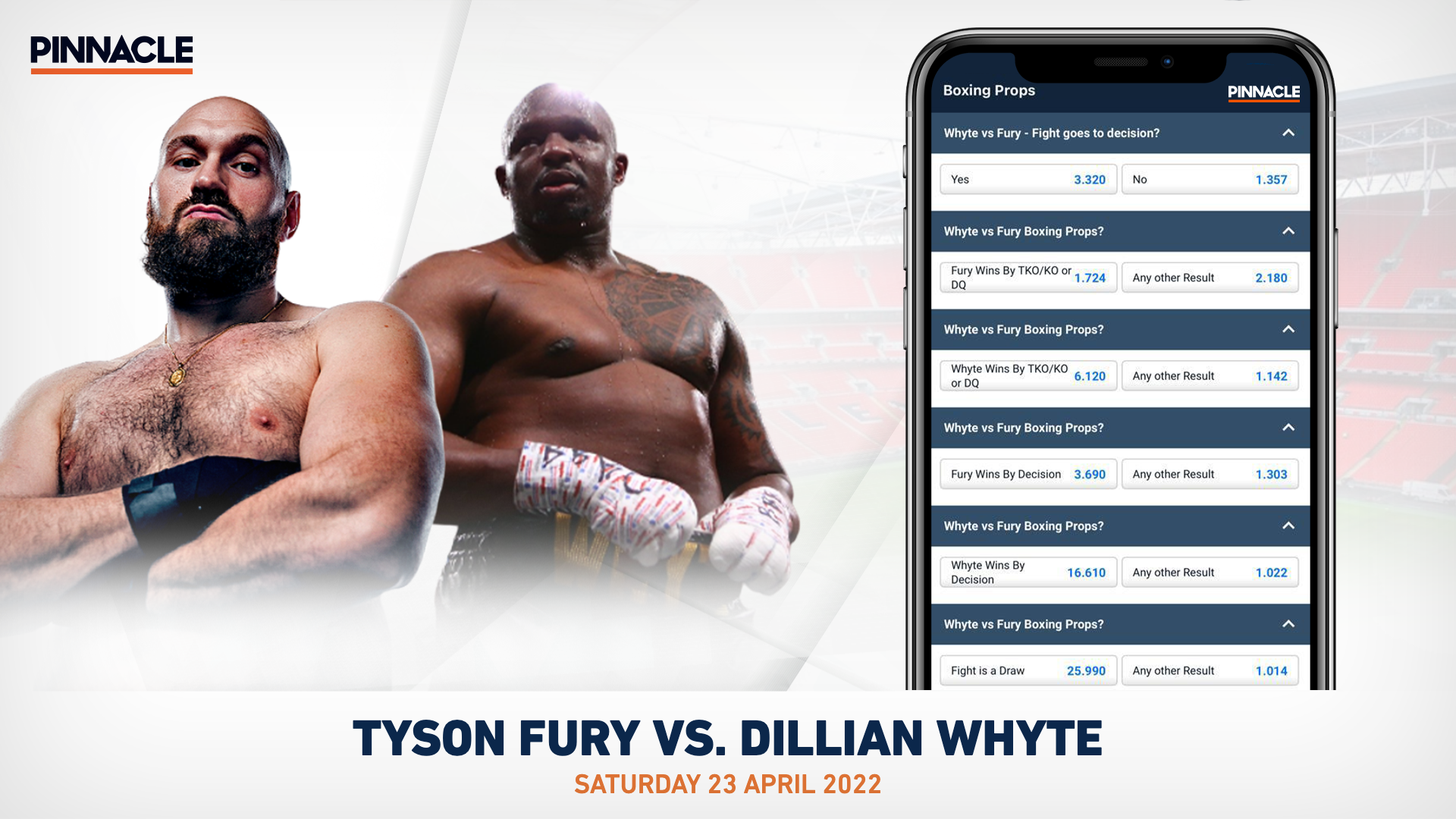 Fury vs. Whyte: What do the stats suggest?
In the first fight Fury had with Wilder, he landed an extremely low percentage of power punches (17%) according to the CompuBox stats. In the second bout, Fury landed 82 of his 267 total punches (31%), including 58 out of 160 power punches (36%), whilst Wilder landed just 34 of 141 of his total punches (24%), and 18 out of 55 power punches (33%). This highlights that when Fury is motivated, fit, and strong, he is one of, if not the hardest man to land accurate punches on in the division.
A significant (and possibly key) factor in the statistical data is that Fury has a height advantage of five inches over Whyte.
The stats for Fury's fight with Whyte suggest Fury has a slender advantage in power over Whyte, with a 71% knockout percentage to Whyte's 68%, despite many experts and pundits suggesting that Whyte is the harder puncher between the two.
A significant (and possibly key) factor in the statistical data is that Fury has a height advantage of five inches over Whyte. He also has a seven-inch reach advantage over his challenger which is a tall order to overcome when boxing a fighter of Fury's experience and skillset.
Fury is also the more experienced boxer; having started his professional career back in 2008, "The Gypsy King" has boxed 204 professional rounds, 40 more than Whyte's 164, and at a higher level than Whyte.
Fury vs. Whyte: Will inactivity cost Whyte?
In terms of recent activity, Dillian Whyte has been fighting more than Tyson Fury but the London fighter hasn't boxed for over a year since he defeated Alexander Povetkin, which could result in ring rust and his timing being off early on in the fight. Fury has boxed more recently – in October 2021, when he dismantled, walked down, and battered Deontay Wilder to retain his WBC world title – which should give him a slight edge, especially in the early rounds.
The London fighter hasn't boxed for over a year since he defeated Alexander Povetkin.
Fury's last five bouts have come over a timescale of three years, four months, and 21 days, meaning he has boxed on average every eight months and four days. Those five bouts have lasted a combined total of 44 rounds, which equates to an average of 8.8 rounds per fight.
For Dillian Whyte, his last five fights have come over three years and four months, meaning he has been fighting on average every eight months – almost identical to Fury. In those fights, he boxed a combined total of 42 rounds, equating to an average of 8.4 rounds per fight. So, on the basis of these statistics, the two fighters shape up almost the same.
Fury vs. Whyte: Where is the value?
The odds at Pinnacle heavily favour Fury's chances of winning and this will be down to not only the destructive nature in which he delivered the stoppage against Deontay Wilder twice but the vulnerability that Whyte has shown against lower-level opponents than Fury in the past.
Fury has taken the best punches that Deontay Wilder could offer and survived whereas it is highly unlikely that Whyte would have survived those blows, and he almost certainly would have crumbled, which is a key factor in the betting markets if the bout does turn into a brawl (a strategy that many feel is Whyte's best chance).
It is vital if you are looking to bet on this fight to look back at the previous bouts of both men and make a calculated prediction as to where their strengths sit. Whyte doesn't possess the profile of a world-class heavyweight outside of England as he has never boxed in the United States but he will provide a stern test for Fury.
The 34-year-old possesses a good resume that includes wins over Joseph Parker and several other contenders in the heavyweight division, whilst his defeat to Anthony Joshua came at a stage when he was still a raw novice in the pro ranks. For Whyte to be successful and win the fight, he will need to be elusive and smart in the fight for the whole 12 rounds, not just in spurts, and will need to establish his lead left jab to both body and head, and put it all on the line.
The issue with this is that Whyte has noticeable balance issues, and at the top level against a fighter like Fury who is extremely elusive, he will find that extremely difficult. Whyte isn't slow with the snap of his punches but he is ponderous and when he gets hit, he often swings wildly, and this will play into Fury's hands.
For Fury, it would be foolish to get into a toe-to-toe battle with Whyte, as Whyte can counterpunch very well with his left hook if you present him the chance. This is a punch he is also quite deceitful with, so calculated aggression is the key for the champion.
Whyte has said this week that he rates himself as the 'strongest heavyweight of all time' but weight-lifting strength isn't the same kind of strength needed when you fight a boxer of Fury's size and stature, which he will find out by the mid-rounds in this fight.
Strength is great but balance is also vital and if you don't have that, at the elite level it will eventually be exposed. Strength without a balanced foundation in boxing can be highly detrimental to performance, which is one key reason why Fury is expected to regain his title in good fashion at Wembley this weekend.
Fury vs. Whyte predictions:
Back: Fury to win by KO, TKO between rounds 5-9
Back: Over 1.5 knockdowns in the fight
Puncher's Chance podcast prediction: Back Fury to win in round eight
Now that you know how to approach the Fury vs. Whyte betting markets, you can bet with Pinnacle's great Fury vs. Whyte odds.
Puncher's Chance: Tyson Fury vs Dillian Whyte betting special