Saul 'Canelo' Álvarez will return to the ring on Nov 2, moving up two weight divisions, to challenge WBO light heavyweight champion Sergey 'Krusher' Kovalev, at the MGM Grand Garden Arena in Las Vegas.
The fight represents an interesting scenario for bettors as Kovalev will have a considerable size and weight advantage and is expected to be the more powerful puncher in the fight – a task that Canelo has never faced in his career so far. Looking for value in the Canelo vs. Kovalev odds? Read on to inform your Canelo vs. Kovalev prediction.
Canelo vs. Kovalev: Tale of the Tape
This will be the 55th fight of Canelo's career, but the Mexican will enter the contest seven years younger than Kovalev. Kovalev, now at age 36, complied an amateur record of 195-18, only losing three fights as a professional. The Russian has been stopped on two occasions by Andre Ward and Eleider Alvarez. Canelo has lost just one fight, to Floyd Mayweather Jr. six years ago, but did recently draw with Gennady Golovkin, who he then went on to defeat in the rematch.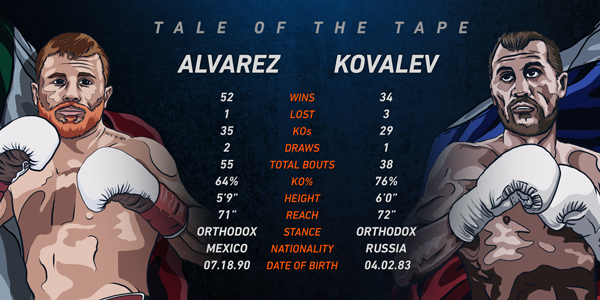 Will size and weight be a key factor?
When betting on Canelo vs. Kovalev, you need to monitor weight closely if you want to make an accurate prediction on the outcome of the fight. The weight and size of a fighter can tell you a huge amount about how they will perform on fight night and some boxers will try to gain an edge on their opponent by coming in heavier on fight night, after the weigh-in.
"Kovalev is naturally around two divisions bigger than Canelo, and this will be a factor in the fight"
In many instances, this has been the advantage for Alvarez throughout his professional career. Now, however, the Mexican will now have to deal with the extra size and weight advantage against him and the edge given to his opponent Kovalev, which is something he has never had to deal with so far in his career.
Kovalev is naturally around two divisions bigger than Canelo, and this will be a factor in the fight. Kovalev, although potentially not the fighter he once was a few years back, is still an extremely dangerous one for someone jumping up two weight divisions from middleweight to light-heavyweight. The Russian will have the height, weight, and reach advantage, is natural at the weight, and has recently shown he can carry stamina into the later rounds with his 11th round knockout of British prospect Anthony Yarde, so this is certainly no easy task for Canelo to overcome.
How does Kovalev beat Canelo?
Kovalev will need to utilise all his advantages to be victorious in this fight. Power, size, and most of all, use his jab to its maximum capability throughout the 12 rounds. The Russian also possesses good footwork and is still a very dangerous fighter, even at 36 years of age. Kovalev has knocked out and stopped fighters who are far bigger naturally than Canelo, so it is not inconceivable that he can stop the Mexican in this fight. Kovalev's jab is almost like a power punch, and consistently utilising this against the naturally smaller man will be the key to victory for the WBO champion.
The 36 year-old is also now under the tutelage of Buddy McGirt, and by analysing his recent fights against Anthony Yarde and Eleider Alvarez, seems more prepared to win fights one round at a time with his boxing skills, rather than trying to blast his opponents out, which is a tactic that should serve him well against Canelo.
How does Canelo beat Kovalev?
Canelo can win this fight by making Kovalev work to his plan. If the Mexican can get inside Kovalev's jab by using his excellent head movement and stay out of the way of his power, then he can win comfortably. It takes a special kind of fighter to jump up two weight divisions and box a man of Kovalev's size and stature, but Canelo is a special fighter, currently fighting at the peak of his powers, who is certainly capable of that.
"If there is a lesson over the peak Canelo years that bettors have learned, it is that betting against the Mexican is almost a definitive way to lose money"
Canelo is a very good counterpuncher, with very few of his opponents wanting to go toe-to-toe with him, and they often actually fight afraid and over cautious. Golovkin pre-fight wanted Canelo to fight toe-to-toe, but decided to box and jab more in the rematch, which likely means once faced with the task of applying your own game plan against the Mexican in the ring, it is a much harder assignment than pre-planned.
Kovalev has also shown vulnerability in the past three years and Canelo's team will know this (a big reason they have taken this fight on). Kovalev has won only four of his last seven bouts, and has been stopped in two of these fights and hurt badly in the others (most notably to the body). So, providing Canelo uses all his experience that he has gained from fighting at the top end of the sport, against quality opposition, following the game plan set by his team, he has enough quality in his arsenal to be victorious, despite the weight and size disadvantage.
Betting against the cash cow - Canelo
Alvarez is currently the biggest cash cow in boxing right now, with huge backing from his promoters. A cash cow in boxing is a fighter who has huge drawing power when they are fighting - with the potential to make promoters and everyone involved a lot of money.
It is a highly risky strategy to bet against the cash cow (in this case Canelo) and should only be advised if you are certain that your fighter is far superior to his opponent. Some bettors will bet on Canelo not because they are confident he will win the fight, but because the chances of the judges being kind to the cash cow is high.
If there is a lesson over the peak Canelo years that bettors have learned, it is that betting against the Mexican is almost a definitive way to lose money.
Canelo vs. Kovalev: Where is the value?
The general consensus on the fight is that Kovalev is the older and more shop-worn fighter, meaning his advantage in natural size and strength won't be as big a factor as it should be – but this is a real fight and a major test for Canelo.
The Mexican will need to use all of his skills and high-level experience to win the fight, but the size difference creates a huge amount of intrigue over what the outcome of will be. If both fighters were naturally the same size, Canelo would be heavily favoured at this stage of their careers, but the jump up in weight to fight an elite fighter at that weight is what makes this bout so appealing. The younger man is a more versatile boxer and his body punching and head movement will be the major keys to victory for him.
Bettors who have followed Canelo's career will know that he has the discipline to box a controlled 12 round fight, but the 29 year-old will not have been hit by anyone with Kovalev's punching power. Neither do we know how well Canelo holds a shot at light-heavyweight (a fighter's punch resistance varies depending on the weight class they fight in).
However, when placing a bet on a fight it is imperative that you analyse where the fight will be taking place to determine which fighter to bet on, and it is likely Kovalev will need to win via knockout to be victorious.
That will mean winning almost every round convincingly, and it is hard to see Canelo being dominated over 12 rounds so strongly with the skillset he possesses. If you can identify a fighter that will be subject to home field advantage, you can narrow down the likely outcome of the fight, and the advantages certainly sit with Canelo, in a fight that should go long.