Last year, Pinnacle launched a significantly improved industry-leading live NBA betting product, which puts you at the heart of the action with non-stop betting from tip-off. Find out why a live NBA betting strategy can benefit your basketball betting experience at Pinnacle.
Why should you make Pinnacle your go-to NBA bookmaker?
Introduced this year, our new live NBA betting product drastically improves your basketball betting experience by putting you at the heart of the action. Here's why:
Bet continuously
Previously you could only bet live on an NBA game during a commercial break, however, because odds are constantly updated with our new product, you'll be able to bet continuously as the action unfolds on court.
All markets - including team totals
Live NBA betting is now available on all markets - from the basic, to the more advanced markets - including team totals for the first time. We also plan to offer a number of other derivatives such as first half betting as the product develops.
An example of live NBA betting at Pinnacle
To highlight the significant improvement to live NBA betting and what this means for you, let's compare data from before and after the launch of our new live betting product.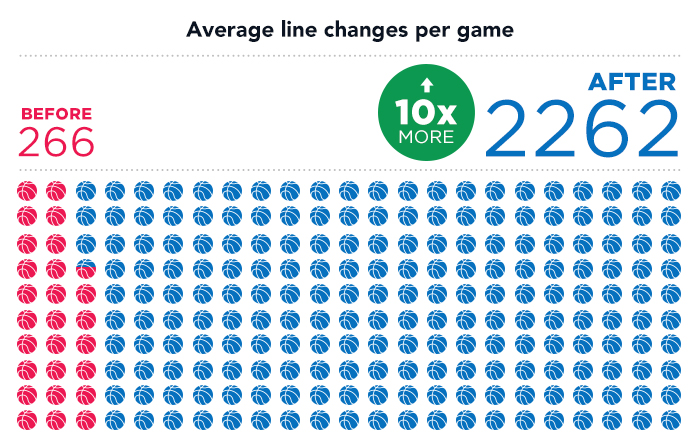 More odds:

This example shows a massive 10 x more odds offered, with an average live game prior to our new live NBA betting product having 266 different odds compared to a huge 2262 since its launch. This is a clear indication that in-play betting on the NBA with Pinnacle offers much more opportunities for profit, putting you at the heart of the action from start to finish.
Opportunity:
With huge fluctuation in the odds throughout any NBA game, it now creates more opportunity for bettors to gain an edge by taking advantage of odds they think are incorrect. 
Market movement:
By looking at the differences in odds movement for the two games it's quite clear how diverse our new live NBA betting product is compared to its predecessor.  
With more odds offered, continuous betting throughout the game, our new product is the best way to bet on the NBA.